Appearance:
Name: Mikado Gaidosu
Age: 439
Occupation: Captain of Squad 8
Themesong: (For fun)

Personality: Mikado is the epitome of a free man. He has no care for his appearance and acts on his own whim. This usually results in his haori being wrapped around his waist, instead of being worn traditionally. Mikado claims that he can fight, but rarely shows the drive to support it. He also shows his simple laziness by having poor attendance to meetings and sleeping in. Mikado himself enjoys combat, the beat laid down when two swordsmen fight. But he often finds fighting to be too much work, he'd rather spend his time sleeping or listening to music. Although, Mikado is a professional people watcher, noticing the trends and quirks of a person. A key trait to Mikado is his ability to hone in on slight movements to judge the direction, force and such for an enemy combatant. He'll often use this ability to catch women at the perfect time so he can hit on them. He just can't stay away from them; even keeping track of all his rejections on his arm.

Spiritual Pressure (Reiatsu) Level: Vast; uncontrollable
Reiatsu Appearance: While Enjeru is released, Mikado's Reiatsu resembles musical notation and is lavender in color. When Mikado and Enjeru harmonize, Mikado's Reiatsu turns into a darker violet, showing more concentration.
Zanpakuto Name:
Enjerikku Shojo
(Angelic Maiden)
- Nicknamed Enjeru
(Angel)
Zanpakuto Sword Appearance:
Not Available; Mikado keeps Enjeru released at all times.
Zanpakuto Spiritual Form Appearance: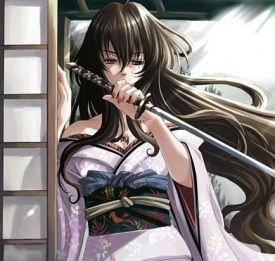 Shikai Release Command and Appearance: Sing Your Song, Enjerikku Shojo (Angelic Maiden)
Shikai Abilities: In her released state, Enjeru becomes a vented Katana. There are multiple slits throughout Enjeru that cause the blade to not only to lose mass, but vibrate more vigorously after collisions.
~

Greatly Enhanced Reiatsu Control

- Through Enjeru's requirement of constant Reiatsu support, Mikado can control his Reiatsu.
~

Kyomei

- (Resonate) When Mikado strikes Enjeru against a foreign object (oftentimes himself) while simultaneously reciting 'Kyomei', the vibrations that follow resonate with Mikado's Reiatsu. The resonating frequency can cause drowsiness, nausea and even disorientation to all surrounding people; friend or foe. It can be blocked by concentrated reiatsu and high level Bakudō.
~

Utaimasu

- (Sing) This technique is similar to Kyomei except that it requires synchronization, rather than resonance. The range of this technique is much smaller and essentially requires the target(s) to be within a few feet of Enjeru. For this technique, Enjeru releases a high frequency that synchronizes with Mikado's Reiatsu; the wavelengths match and thus amplify the effect. The synchronized sound can cause brief loss of hearing. This technique can also result in the disruption of one's balance and vision.
~

Kaze no Dansu

- (Dance of Wind) This technique utilizes the vented form of Enjeru. Mikado will twirl Enjeru causing wind to flow through the vents of the blade; the wind that passes through can be directed as extensions of the blade or as a shield. It can generally block any physical manifestations, including elemental attacks.
~

Datenshi no Uta

- (Song of the Fallen Angel) Initiating this technique requires Mikado to have a fighting will. The technique uses the resonance of Enjeru in combination with Mikado's Reiatsu. Together, the resonance enables Enjeru to launch short burst of pure Reiatsu. The pure Reiatsu bursts literally eat (most if not all) manifested Reiatsu it comes into contact with.
Bankai Release Command and Appearance: Sing Aloud, Dance Freely! Koishii Enjeru no Kyoku (Beloved Angel of Music)
Bankai Abilities: Enjeru sealed her Bankai state from Mikado for his laziness and disregard of her opinion. Mikado only knows the release command from his one time excess to the Enjeru's Bankai before Mikado's promotion to Captain. (That's when he really became lazy)
Powers and Abilities: Mikado was always too lazy to honestly try Kidō. He made it by with the absolute minimum requirements of the Gotei 13; Bakudō level 30 and Hadō level 33. When Mikado tries to use his Kidō, the spell will most likely combust into a ball of fire and die before even finishing the incantation. As for Shunpo, Mikado has a knack for over shooting his desired location. His unstable reiatsu is often the blame for his sporadic movements. Mikado is a highly skilled swordsman; not able to fight without using Enjeru's techniques, but also being able to fight multiple foes simultaneously. Mikado is also ambidextrous and can use his Zanpakuto's sheath as a guard. Despite his excelled swordsmanship, the only ability Mikado stakes his pride in is his ability to "follow the tempo" and "sight read his foes", in other words; his incredible combat perception.
Some Notes: Mikado has huge issues controlling his reiatsu and uses Enjeru to help stabilize it. He is almost always seen carrying Enjeru around in her Shikai form, hence his Zanpakuto is rarely seen outside Shikai form. Enjeru is a rather violent Zanpakuto. She loves combat and hates Mikado's lazy attitude. They often bicker since Mikado usually refuses to fight; this has caused Enjeru to seal her Bankai until Mikado will agree to her terms. When Mikado and Enjeru fight as a team, their attacks become significantly more dangerous.