Mariam Qoreshi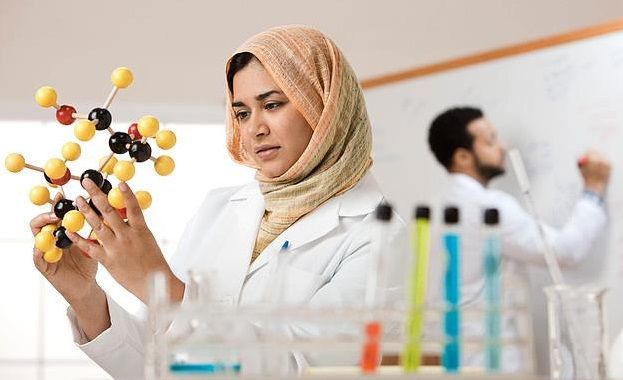 Name:
Mariam Qoreshi; Mim, for some.
Gender:
Female
Age:
31
Archetype:
The Biologist
Personality:
If there's something to be said for Mariam, it's that she's a determined scholar. Studying was her way of life for, at least, 25 years. After that, she came to a point where she stopped learning the answers and started asking the questions. Her assistant research position is one of the things she's most grateful for in life. She has a passion for her career, for delving deeper into the inner workings of life at the most fundamental level. In that regard, she could be tagged as something of a workaholic. Surprisingly enough, her IQ is in the average number. She is no genius. Her academic achievements come from a lifetime of hard work, her grasp of concepts is all-too human and she is no decipherer of intricate puzzles, try as she might. She limits her solo work to observation, data recording, and comparison with previous studies and background information. Result analysis is best attempted in groups... except she seems to be alone in the quarantine zone.
Her absorption in matters of the workplace takes from the focus she puts into day to day life. Mim can be a ditz most of the time. You know the kind, someone who needs a friend to call her name twice before she snaps out of a train of thought, someone who was too busy remembering the steps of glycolysis and accidentally added to much sugar to her coffee, the kind of someone who needs to reread lines of a novel several times because her head wasn't completely focused on the plot. It's not like her life is drastically affected by this, she just does these kinds of things more frequently than other people. And mind you, past boyfriends have thought it cute.
Lastly, one might call her gentle. She's quite the cook and enjoys feeding other people her recipes. Mariam will lend you her ear and counsel if you're outside her workplace and if you're patient enough to forgive her losing track of the conversation at times. This gentle nature makes her an apt team member who is comfortable around new acquaintances and an absolute devout for the sharing of anecdotes (so long as her mind steers clear of the pathogenicity of picornaviruses).
Three Skill Sets:
MS in Cellular Biology:
Mariam is armed with a handy BSc in Biochemistry under her sleeve, a minor in Microbiology in her backpocket and a MS in Cellular Biology as a helmet, but please, she's an expert in mitochondria and hemoglobin, don't expect her to know the first thing about astrophysics or ecology.
An ever-perseverant, studious woman, she retains these accomplishments proudly close to her heart. As one is wont to do, she's gathered a good deal of information from her years as a student and as a researcher. For example, she knows her fair share of drugs and toxins, not from ever having studied them directly, but from studying their effects on organisms. She is
far
from being a doctor or nurse, but she has an edge that comes from understanding biological processes and being able to come up with viable hypotheses. Problem is, she does not fundamentally understand the zombies.
Nutrition specialist:
Physiology was too intertwined with diet for her not to delve into the nutrition of organisms. Plus, being knowledgeable as to what and how much to eat let her tap into her motherly side, somewhat (and she does have a soft spot in her heart for food). While not quite her zone of specialty, she knows a greater deal than most as to the nutritional requirements of mammals as well as common sources of them. It just won't do to snack on baked goods everyday if the effects are detrimental to the well-being of her body and her thought process. She hates the way donuts can make her mind more sluggish, every neuron is required in her line of work.
Drive:
If Mim craves something, she will move her every resource until she finds it. This usually means the support or rejection of a given hypothesis, such as the difference in target epitopes between mouse antibodies and cow antibodies (pictured). It goes further than just pure curiosity. Her ambition for understanding fueled her whole career and has given her welcome success in most of what she's chosen to do. Ambition for nutritional perfection in her own dishes prompted her to spend an entire holiday break trying out healthier ingredients that would enhance (or at least, not affect) the flavors of her cuisine once. And let's just say she's more than a bit curious about the whole zombie scenario.
History Since December 21st 2012:
Well, see... ah, I don't really see why you need to know this.
Okay. So, I imagine you could say it was a very quiet, very serene week for me. For me and Dr. Perrin. The week of December 21st, I mean. With Christmas approaching, most of our coworkers were home for the holidays, which I was grateful for, as it'd been a particularly loud month as my lab scrambled to find grants to support our research. You can imagine why the week was of no major relevance for myself, whereas Dr. Perrin had stayed behind because he had to keep close tabs on some modified
Bordetella pertussis
strains. You know the kind, the bacteria that cause that horrid cough in children. They pack a punch with all those toxins, let me tell yo-
What's that?
Oh. Hah, don't be silly. Paradome may have eradicated the common cold, but I daresay that even with their success rate back then diseases were far from eradicated. I don't know the details, but I suppose Dr. Perrin was one step ahead in understanding
B. pertussis'
toxins but it's not like we were competing. We, our laboratory, had no affiliation to Paradome. The way I see it, they were always in the process of inventing, whereas we were in the process of demystifying the natural world. Sure, Paradome might've had their research division, but even a corporation that big cannot cover every enigma in the planet, cut one enigma in half and you get two more staring at you in the eyes. That's where small research facilities like mine came in. I, unlike Dr. Perrin, was looking into reports that claimed a species of bird presented extracellular movement of dyneins and kinesines, which, if true, could launch a whol-
Oh, quite. Sorry.
As I was saying, the week was pretty much silent for us. We spent it all in our lab's subterranean levels - it wouldn't do to have
B. pertussis
strains escaping our lab. They'd installed beds some years ago in the facility in case any employee had a late night of work. We were both enthralled by our respective tasks, I don't think we held a conversation longer than thirty minutes during the week. It was nice to have a quiet workspace after the previous month.
Dr. Perrin finished his data collection ahead of time and left a couple of days before me. I had a good music player to cover his absence. Now, I was to fly home to Albany for New Year's, the brother-in-law's family has this thing for getting together and watching old reruns of
The Nanny
in the last hours of the year. It's not my favorite show, but it's good times all around. I was ready to leave the lab, to take an undoubtedly crammed bus to my apartment, pick up my suitcase, to jump into a cab and fly home but... well... this whole mess happened.
As the elevator's doors opened on the ground floor, I was surprised by the silence. And if that's what struck me before the absolute entropy of the place, you can assume how noisy it was all the time. Carefully, I made my way to the glass doors, only to find one of those things almost waiting for me outside. It was stepping on something shiny that I recognized as Dr. Perrin's keycard. I eventually realized that's why he never warned me after he left. He lost his keycard. The initial shock of the creature's face wore off after a few seconds and it was then that I noticed two other things standing close by the first.
I was just about to retreat back into my safe, subterranean lab, when I heard the gun shots. The things went down before they managed to turn their heads, and a group of people appeared from the left, from Quadra Street. One of them locked their gaze at me first, then a gun. But it turns out that was just a precaution (a bit insulting mind you, as I looked nothing like those creatures). They heralded me out of the building and into... here. The Quarantine Zone, as people seem to call it.
It's been pretty nonchalant since then. You know, whole zombie thing aside. I lost my flight to Albany and I remained here in the hopes that they'd let me reaccess my lab as soon as it was all over.
Except, you know, it's been three months and it's still not over.
I really need to study those bird dyneins.