Ok. 10 years ago, three girls were born and grew at a rapid rate. Within months, they were 16. They looked like nomral average girls until they commited gruesome murders. Murders that no human being could have ever done especially with their bear hands. They were monsters.
By one year, there were fifty in all (all the monsters are girls). No one could figure out why humans were giving birth to these things or how to stop them.
In five years, half the world was take over. Everyone was dieing. These monsters ripped humans heads/limbs off and/or tore out their organs. Very gruesome creatures.
Ten years, to the present day, the streets are empty. Everything is covered in blood and body parts. Those few people still alive and can fight fight to their deaths to survive. Some search for an answer on how to destroy all these monsters. Others are just innocent victims that die one by one.
Is this really the end of the world?
My character:
Name: unknown
Age: 17
gender: female
race: unknown
Appearance: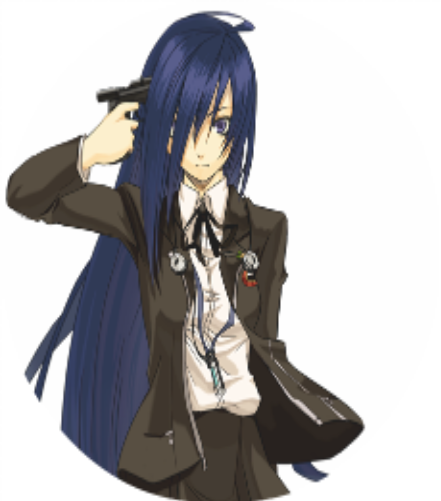 Biography: unknown
Other: none
Personality: sometimes has a bad attitude but will sacrifice herself to save someone. She don't care how much danger she gets in. She's very athletic and sometimes very violent. Friendly if you don't get on her bad side
Weapon: Two guns she made herself
Taking place in...
12 posts here • Page 1 of 1
Alchemy looked around. There didn't seem to be anyone around, but she felt like she was being watched. Ever since her "sister" had killed her parents, Alchemy didn't trust anybody...especialy females. She made sure her magnum was secured at her waist before she continued down the street.
---
Jira ( i pronounce it as Jie ra) walked through part of a building, or what was left of it. She had just stepped out onto the street when she noticed and girl with grren hair. Her instincts made her automaticully grab her gun and aim. She waited for an answer.
---
Alchemy responded by drawing one of her fourteen Magnums on her body, this one labbled 'Blood Leaker'.

"You first. Who are you?" She asked this new female, green eyes narrowed to slits.
---
Alchemy waited for a few seconds, then snarled, "Well?! I don't have all day, so if you're not going to answer, I may as well shoot you." She cocked her magnum, waiting for a reply.
---
Jira spoke softly, "So you're a human. I don't have any business with you unless you really know what i am."
---
"So you're one of them." Alchemy sneered. "Then let's see how good you are at dodging bullets." She pulled the trigger, launching a magnum round at this 'thing'.
---
Jira easily dodges and lands on the side of the building, but just stands there like she would do on normal ground. She was definetly a monster. "I'm not like those other monsters. Have you noticed i'm too well behaved? Any monster would attack and kill the second they see a human. Plus they don't use weapons. They use their bare hands like the beasts they are. Me? I'm sick of having to choose the monsters side. So i'm on whosever side i want to be on. That could be yours if you don't have the intention of killing me."
---
Alchemy snorted. "I don't care how you act, to me you're all the same. Bloodthirsy beasts who do nothing but kill. All you're trying to do is to get me to lower my gaurd." She obviously wasn't going to trust this 'girl' any time soon.
---
"Fine with me." She pulled out both of her guns and jumped off. Then she landed directly behind Alchemy and shot down the monster that was sneaking up on her from behind. She smiled, "I'll let you live this time." With speed, she disappeared.
---
"Huh?" Alchemy was floored. This girl was obviously one of them. But in her five years of hunting the things down, she had NEVER know one to kill one of their own. "Just what IS she?" Alchemy mutters. After a few moments of indecision, she wanders away, wondering if they would run into each other again.
---
--three days later--

Alchemy had had a nasty run in with one of the monsters the day before last. Her arm was still bleeding where the thing had grazed her. She was busy re-bandaging it when she cought sight of Jira.

"Hey!! It's you again!!"
---
12 posts here • Page 1 of 1
Arcs are bundles of posts that you can organize on your own. They're useful for telling a story that might span long periods of time or space.
There are no arcs in this roleplay.
There are no quests in this roleplay.
Here's the current leaderboard.
There are no groups in this roleplay!
Welcome home, Promethean. Here, you can manage your universe.
Arcs are bundles of posts from any location, allowing you to easily capture sub-plots which might be spread out across multiple locations.
You can create Quests with various rewards, encouraging your players to engage with specific plot lines.
Settings are the backdrop for the characters in your universe, giving meaning and context to their existence. By creating a number of well-written locations, you can organize your universe into areas and regions.
Navigation
While not required, locations can be organized onto a map. More information soon!
There are no groups in this roleplay!
By creating Collectibles, you can reward your players with unique items that accentuate their character sheets.
Once an Item has been created, it can be spawned in the IC using /spawn Item Name (case-sensitive, as usual) — this can be followed with /take Item Name to retrieve the item into the current character's inventory.
Give your Universe life by adding a Mob, which are auto-replenishing NPCs your players can interact with. Useful for some quick hack-and-slash fun!
Mobs can be automated spawns, like rats and bats, or full-on NPCs complete with conversation menus. Use them to enhance your player experience!
Current Mobs
No mobs have been created yet.
Locations where Mobs and Items might appear.
You can schedule events for your players to create notifications and schedule times for everyone to plan around.
Add and remove other people from your Universe.
The Forge
Use your INK to craft new artifacts in Blood. Once created, Items cannot be changed, but they can be bought and sold in the marketplace.
Notable Items
No items have been created yet!
The Market
Buy, sell, and even craft your own items in this universe.
Market Data

Market conditions are unknown. Use caution when trading.

Quick Buy (Items Most Recently Listed for Sale)
Newest
Trending
Most Followed
None
Discussions
Most recent OOC posts in Blood
Um I have a question are we regular humans, these monster girls or can we be either one?
This is the auto-generated OOC topic for the roleplay "[url=http://www.roleplaygateway.com/roleplay/blood/]Blood[/url]"

You may edit this first post as you see fit.