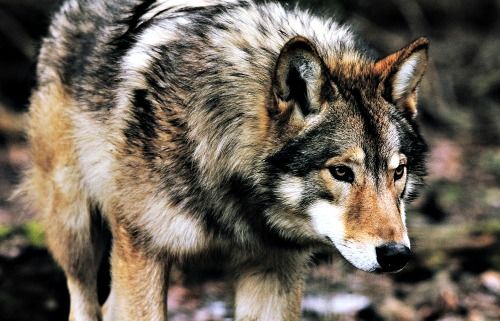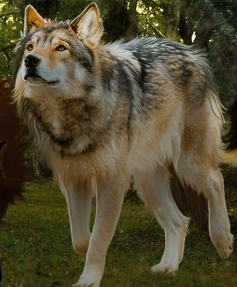 Name
: LifeSimmer
Gender
: Female
Age
: Four
Rank
: Scout
Appearance
: Golden eyes with a missing tail. She has colors that vary from light creams to dark inky blacks that flow across her fur.
Personality
: Perceptive, Brooding, Observant, Gatherer, Adventurous, Night Owl, Paranoid, And Socially Awkward.
Mother
: A Stray (Maned Wolf)
Father
: An Outcast (Chernobyl Grey Wolf)
Brothers
: Glacier (Twin), Gully (Eldest)
Sisters
: Wisp (Twin)
Information on Family
: Even though Gully and LifeSimmer(Youngest) were born with the twins as a litter, Glacier and Wisp were born in each other's embrace. Which is why they are considered twins in the first place. Gully chose to be a stray like their mother, however went on his own path. Glacier and Wisp decided to stay with their mother while LifeSimmer became a follower of her father, the outcast. He used to be a Scout, and taught her all that she knows today.
Today, LifeSimmer resides with the very pack her father was banished from.
Mate
: None (Yet?)
Crush
: None (Yet?)
Pups
: None (Yet?)
Strength
: Swift as the billowing wind. Eyes that pierce her surroundings like a hawk after it's prey, gifted by her outcasted father. Her strong hearing is gifted by her stray mother. Her ability to piece mysteries together is sought for, which is why she is desired to be a scouter for the pack.
Weakness
: Great hearing can be a gift but also a curse. Sometimes she will hear things that should not be heard. High pitched noises bring doomed headaches that leave her disoriented and the need for immediate rest. She is a paranoiac wolf. It's the only thing that can soil her perceptive insight. There are moments where she cannot find the right words to say and it can come out mean and offensive. However, she never seeks to hurt anyone or their feelings.
"This is the life I have chosen to live... and I wouldn't want it any other way." -Liz'Beth