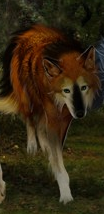 Name
: Salix
Gender
: Male
Age
: Three
Rank
: Scout
Appearance
: Long ginger fur with splatters of color all over his pelt. Black on the nape of his neck and covering his snout, with a streak on his long furry tail. White and creams cover the rest of his face and cover his paws like socks. His eyes are a light pale green with flecks of gold. His stature is light and nimble with large ears he uses to listen to the silence. He is a midget compared to the stature of other wolves in the pack.
Personality
: Attentive, Great Sense of Humor, Playful, Easily Impressed, Easily Startled
Mother
: Passed on
Father
: Passed on
Brothers
: None
Sisters
: 1, Passed on
Mate
: None
Crush
: None
Pups
: None
Strength
: He has large ears with enables him to hear the slightest of noises. They assume he is hollow-boned by how light he is and it gives him an advantage in sprinting. He can easily evade danger by his speed.
Weakness
: He's very light and more of a fast paced wolf. He isn't built for fighting so if he was scouting and gotten ambushed, there is a possibility that he won't survive. Injuries take double the toll on his small body.
(PS- He isn't a main character so if he does pop up, he'd be included with Lifesimmer or Lichen. A good friend to all.)
"This is the life I have chosen to live... and I wouldn't want it any other way." -Liz'Beth