''Dreaming in white, splatter in red, blue faced terror I bid you goodnight.''
Valkyrie II: Lucuna || Varien
---
---
General information




Nickname:


Al, Elle, Blue rose


Age:


Appears: 22 years old
Factually: 189 years old


Gender:


Male


Sexuality:


Bisexual


Vampire/Human type:


Home Vampyrus Sauria
---
---
Appearance
Height:
6'9 foot
Weight:
123Ibs
Eye colour:
Normally: Pink red.
Minor thirst: Purple red.
Mild thirst: Maroon red..
Severe thirst: Blood red.
Hair colour:
Strawberry Blond || Ginger
General Description:
Alesso is a almost ghostly pale individual and when you look close enough his skin has a scale formation, because of this, his skin is as smooth as a snake's pelt. It is also hard enough that not all guns fired at him will pierce his skin on first try unless armour piercing. His eyes were reptilian, pinky red like a albino but he has short wavy ginger hair. His ears are slightly more out and pointed at the tips with white gold piercings in them. One piercing from his lip connects to his right earlobe with a delicate white gold chain. His cheeks are also pierced, his left side of his nose is a hoop through it and his bridge is also pierced. He has a affinity for white gold. He was born from a vampire and ghoul relation so he was born a vampire but because of the unusual circumstances, he as a long thin scaly flesh toned tail that he hides in his trousers.
His teeth like rows of shark teeth, he tends to smile without opening his lips to refrain from frightening anyone. Often found in loose attire like loose tanks with a netting top underneath, commonly white and ripped trousers at the knee that are of dark colours and some steel toe black polished boots with studs on the side and spikes at the back of them. Long white claws of the un-retractable variety that can claw into metal if he wishes. His fingers, legs and arms even seem to be longer due to a unaccounted for growth spurt. You could say his tail and longer limbs is a form of deformation but he still looks like a beautiful being, just he can reach places most can not. He is also nimbled bodied that allows him to be very flexible and appear in small unusual places of his liking but he is toned also.
---
---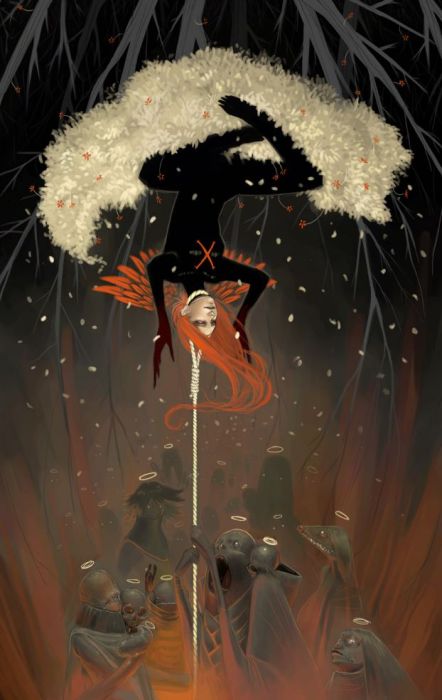 Mentality


Personality:


He is a quiet lingering presence, he never really goes away unless he loses interest and if you have jewels, consider them already gone because he wants all the shiny things. He is a thief in that regard. But he is also a brute when it comes to... cleaning a mess up in the form of bodies or people that have expired in use. He has a facade of a shy, gentle but tall soul but he can often turn it around and be the soul of a party, especially in raves, overloading on music, sweet alcohols and glowing attire like bangles, necklaces, earrings and belts of re-purposed long glow sticks. But he rarely delves into romance, with the affinity to bite in such explicit forms of affection, he is more likely to sleep with a blood stained bed.

Destructive, envious and possessive of his possessions and people that it could be dangerous to ever threaten to take them. Often going into fits of rage like a child but he is smart... He could very much use it against his opponent and get close enough to rip their throat out and most likely disembowel them. He is a nasty person for that. He is willing to go that far, worse to even try keep victims alive for his own enjoyment when he can get someone to feed from or is allowed to go town on someone's ass. But besides this, he is quite tame but once he is your friend he tends to try do everything to please you from hanging out with you at clubs, cooking you meals in your own house... cleaning your house.... your clothes, gifting you and watch over you when you sleep...



Likes:



Colour white
Art
Tattoos
Piercings
Shiny things
Cold weather
Jagermeister
Wine
Dark chocolate
Silk
Gifting
Dislikes:
Hot places
Slow music
No partying
Liquorice
White chocolate
Beers || Lagers
Scent of bleach
Being alone
Boredom
Being angry
No disembowelling
---
---
History || Family || Associates
He was born from one of his father's ghouls, the man was an old elder, about 800 years old, he knew better... Deformed children were a common thing for Sauria vampires when mixing with humans, ghouls or other vampiric races but he procured a son without better judgement or protection. Alesso's mother died through the birth, she was a 100 year old ghoul but looked as young as 32 and she was red haired and blue eyed. His father having the pale complexion when she was slightly more tanned but he had brown hair and yellow reptilian hues. He is still alive his father, in fact they still meet up. Despite being only slightly deformed his father, Ruvik Von Bergentine fell in love like any father would but it surprised him. He spoiled his little boy, devoting his time to him and making sure he got only the best care. He was well off.

Over the years he grew, looking like his father and mother with the exception of his small tail, longer limbs and pinker reptilian hues. Learning to walk took longer and often in his younger years he needed physiotherapy to help his legs, fingers and arms from seizing up, which caused him pain and almost had his lower body become paralysed until his father had no choice to break his bones and have them mended in the right places again. Painful indeed. He was bedridden for a long time but that was when his love for anatomy came to fruition and differing gun schematics and a silly idea of having a casino. But over the years of getting his license as a doctor and surgeon he met Alan F White. From there he took him in and slowly the man warmed to him and he taught him English then slowly spoke about each other, getting to know one another through a personal history and over the years both of them started to deal in guns, which came to fruition rather quickly thanks to Alan's social skills and management.

It was then that they decided to make Alan the leader of the gun's trade and he work where Alan could not, being that he was uncomfortable in crowds. He worked to get hirelings and because the pair of them were differing vampiric race sin the beginning other vampires were not so reluctant to work with them. There blackmarket operation grew so big that the silly casino dream came true but he prefered to be the one behind the scenes when it came to being known in the public eye as one of the biggest and loved casinos and hotels in Las Vegas. More the controller of men and workers as well as some muscle since despite his lanky apparition his strength was unexpected and unaccountable. So he is Alan's business partner and he lives with the man in his ivory tower to this day. His father owning most of the hospitals in Las vegas and he comes to visit them, over getting the attention from press being Alesso's father and connected with the elusive casino and hotel owner, Alan F White.