❝Don't try to pretend the world is full of sunshine and roses. Sometimes the world really is out smack you down. The best you can do in these situtations is grit your teeth, take your beatings, then get the hell of out dodge the first chance you get. That's how I survived this long...❞
---
---
| Nickname(s) |
:
| Gender |
: Male
| Age |
: 18
| Grade |
: 10th (Having to repeat due to time spent out of school)
| Club |
: Gardening
| Spot/Role |
Male 3
| Appearance |
: Dale has a tattoo of twisting winged snakes starting at his palm that twist its way up onto his right cheek. He also has a few marks on his back that look like healed stab wounds. Dale does like to talk to have to explain these or draw attetnion to them so he keeps his back and arm covered with fingerless gloves and long sleeve shirts. He doesn't give much care to his looks beyond that, equating to a lake of grooming that others have said gives him a scruffy punk look about him.
---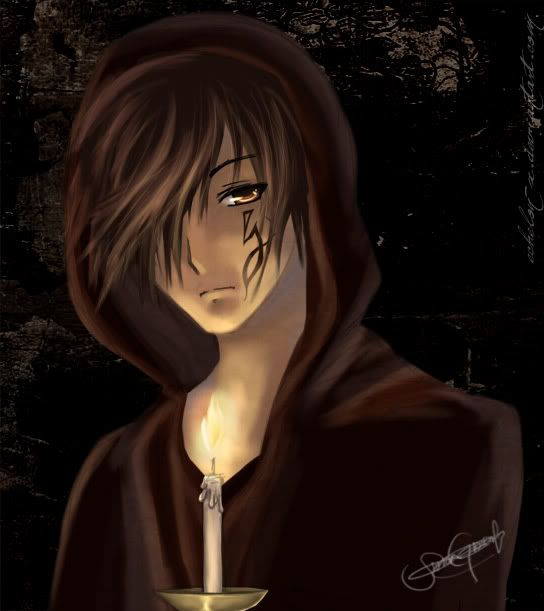 ---
| Likes |
*Spicy food
*Loud music
*Cats
*Yogurt
| Dislikes |
*Being interrupted
*Nosy people
*Being yelled at
*Arguements
| Personality |
: Dale is a bit rough around the edges. Past experiences have taught him toe expect the worst in most situations. Not really having many friendships that haven't ended badly, he's come to try and keep people at a distance and usually be a bit defensive and standoffish as as sort of survival mechanism. Since he was enrolled into The academy he's tried to tone it down and lower his barriers, but old habits die hard.
That being said, when he finally does establish a connection with someone Dale can quickly become a bit over protective towards his friends. Having lost people in the past he can understandably be a bit paranoid when it comes to someone else's safety. If anybody even thinks about antagonizing someone he's formed a bond with Dale will not think twice about starting a fight.
---
---
| History|
: A long time ago Dale was just an ordinary kid. Just the son of an archeologist with no powers, no supernatural worries, and no problems with his life. It wasn't until he was fifteen that things took a bad turn for him. One summer his father took him out on a dig and due to a certain event during which his right arm was made the vessel of a spirit of an ancient warlock named Crom.
Crom, as Dale would later learn, was a powerful necromancer in his time who had been sealed away for breaking some taboo in the past. Unfortunately becoming Crom's host had some very nasty repercussions, namely Dale seeming to turn into a magnet for the supernatural. Spirits, demons, and other creatures started popping up around him, and Dale found his life becoming increasingly violent. All this quickly came to a head when Dale's own father was murdered some time shortly after initial exposure to the mystical world.
For the next three years Dale would find himself on the run, fleeing from one place to the next to keep ahead of whatever trouble he had gotten himself into recently. It wouldn't be until he ran into one of the teachers from Blossom Crest Academy in a chance meeting that his life would make a change. Being offer a place of safety and sanctuary while he learned how to properly control Crom's powers, Dale signed out the enrollment forum without a second thought
|Powers|
: Dale has learned a bit of summoning magic from Crom. He's become proficient enough to figured out how to 'reverse engineer' a summoning spell in order to summon
himself
to another location as a sort of makeshift teleport. Crom supposedly has a wider range of abilities, but Dale can't access them unless he lets Crom take over, which is only something he does in a life or death situation.
| Other |
: