---
---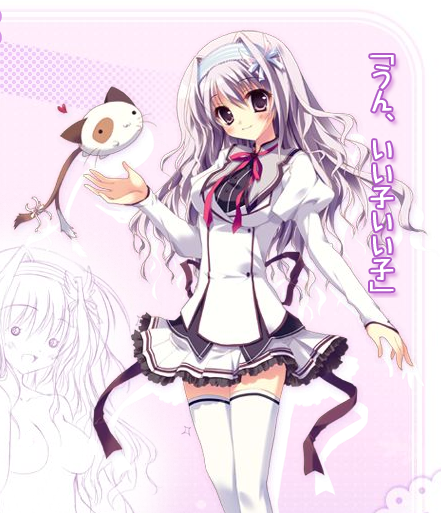 || Name ||
Ami Satou
|| Gender ||
Female
|| Age ||
16
|| Race ||
Human
|| Role ||
Best Friend
|| Weapon ||
Her hair ribbons, which she is able to use as a whip in last case scenarios.
|| Power ||
None, she is simply a human.
|| Meister Exorcist Classes ||
Doctor and Tamer
---
---
|| Height ||
5'3"
|| Weight ||
96lbs
|| Body Type ||
Petite and Lithe.
|| Skin ||
Peaches and Cream complexion
|| Hair ||
Soft, Mid-back length, purple hair which naturally falls in gentle waves around her face. She has a normal fringe which has a tendency to fall into her eyes and she is often caught blowing the hair away.
|| Eyes ||
Big brown eyes which are framed by a set of surprisingly dark eyelashes considering her hair colour.
|| Remarkable Features ||
Ami has a small, circular birthmark which graces her inner thigh. She also has a small set of wings tattooed onto her left shoulder done in white and lavender.
|| Style ||
Ami has a tendency to wear lots of girly cloths, like dresses, skirts and blouses. She likes to wear flower hair accessories and is often found wearing a set of ballet flats. She always wears her blue headband in her hair.
---
---
|| Name ||
Neko
|| Gender ||
Female
|| Age ||
3
|| Demon Type ||
HellCat
|| Personality ||
Neko is super cute and absolutely adorable. She is curious and naive with a weird obsession for marshmallows and ribbons.
She has no physical skill and is pretty useless in battle, but she does have a healing touch.
She is still to young to have come into her full demon heritage.
---
---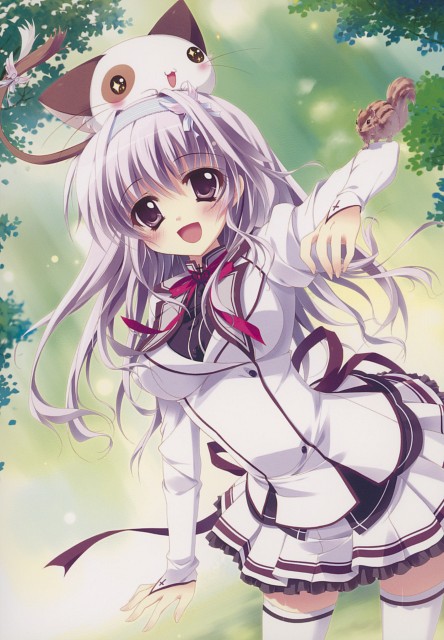 Ami is your typical, sheltered, homeschooled girl who has no clue about love, boys or even how to interact with those who arn't part of her close family. She has a horrible tendency of being very shy around other seeing as she has no real self confidence in herself and when she is spoken to, she can go bright red and stutter a lot; especially if you are someone she has never talked to before or someone she thinks is way above her.
Strangely enough, once she has gotten to know you, she is much more incline to laugh and talk until her tongue falls off. She always has interesting conversation and is always laughing because of her over the top sense of humor that causes most things to appear funny towards her.
Ami is also quite a kind person who has always wanted to help people, and was actually her main reason for attending Exorcist Academy, though many would think she might be brave for moving away from home and entering a new place completely on her own, it is simply determination and simple minded ness that doesn't take into account what the consequence to her actions can be.
Ami truly wants to help people and has a terrible problem of placing others before herself and this can cause a decrease in her own personal health, however this heart of hers has gotten her into trouble but she cares as she does despite being fooled and manipulated time and time again.
| Likes |
Violin
Cats
Demons
Flowers
Cuteness
Healing
| Dislikes |
Pain
Death
Rudeness
Demons
Betrayal
Liars
| Talents |
Violin
Cooking
Healing
Animals
Cats Cradle
Memorisation
| Flaws |
Fighting
Naive
Panicky
Shy
Easily in love
Awkward
| Hobbies |
Playing Violin
Playing with Neko
Cooking new recipes
Helping others
Playing Cats Cradle
Flower pressing
---
---
Ami had a fairly normal childhood and lived a happy life with her parents. She had always been home schooled and had only ever really socialised with her parents, siblings and her childhood friend, which meant she was slightly shy and awkward when it came to meeting new people. However it was soon that she came of age to enter high school and this meant she would be leaving her family and childhood friend in favour of entering the Exorcist Academy.
She was naive to the ways of socially and so when she first met him, she fell in love easily and stupidly gave him her heart. He gave her the sight, the ability to see demons. The night she was going to give him her everything, he attacked her and cut into her arms and ripped her legs horribly so that she had scars all over her body. Se saw him for what he was and she needed to stop them, she had to stop them.
However, despite her promise, the fact that she had fallen in love with a demon always stuck in the back of her mind.
---
---