Lolita
⌈
Sometimes Pretty Hurts
⌋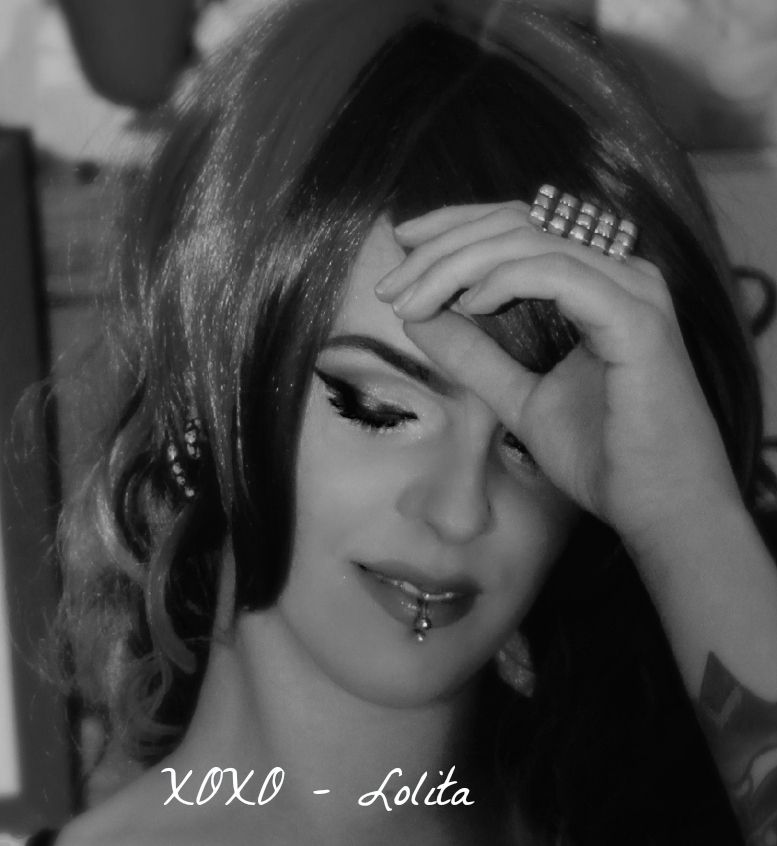 ⌈
Name
⌋
Tiffany Jones
⌈
24
⌋
⌈
Appearance
⌋
Hair:BlackEyes: GreenBuild:SlenderSkin Tone:OliveHeight:5'9"Weight:135Voice:LowHanded:RightBody Markings:Full back Tattoo of a Geisha disrobing
Due to Lolita's impressive height and beauty she prefers to only roam the streets at night and has a tendency of creeping along the shadows of the city. When not in disguise she sulks around the city in a baggy, black, woolen, hooded trench coat. Her fresh face occasionally meeting the moonlight when she's assured no one is looking. Her old black Doc's, scuffed and torn, take on water every time it rains. On cold nights she wears a ratty pair of red fingerless gloves to keep the chill out. Constantly keeping her long dark hair tied up and hidden under the hood of the trench coat simply for stealth purposes. It's nearly impossible to tell from the back who's inside of her flowing coat. And that's just the way she likes it. She reserves her beauty for swindling the wealthy.
⌈
Sexuality
⌋
Bi-Sexual
⌈
Personality
⌋
Motivation: MoneyFears: CommitmentGoals: Be able to live a normal lifePositive Traits: Generous + Positive + Driven
Negative Traits: Accident Prone - Forgetful - Procrastinator
Originally motivated by her fathers death, to provide for her mother, she no longer has anyone relying on her and as such, not much to lose. Luckily for her she is highly skilled at pheromone control and can pretty much cause anyone to go weak in the knees for her. In as quick as a bat of her eye lashes she could have a room full of men handing over their wallets just for a kiss of her hand. She has just begun training herself in martial arts however, with her severe lack of coordination in anything beyond walking and climbing she is at a large disadvantage. Her only means of self defense are the nightstick and tear gas she keeps on her at all times, though she's never once had to use them, thankfully.
Though she is rarely seen out in public she likes to think of herself as the modern day Robin Hood. With her affinity for climbing buildings, also comes her peeping. She has a nasty habit of watching people from fire escapes and if they seem to be in need she will often times leave food or other desperately needed items on fire escapes or inside windows while the occupants aren't home. She takes deep pleasure in using her skills to at least attempt to even the playing field between the upper and lower classes. She's even been known to "adjust" a few electrical panels so that they mysteriously start working. She's by no means a do-gooder, just a villain with a conscience that constantly needs clearing.
Avarice is what keeps Lolita going, however. There will never be enough money, Fabergé eggs, or high heels in the whole world to keep her from her lust of the finer things. Before her world fell apart she was daddy's little girl and anything she wished was granted. But once the walls came crashing in around her, it was up to her. Although she has gleaned copious knowledge and self confidence through her tragic situation it will never bring her family back. Her wanton need for extravagant things is the only thing that fills the holes left when her parents shuffled off this mortal coil. Maybe one day true love will sooth her grief, but as for now, she trusts no one.
⌈

Likes

⌋


Animals, Champagne, Sleeping, Latex, High Heels



⌈

Dislikes

⌋


No Smoking Signs, White Wine, People, Sweat Pants, Movie Theaters



⌈

Relationships

⌋


Lolita is a recluse, No friends or family. Her mother passed away six months ago when someone burglarized her home and caused her to go into cardiac arrest. She now roams alone, unfriendly towards strangers. Her only companion is a fat brindle Corgie/Pitbull named Chubs.
⌈

Power

⌋


Pheromone Control


⌈

Equipment

⌋


Grappling Gun, Climbing Harness, Nightstick, Tear Gas Launcher, Glass cutting equipment



⌈

Strengths

⌋


Seduction, Climbing, Silent Entry, Espionage, Immunity to all Toxins



⌈

Weaknesses

⌋


Murder: She's never had to physically harm anyone and the thought of ending someones life terrifies her.
Balance: Lolita has a serious vertigo problem that has on occasion gotten the better of her and can strike at anytime.





⌈

Home

⌋


Lolita lives in an upper class flat, that her father left to her at the time of his death. A majority of her belongings were either inherited from her mother or pilfered during a break in. Most people in her building don't even notice that she is there so she is never seen when coming or going from a burglary. Her equipment is stored in a wall safe behind her shoe rack in her closet. It measures approximately 3' x 2' x 2', most of her equipment stays hung up, while there is a crate of tear gas at the bottom.



⌈

History

⌋

After the passing of her father Lolita was slated as the breadwinner due to her mother's weak heart and inability to work. Unable to find a job decent enough to support her ailing mother and her extravagant lifestyle, she was driven to seducing and subduing the wealthy for whatever heirlooms and cash they had on hand. She kept up appearances by attending a 9-5 coffee shop job until her mothers passing when she decided to go full vigilante. Rather unknown in the community since she works either in the dead of night or while in full disguise. Most just assume she is a petty cat-burglar not a career criminal.