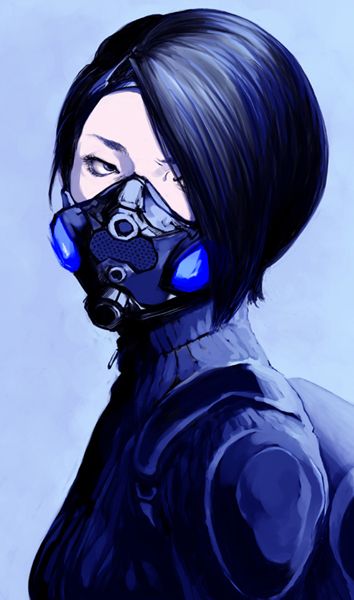 ⌈
Worry about what you can't see, not what everyone sees.
⌋
⌈

Name

⌋


Sarah Martin



⌈

Age

⌋


Visual Age: 29
Factual Age: 32



⌈

Appearance

⌋


Hair: Short, Straight, Black
Facial Hair: None
Eyes: Dark Brown
Build: Slim
Skin Tone: Pale
Height: 5'7
Weight: 128 lbs.
Voice: Somewhat low in tone with a bit of a rasp, generally muffled by her facemask
Handed: Right
Body Markings: None
Scar Tissue: Two faded surgical scars on her chest and neck that are two inches and one inch respectively.
Unique Body Features: Her mask has left her with a slight discoloration of the skin it covers and red marks from where it's been pressed into her skin for overly long periods of time.

It's good that the eyes are seen as the most expressive part of the human face, because that's all Sarah has to really work with most of the time. Sadly, such all-important features seem to display little for the most part, always keeping a somewhat tired, apathetic look on them. Generic brown eyes have never been the most lustrous, but hers have been dulled by white rooms, lab coats, and too many dead bodies to catch the light like they should. When life does return to them, it's rarely due to a positive situation; frustration and anger are much more common than joy and surprise. Underneath the mask, the rest of her face hides. Her narrow nose thin and thin lips flare and part without anyone to see, and as a result the lower half of her face also lacks what little color and life the rest of her body has. Without the mask, thin red lines highlight the sickly pale and last for an unknown amount of time, as they've had little chance to fade. To further the covering of her face, her short, black hair is kept long enough that the part she places in it manages to cover her left eye and a good portion of that side of her face as well.

Her light body is not one built for fighting anything really. She keeps in good enough shape to run away and avoid people, but lacks any sort of real muscle mass that could be useful, making her body soft. She lacks any overt blemishes on her skin save for her scars and a new bruise or cut every once in awhile. She tends to move quickly and sway about before catching herself and letting her self-conscious attitude stiffen her up, as well as always trying to keep her head down lest the wrong person wonder about why this woman has a mask on. When she's not out and about though, she tends to pace and move her hands about as she thinks and talks, whether it be to mimic certain actions or just to further express herself.

Atop all this though, is her clothing, the most noticeable of which is the mask she wears anytime she is around other people. It covers everything from just below her chin to the bridge of her nose and is secured through a series of straps that rap around her neck, the over perimeter of her face, and through her scalp at her natural part. It is a rather heavy thing to wear, but it's the best she can do when the alternative is filling the air with poison, and the blue LED lights let her know that it is working properly with no leaks. Besides that, she tends to wear long sleeve clothing in public, preferably with hoods and in dark or neutral colors along with baggy pants with deep pockets.



⌈

Sexuality

⌋


Asexual. She lacks the drive to even wonder about it anymore.



⌈

Personality

⌋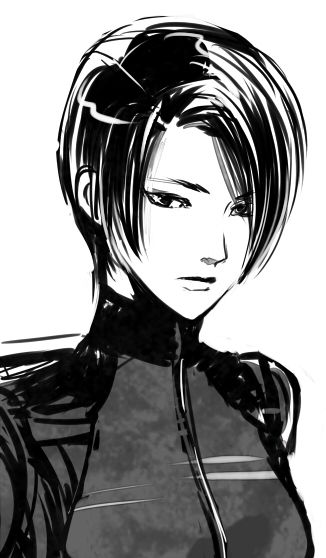 Motivation: Petty, fanatical revenge.
Fears: Waking up without her mask on, doctors, and dying young.
Goals: Ruin everyone and everything associated with Bayer Laboratories.
Positive Traits: Tolerant + Determined + Cautious + Curious
Negative Traits: Irritable - Sadistic - Zealous - Manipulative

Content and motivated would probably be the best way to describe the Sarah from a few years ago. She wasn't too cheery or brooding or what have you, just content and personable enough to maintain amicable work relations.

The only thing that seems to have carried over into her current state is her being motivated and being just personable enough to maintain amicable work relations. Sarah spends her days working towards and contemplating how to achieve her very narrow goals and puts more effort into this one task than she's ever likely spent on anything. And what a task it is, bringing down an entire corporation and everything associated with it. All for what? For turning her sulfuric breath into poison and locking her up in a room without her consent. She didn't really have this burning desire back then though. No, she was still content with the large amount of money they promised and all the things they provided for her in captivity. It wasn't until being let out into the world where air tight rooms are rare and the straps of her mask dug cruelly into her face that she something stirred. She was like this because they operated on her and used her for their own profits, and they couldn't even be bothered to hold up their side of the deal. They were incapable of withstanding a bunch of hippy's with guns and now she has to deal with their failure, and now she not only has lots of ways to deal with things, but takes great pleasure in watching them get done.

In the interests of getting these things done, she has developed a flair for pulling people's strings when she sees the opportunity. She certainly won't be orchestrating any riots or turn strong allies against each other, but when she gets a hint of something that she could use to influence someone she makes good use of it. She's spent her time out in the world doing such for the END, but they were rather simple to push in a certain direction, what with their lack of discipline and zealous terroristic bent.

Besides her self-admitted, disproportionate desire and her twirling of terrorists around her finger, she does her best to keep things to herself. This is partially due to the people around her being the aforementioned hippy's with guns that she doesn't have much respect for, but, as a general rule, the more she talks (and how she loves to talk once she starts!) the more likely things will end with someone getting offended or something best kept secret being revealed. So she tries her best to behave professionally and dryly amongst others, though her best isn't that great. If someone prods long enough (it doesn't really take too long) she'll start letting the words flop out of her mouth and through her mask's vents, whether it be to taunt or rant, threaten or cry.



⌈

Likes

⌋



Smoothies
Sour candy
Video games
Human contact
Gum
Walking outside
⌈
Dislikes
⌋
Cats
Crowds
Her mask
Summertime
Air Fresheners
People staring at her



⌈

Relationships

⌋


She's relatively new to Las Flores and only really knows the members of END that came with her. Other than that, her parents and siblings are likely under the impression that she's deceased and she hasn't been in contact with them since being taken in by Bayer.



⌈

Power

⌋


Naturally, Sarah was rather unimpressive when it came to superhuman traits. In her lungs were several small growths that cause the air she breathes to be laced with a harmless gas and also gave her body the ability to tolerate constant exposure to a substance foreign to the natural body. Bayer Laboratories altered these harmless growths through several surgeries and extensive hormone treatment to produce a powerful nerve agent that the company had developed with much more frequency than what she produced prior. This toxin she now produces, like other nerve agents, attacks the nervous system of those who are exposed to it. A lethal dose–what amounts to a couple breathes of her exhalations–is capable of robbing a person' control over their bodily functions within two minutes before they eventually suffocate between three and four minutes from their initial exposure to the toxin. With lesser exposure the victim tends to last anywhere from ten to twenty minutes depending on the situation, precious time that they might be able to get their hands on benzo or diazepam, which serve as effective antidotes if they're taken quickly enough.

The problem with taking an antidote is that it is generally difficult to notice one's been affected by her poison. The nerve agent is colorless, odorless, and can fill a room pretty quickly. Beyond that, it has a habit of sticking to people's clothing for up to an hour which helps spread it around and Bayer's unwillingness to admit to creating the nerve agent or a walking war crime means that little information is actually available to the public or the authorities at the moment.



⌈

Equipment

⌋


She carries a prepaid phone to keep in contact with people, and a pocket knife to fend off any annoyances on her everyday travels. When she's expecting to confront someone though, she wields a 10mm handgun with a 16 round clip that she bought on the black market as well as several smoke grenades filled with her pressurized nerve agent.



⌈

Strengths

⌋



Access to nerve agent
Wealthy
Intelligent
Plans ahead
Support from the END
⌈
Weaknesses
⌋
Conspicuous
Talks too much
No combat training
A threat to everyone around her at all times
Becomes stressed easily



⌈

Home

⌋


She has several safe houses throughout the lower income areas of the city, most of which are just abandoned buildings that some of her people squat in. Her nicest residence though is in an apartment building in one of the better part of towns. It has a bedroom, bathroom, living room and kitchen with enough space to make a single person not feel too cramped. The lack of doormen or security cameras is what made her choose it.



⌈

History

⌋

Sarah was the second child born to two school teachers in a suburb of the Pacific Northwest under the name Sarah Angles. Neither they, nor her older brother, nor her early childhood could be considered note worthy in the annals of history. The two of them worked hard as teacher's do and her grandmother tended to the children until they were deemed old enough to be at home by themselves. It wasn't really until the fifth grade that anything really different could be said to have occurred to little Sarah.

One particular morning in late spring, Sarah woke up and shipped off to the elementary school a few blocks away from her house. It wasn't really until about lunchtime though that Sarah actually noticed anything different when her friends all seemed to be sitting a little further away than normal and always leaned away when she leaned closer. When she asked what was wrong and they finished glancing to each other and shifting about wondering who would actually tell her, they told her that her breath was pretty intolerable that day. After acting embarrassed and muttering how she hadn't noticed and how she'd brushed her teeth like always, she gave up and threw a piece of gum in her mouth for the rest of the day. Thinking it just a onetime thing that would never happen again, she went through the same routine the next day, except this time she found out first thing in the morning. She ran home to brush her teeth again before she was late for school but it did little once the scent of peppermint faded. She stumbled her way through the day relying on gum once again and told her parents about it.

They took her to a doctor and he diagnosed it–incorrectly, but there were few alternatives–as halitosis and simply gave her instructions to clean her tongue thoroughly, gargle mouthwash, and avoid certain foods for awhile. When that didn't work they took her back to the doctor to report on it and have a proper examination done. When nothing wrong was found in her mouth or on her tongue, and yet the smell of sulfur still wafted its way out, she was sent to an otolaryngologist to have her throat looked at. After having several scans of her chest done, the doctors finally managed to spot the small growths–first one, then three, then seven, then more–that were believed to be the problem. Noting that the growths were too numerous and placed in areas too risky to perform surgery, and that there was no health risk coming from them, they merely proscribed her special gum, mouthwash and toothpaste to mask the smell and checked the superhuman box on her medical forms.

After getting used to having to chew weird gum constantly, little else notable happened. She graduated with honors from her high school and eventually worked her way into a university's pharmacy program where she managed to earn her degree. She had to hunt around for a bit and live with her parents for a time but she eventually managed to land a job working at the research company Bayer Laboratories. Though it was a rather tedious job of busywork and promised to be a good starting point for a more interesting career. When promotion time came up, she was asked about her superhuman status–no one had noticed any lasers or levitation yet–when she told them what actually qualified her for such a thing. The interviewer laughed a bit and she went along awkwardly, but she did get the promotion, along with the more engaging work and higher pay. The problems would come later.

Not two months after the interview, Sarah was asked to participate in a workplace study involving some pointless thing that the legal system required they test for before allowing one of their products on the market. She agreed after some prodding and had to spend the night in one of their observation rooms. After overcoming her restless legs and the uncomfortable bed, she fell asleep only to wake up strapped to a table with a tube down her throat and the feeling of fading anesthetics. When she started struggling from the growing pains in her chest and neck, pain medication was administered and someone explained what had happened. They had conducted surgery on the growths around her lungs and altered them. She was still recovering so they oft repeated the need for her to not struggle or else risk tearing her stitches or damaging the healing growths inside her.

Sarah spent weeks in recovery before they finally pulled the uncomfortable tube painfully from her throat and replaced it with a mask screwed together around her head to prevent her from removing it. This was when someone in a lab coat explained what had actually happened and that instead of producing some harmless sulfuric gas, she was now producing a nerve agent whose only name was a random string of numbers. The man who had the unfortunate job of explaining this to her tried his best to make what they did sound reasonable and fair, explaining that her parents had been given a large settlement and that matched the money they had put in investments in her name. He said that all this was conditional on her remaining here and doing what they said for the next five years, after which they'd reverse the surgery or simply remove the growths all together. Seeing how much money she had just gained and knowing that refusal very likely wasn't a healthy option, she acquiesced.

Sarah tried to settle in to her life of spending five years in a moderately sized white room with windows all around and the uncomfortable mask she was required to wear. They gave her the necessities of food and water and television and books and video games and whatever else she wanted that didn't give her the option of communicating with anyone. For rent, she had to spend several hours every day with a tube hooked up to her mask that collected the nerve agent she exhaled, taking it away to be purified somewhere.

It wasn't four months in, and when the resentment started to kick in, that a certain group of eco-terrorists, apparently upset with the pollution Bayer was dumping in some lake or forest, outright attacked the building Sarah was kept in. The End of Nature's Destruction (END), Funded by Bayer's competitors and well armed, tore right through the place looking to steal all the valuable information they could and set fire to everything else. When they stumbled upon Sarah, they took pictures of what they saw (thankfully covering her face for them) and took her with them.

She told their apparent leader, Ryan Anders, what she was there for, what they had done, and that she needs to keep her mask on if he doesn't want people to start dying. He took all this information she'd given, along with what they'd found during the raid that wasn't given to other companies on the internet while she quickly collected all the money Bayer had invested for her. At first she wanted to just go live an actual life somewhere but everywhere she went people stared at the woman wearing the facemask and no train or plane or boat would have somewhere wearing such a thing. She considered having surgery done to remove the growths and free her from her current state, but she had no idea how complex such a thing would be or who would be capable of doing it, so she just wallowed for awhile. Her resentment over what had been done to her grew as time went on and, before long, she went back to END to join them. She didn't really care about the environment or pollution, but they were the ones most capable of harming Bayer and that's all she wanted to do right now.

Sarah's poison and money let her rise through the ranks rather quickly and gave her enough influence to focus members' attentions on Bayer rather than whatever new environmental disaster was occurring. She took many of them with her and went to Las Flores, where the headquarters of Bayer Laboratories was located. Due to the rising violence being perpetrated against their company, Bayer had upped their security and forced Sarah into biding her time and trying to figure out a way to bring them down. Those that followed her got day jobs to boost their resources and give them something to do all day, while she planned. In the meantime, there are plenty of investors, employees, and executives to go after.