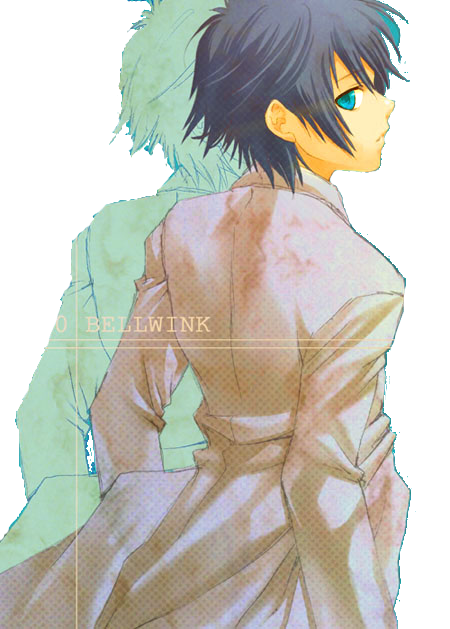 ⌈
Cling to your pain; it is proof that you're alive.
⌋
⌈

Name

⌋


September Cecelia Sylvan



⌈

Age

⌋


Visual Age: 16
Factual Age: 20



⌈

Appearance

⌋



Hair: Blue-black
Eyes: Tiffany Blue
Build: Thin. Dangerously so.
Skin Tone: Sunless
Height: 5'2"
Weight: 93
Voice: Mezzo-soprano
Handed: Left
Body Markings: None
Scar Tissue: None
Unique Body Features: Light calluses on her fingertips only.

[It's the eyes you notice first. She has the eyes of an old man in a little girl's color. Big, bright, tiffany blue, and truth be told, they're probably some of the most beautiful eyes there could be, even if she doesn't think so. They are a riot of color, but steady with some weight that is seldom understood. It's only natural, and she won't blame anyone for that much, for she is not as other people are, for better or worse. They gleam with no light of innocence, no casual warmth or mirth and mischief—for her soul is burdened, and it shines right out her oculars. A world-weariness dulls them into a tone of resignation, and what could be is spoiled. She looks so very sad, even when her face betrays nothing, and perhaps she is.

Her body is spindly, frail; she has very little of the feminine curvature she should have developed by now, and indeed she looks much like a boy. It's hard to tell what she is—for though her features have the delicacy of blown glass, they do not quite belong to a girl. They are certainly not a woman's, and it cannot be said that they are boyish, either. They simply… are, in the way that the features of paintings or sculptures are. They don't look quite human, as though she were so wispy that a gust might carry her away in pieces, fragments of herself.

Her paper-thin androgynies are compounded by the meager height at which she greets the world—the porcelain doll of a person cannot be more than five and two, and seems to always be looking up through shaggy-cropped blue-black hair at everything and everyone else around her. She takes up little space, with a frame devoid of any but the leanest muscles and not a hint of baby-fat remaining. She doesn't exist to most, as an ant doesn't exist, but she's used to it. She accepts it. It simply is, much like everything else about her. She's nobody's darling, nobody's child, and her sad-eyed woe is so perfectly-wrought you might actually think it artificial.

As if to spite it all, her usual expression is hard, brittle, defiant. She's more likely to scowl than to smile, if she even remembers how. She's a little ice shard, fragile and cold, breakable, so breakable, and she knows it like she knows everything else. She wears the clothing of an ordinary teenaged boy; shirts with logos, jeans with chains, shoes with laces. And a newsboy hat, always atop her mop of hair. On someone who actually looked the part, it might be cute, or even a little bit pretty. On September, it just is.]



⌈

Sexuality

⌋


Indeterminate—she is not inclined to contemplate it overmuch, and cannot immediately produce a certain answer if asked. Perhaps asexual, perhaps demisexual, certainly too logical to bother with entanglement.
⌈
Personality
⌋
Motivation: Bare and unadorned as it is, she cannot shake her desire to survive. Not even when she would prefer to be able to do so. Beyond this, her motives are inscrutable, including, sometimes, to herself.
Fears: She fears death, but more than that, she fears the inside of her own mind. It is not an unfounded fear, for someone with a mind like hers. She doesn't know it, but she also fears that her solitude is permanent and incurable.
Goals: Rid herself, once and for all, of all that plagues her. Redeem the terrible thing she did, when she was too young and new to her powers to know better. Live. Learn. Discover who she really is and what she really wants.
Positive Traits: Genius + Honest + Perceptive
Negative Traits: Misanthropic – Distant – Proud

[ You know all those things that people are supposed to care about? Love, family, money, power, themselves, what have you?

September doesn't care about any of them. She can't bring herself to. Her life is dictated upon the principles of logic and probability exclusively. Numbers and reason have never betrayed her, and she does not intend to betray them by allowing her heart to win the day. She does not attempt to form connections with people, nor even to speak with them. This is not to say she is shy. Far from it. She is simply a misanthropist and would sooner see most people dead. Because people are illogical. People are disgusting. People hurt you.

She lives every day in constant physical agony because of Duchenne Muscular Dystrophy, a disease that robs a person's muscles of their normal function. In advanced stages, it can cause seizures and other neurological symptoms, and always leads to death, usually at or before the age of twenty. Her powers have allowed her to overcome this part of it, at least as far as she is aware, but she's still in continuous pain, and most of the time confines herself to a wheelchair. She can get out of it, but to do so causes even more pain, and it's possible that she'll lose consciousness if she exerts herself too much.

The girl is, certifiably and without a doubt, smarter than you are. Not in the social sense of being able to understand people or empathize with them, but in the sense of having managed to test at the highest IQ in recorded history—at the age of twelve. Her capacity for learning and memorization is extraordinary, but it hasn't done her much good, if she's being honest, and she always is. September doesn't like lying, and she doesn't do it if she can avoid it. She is easily the least sensual person she's ever known; she can't stand touching or being touched, and the very idea of intimacy scares her on a level she doesn't really like to think about. This is in some ways connected to the pain in her frail body, but is not explained by it alone.

September is riddled with complexes. In addition to having serious abandonment issues that send her in melancholic (and occasionally manic-depressive) fits, she had acquired something of a God-complex due to her superior logic and reasoning capabilities, to say nothing of her enormous intellect. She believes others who allow their petty feelings and little self-centered problems to control them are little better than marionettes on strings, and this is one of the reasons she refuses to classify herself as either hero or villain- she will not be controlled by those who are not themselves as free as she is. It seems, however, that the internal rationale for this is often shattered and replaced with a rather contrary worldview in which September recasts her qualities as failures to grasp that which is truly most important in life, and during these times, she feels as small and weak as she is.

On an average day, she strives to project an air of apathy and detached objectivity, but her temper has been known to get the better of her now and then, especially when she is pushed to discuss matters she would rather leave alone. The nature of her abilities means her retribution is swift and unrelenting; she's killed several people this way, all accidentally and all before she had full grasp of her powers.

She's sworn never to kill another person, but fears an accident more than anything else. ]



⌈

Likes

⌋



Seclusion
Classical music
Spicy foods, especially Chinese and Thai
Old martial arts movies
Cooking and the Cooking Channel
⌈
Dislikes
⌋
Criminals
Heroes
People generally
Her condition
Her powers
Herself
Dogs
Being touched



⌈

Relationships

⌋


There is no one. There will never be anyone.
⌈

Power

⌋


September's powers spawn solely from the extraordinary mass of cognitive functions that is her brain. Her mental capacity is, quite literally, greater than that of any being, human or otherwise, in existence. In terms of superpowers, this allows her to process information at an astounding rate. Sense-data, logistics, probabilities; all of it is available in less than the blink of an eye. She is capable of learning something by seeing it done only once, or hearing it, as the case may be. She can reproduce it unerringly, and without hesitation.

On the more conventional hero/villain side of the application, she thinks much faster than anyone can move, and as such, she can analyze movement and trajectory to determine where someone is most likely going to strike, and take psychic control of her own body to move out of the way. She would be incapable of this physically because of the MD, but she can force mind to work over matter. Telekinesis is also possible, though not with anything heavier a large person, as is strong telepathy, which she uses as an assist in any sort of combat situation.

It all sounds very useful but the drawbacks are many and agonizing. While her mind can fortify her body for short periods of time, she cannot keep up such an exertion indefinitely, and is likely to seize or fall unconscious if she exercises more than one of her capabilities (telekinesis, telepathy, manipulating her own body) at a time for more than a few minutes, maximum. When this happens, she becomes completely helpless for extended periods of time, and may actually need medical treatment and be at risk of death.

Because of the sheer amount of brain activity happening in her head at any one time, Synapse needs much more of both sleep and food than the average person, which prevents her from holding an ordinary job and also makes her vulnerable to a decrease in her powers if she does not get these things with regularity. If she does not sleep for at least a third of the day, she will start having vivid hallucinations, and she'd probably starve to death in less than five days, rather than the two weeks it might take the average healthy adult. Unfortunately, she's also an insomniac.

She packs a hell of a punch, but at a hell of a price.



⌈

Equipment

⌋


September carries a heavily-modified smartphone that she built herself, as well as a small pistol. Most of the time, she's also in a manual wheelchair, sometimes with a violin case slung across the back.



⌈

Strengths

⌋



Widely-applicable powers
Musical talent, especially for stringed instruments
Analysis and information collection/interpretation
Aim
Pain tolerance
⌈
Weaknesses
⌋
Physical frailty/disease
Increased metabolic needs
Hallucinations
Very bad at interpersonal interaction/communication
Poor, unable to hold conventional employment
⌈

Home

⌋


A small, handicap-accessible apartment in a city slum. The screams and gunshots she hears out her window at night are as familiar as breathing.



⌈

History

⌋


Her parents named her September Cecelia. What a ridiculous name. Who names their child after a month that isn't April, May, or June? Maybe August if you have a boy, but September? It's like they were asking for her to be strange.

Which is ironic, because they were anything but. Thomas and Elaine Sylvan were an upper-middle-class, pretty-as-you-please sort of couple. They held barbeques with the neighbors and attended church every Sunday. Wholesome, pristine; the stuff of white picket fences and happily-ever-afters. Their first two daughters were the same—lovely, demure things with beautiful faces and beautiful dresses and beautiful personalities.

None of them had MD. None of them saw things that weren't there. Worst of all, none of them ever disagreed with her and turned out to be correct. September was supposed to be a boy; it was funny, how she'd already failed them once before she was even cognizant of anything at all. It wasn't so funny that she continued to fail them. She was a strange flower, an iris among roses, perhaps. Irises aren't particularly pretty; they aren't anyone's favorite flower, and they don't grow well with too much sunlight. An iris needs something different, rain and cloudy skies. Only then does it bloom. It's too bad her family knew not the virtues of these things, of gentle patience and understanding.

She remembers clearly the cassock of the priest, and how the hem was dusty. It was all she saw when the members of the church prayed over her, begging God to save her from the demons inside her. September hadn't thought there were any demons, but what else could they be? She saw things that other people did not see. Her body was broken and useless before it had ever had the chance to be healthy, she knew things that children shouldn't, spoke like a college-educated adult by the age of nine. She was a mess of problems, and the devout Sylvans wanted her fixed. They wanted her better.

Oh, how hard she tried. She wanted to be better, she really did. After seeing a violinist in concert, she asked her father and mother for lessons, and she had her very first child's violin the next day. She pretended not to see the bad things anymore. She pretended that it didn't hurt too badly most days. She tried so very hard to be everything she was not. She wore dresses like her sisters' even when she felt silly in them and she was always polite to her parents, even when she knew that they were wrong.

But her grasp of music theory came too quickly. She couldn't help but sometimes look out the corners of her eyes at the unreal conjurations of her psyche. They were real enough to her. So was the pain, and she couldn't stop the seizures and spasms no matter how she tried.

Synapse really isn't sure, even today, which one of these things drove her father into his work and her mother into the bottom of a bottle. She no longer cares. All she knew was that one night, she overheard her mother telling her oldest sister that the family would be better off if September was dead. Dead, and gone forever from their lives. They could all go back to their happy ending. No more expensive medicines for the hurt, no more failed exorcisms, no more any of it.

Her father entered her room with a gun the same night. The funny thing was, September had kind of been expecting it, logically, and couldn't summon a single speck of fear. What she did feel was anger. What had she ever done to them? Was her mere presence really such an affliction that she deserved to die for daring to exist? How could they do this to her? She was angry, so very angry, and for the first time in her life, she allowed the rage to consume her.

When she woke next, it was on the floor of her living room. She'd had a massive seizure and fallen unconscious, but it seemed that even without a doctor, she had not died. The house was eerily quiet, and she realized that she'd somehow gotten out of her wheelchair. Pulling herself back into the thing, she wheeled into the kitchen, and that was where she discovered the first of the bodies. Her mother lay strewn out on the ground, several bones cracked and broken, a carving knife lodged squarely in her chest. The other three were much the same, all dead, all brutally murdered.

It wasn't until she was away, long gone and set up in a new city, that the full memory of the event would come back to her.

To this day, she tries to repent by doing right by the innocent, whatever side of the law that puts her on. Most of the time, she succeeds. Sometimes, she ends up close enough. Other times… she wonders if she'll ever get it right. She's all but unknown as a super, more a ghost in the wind than anything. Perhaps those with a penchant for noticing patterns or collecting information might have a clue that she exists, but very few indeed have named her. And when they do, they always name her Synapse. She doesn't do mush of this sort of work, and has never been contracted or encouraged to increase her scale, and perhaps she would not even if they did. Who knows?