Basics
Name:
Yuri Ivanov
Age:
15
Gender:
Male
Race:
Blood Vampire
Family:
Viktor, Raphael, Andrei and Clarence
-brothersPersonal
Personality:
Yuri is quite a childish character, and you can often find him running around with a stuffed animal or eating sweets. He loves toys, and despite his age, still plays with them. Sometimes Yuri can seem sweet and child like, just like his behavior with toys and sweets suggests. However, before you know it Yuri will throw a fits of rage, which is still childish but can be somewhat unsettling. His mood can quickly swift from one to another, and you never quite know how he will react. Sometimes he cries, sometimes he yells... you simply never can be sure. Added to that, Yuri, like all his other brothers, is a spoiled brat and acts accordingly. He can be sweet as long as things go his way, but as soon as he is defied, everything you ever thought of him will probably be crushed under his screams and sobs. Yuri is also extremely needy, which means that once he finds a person he trusts and cares about, he clings to him or her in an almost possessive manner. Some would say he is just a lost child needing to be loved; alas, it was never something he got from neither father nor mother. Some would just claim he is crazy... but then again, who in this family is not?
Sexual Orientation:
Pansexual
Likes:
Sweets, Stuffed Animals, Toys, Blood, the colors black and purple, Cross dressing, Obedience, His Mother, Loyalty and rain.
Dislikes:
Disobedience, Disloyalty, Lies, cellphones, computers, bright colors, his brothers, his father, liquor, vegetables, most real food in general, Siamese Cats, Pain and rainbows.
Biographic History:
As the youngest of the Ivanov brothers, you would think Yuri got a lot of attention as a child, but that was never the case. He grew up spending most of his time on his own, and although he was always given whatever materialistic things he wished for, his parents nor siblings themselves never seemed to have much time for him at all. Or well, his father would pay attention to him; though it was never in a very pleasant manner. Beatings and scoldings were daily occurrences, and although their father probably never treated him any worse than the others, Yuri experienced it as such. Watching his mother treat some of his brothers with more love than him, especially him, didn't make it better. After experiencing a traumatizing event, the child became prone to trying to make his mother see him, and love him like the other children... but she never payed much attention to him anyways. And, before Yuri had a chance to turn things around, his mother was murdered. At the time he was nine, and a year before that his father vanished mysteriously.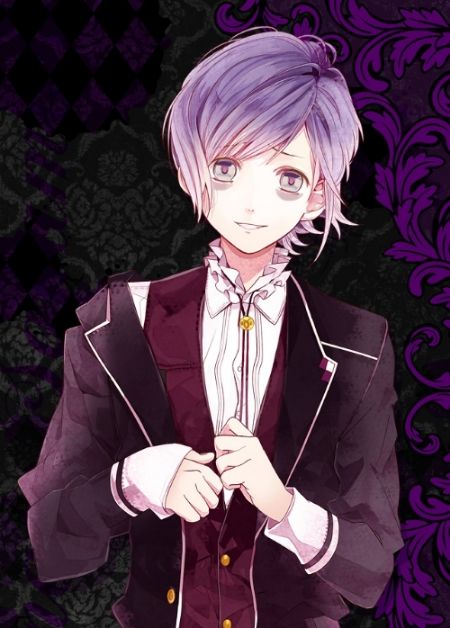 Ever since Yuri has hated his brothers, although he doesn't show it often, and some he tolerates better than others. He kept his childish yet sometimes dark behavior all the way into his teen years. He doesn't take part in the politics of the family, unlike some of his brothers, and just tries to enjoy life. Although I wouldn't exactly call him sadistic, Yuri can act in a rather bratty way, not just towards his brothers, but also towards the servants. Because of this, some of them do fear him, or at least what will happen to them if his brothers find out they made him cry or upset him. For, despite how he feels for some of them, others actually care about their younger brother... and they must all admit; hearing a fifteen year old boy cry for hours and hours does give even a vampire quite the headache.

Appearance
Hair Color:
Purple
Eye Color:
Purple
Weight:
45 kg
Hight:
156 cm
Brief Appearance Description:
Yuri has somewhat usually messy looking purple hair and matching purple eyes. His skin is very pale, and no matter how much he sleeps, and suffering from insomnia; he always has dark rings under his eyes. He is right below average in hight, though underweight, giving him a very thin figure. Although usually wearing the clothes his brothers provide for him- dark and rather formal looking, Yuri will now and then take the initiative to dress up as a girl. If it is because he actually likes it, or some kind of way to rebel against his brothers and piss them off, no one is really sure. Although, since his appearance in general is rather girly, I guess that in public he would probably get away with it.