Age: 28
Gender: Female
Appearance: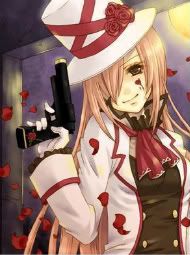 Clothing: The Mademoiselle normally wears a white suit with a red or white tie and a top hat with a rose on it. It is rare to see her in a dress and when she does wear one, then it is a flowing gown with a lacy choker.
Likes: Everything she could see as her own child, scary things, poetry, the night, good mannerism
Dislikes: Rudeness (to a very high degree), cold days, snobs (she thinks that if you are rich, then you have to be accordingly nice to the poor), orphans who dont abide to her rules
Desires: She desires a child of her own, to have someone who loves her as if the Mademoiselle was a mother. Has an obsession with being motherly.
Personality: The Mademoiselle is weird, may even insane but not exactly in a bad way. She talks with a slight french accent and often expresses herself in a poetic like way. Her poetic expressions seem almost like riddles. The Mademoiselle is warm and friendly. She treats the orphans as if they were her own children but doesnt spoil them. She might sometimes ask to call her "mother". It is so important for her that it makes her creepy. She doesnt get mad often but she does when she witnesses rudeness. She punishes rudeness towards others by pulling on the orphans ears. But if rudeness is directed directly towards her, then she will pick you up by your collar and slap you. The Mademoiselle never sleeps and always watches over the orphans.
Background: Mademoiselle Aurore was born to a very rich family. She was always an odd child. Her grandmother raised her after her parents died in an accident. Mademoiselles grandmother was a witch who taught her to be her successor. She was a natural. As Mademoiselle matured, she amassed an unbelievable wealth with her family's business. At 18 she fell in love with a man and at 19, she gave birth to a son, but two weeks later the child died. Mademoiselle soon lost her mind because of this. Her lover left her for another woman. Then Mademoiselle went to a circus to find new friends. These friends might have been terrifying to visitors but she liked the people she learned to know. Then she got a brilliant idea: She would open up an orphanage to raise children as if they were her own. Her obsession to raise children changed her somehow, like a curse. She could grow metallic claws and be able to blend in with the environment to be unnoticed. She had become what people knew as the boogieman, just female. Her obsession is so bad that she would kill those who would try to take her "children" away from her.