---
Alone by Eyeshine || Kitchen Sink by Twenty One Pilots || Take It Out On Me by Thousand Foot Krutch || Welcome To My Life by Simple Plan {Main Theme Song} || In The Shadows by The Rasmus || Holding Onto You by Twenty One Pilots
---
---
---
|Full Name|
Finnian Andrius Carmichael

|Nicknames|
Finn || Finny || Ginger || Thing Two

|Age|
21

|Gender|
Male

|Sexuality|
Bisexual || Panromantic

|Role|
Camper

|Face Claim|
Cameron Monaghan
---
---
---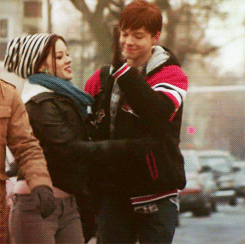 |Personality|
For a boy who was raised in a very cautious, glass-like world, he sure likes to smash boundaries. Hyperactive, energetic, and impulsive; he lives on a precarious edge. As a result, he's not very good at decision-making, and often does stupid things without thinking about the later consequences. Finnian has a quick-temper, and a quick tongue. Although funny usually, he can get very snarky and sarcastic. And when he's in a grumpy mood, he'll be sure to let everyone know. He's pretty mouthy, and frequently says things without the consideration for others' feelings. He's neither the most sensitive nor the most empathetic person. Don't be fooled though, Finnian is all bark and no bite or at least that's how most people look at him. It takes a lot to actually get him to fight physically with someone.
Now on with the good, Finnian is laid-back usually going with the flow of things. He is also very independent knowing when he needs help and when he doesn't. Bravery is something else he has but his bravery can be reckless most of the time.red-head is also very hard working giving it his all on anything he does.
|Strengths|
~ Even though he talks a lot, he is a keen observer. Learning from a persons body language and their choice of words he can read between the lines like no other.
~ Hacking has taught Finn many things, one of which being the importance of patience. He knows everything has a time and is willing to wait longer then most for it to happen.
~ Multilingualism, Finn speaks Spanish, English, Japanese, and Italian.
|Weaknesses|
~ His twin. He would do anything for Patricia and would risk everything to protect her.
~ Swimming; large bodies of water are a big 'No No' for him. He never learned how to swim.
~ His mouth often gets him into the most trouble.
|Fears|
Coulrophobia- The fear of clowns || Claustrophobia- The fear of confined places || Astraphobia- The fear of thunder & lightning
|Powers|
Finnian has the ability of Technology Manipulation. This enables him to manipulate technology and technological constructs, computers, robots, hardware and other devices that can be termed as "technology". Manifested as a special form of electrical/telekinetic manipulation, a special form of "morphing" which allows physical interaction with machines, or even a psychic ability that allows mental interface with computer data. Also enables him to control the flow of intricate machinery and can allow him to assemble or disengage their programming at will. Can operate most technology just by touching or looking at the object.
|Quirks|
Cracks his knuckles before he starts typing on a keyboard.
Bites at the tip of his thumb when he is in a serious conversation or is feeling anxious and worried.
His arms are almost crossed as if he is trying to cover himself.
|Likes|
Computers || Chess || TV shows like Adventure Time, Regular Show, & Young Justice || Research || Hacking || Patricia's Cooking || Reading || Pie || Tall Men || Flavored Water || Sleeping In || Horror Films || His twin, Patricia || Web Surfing || Fixing Old Junk

|Dislikes|
Black Coffee || Spams || Cream or Jelly-Filled Food || Shrimp {Allergic} || When people refer to his twin with 'He' || Oreo Cookies || Unnecessary Violence || Early Mornings || Lemony Foods || Being Demeaned || Underestimation || Firewalls || Water || Extremely Thin Women || Scrawny Men

|Hobbies|
Hacking || Reading || Watching Old Movies