Breaking Angel Hearts
Game Master
Aquamarine

Activity
No Posts

Characters
Accepting Reservations

Breaking Angel Hearts is a local band in Las Vegas, the city filled with sin. This band has been together for almost three years now and has been playing shows for only a portion of that time. The band members hadn't always gotten along, as a matter of fact only two of the original members are in the band. Because of personal issues the past members had to leave.

Now they have members in the band the original two hope never end up having to leave. The band is the best it has ever been. With the crowd of fans growing bigger, more and more producers hearing their name, their trip to stardom is only beginning. But here is one question, are these young adults with stars in their eyes ready to take on the full commitment to making it big or will they not be able to handle it? Personalities may change, money may end up being all they begin to play for, will the band end up falling apart during the journey or will they make it without a single wound?
---
---
The Band

Kalista Mars || 23 || Lead Singer || Original Member || Avril Lavigne || Taken by Aquamarine



Name || 19 - 25 || Lead Guitarist || Original Member || Dean Geyer || Reserved by Sunshine and Whiskey



Hadley Gunner || 22 || Rhythm Guitarist || Kristina Bazan || Taken by JoBugg



Name || 19 - 25 || Bassist || Landon Liboiron || Reserved by SlightlyInsane



Julia Snow || 20 || Violinist || Jodelle Ferland || Taken by SlightlyInsane



Shane Mars || 21 || Drummer || Ash Stymest || Taken by Aquamarine



The Groupies




Name || 19 - 25 || Kalista's Ex || Face Claim || OPEN (MALE)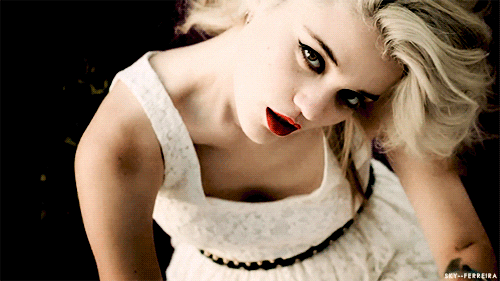 Shannon Guilbert || 20 || Drummer's Girlfriend || Sky Ferreira || Taken by Mei



Name || 19 - 25 || Friend || Face Claim || OPEN (FEMALE)

Give me the name and a gif of your face claim. Length needs to be 500 pixels, height doesn't matter as long as it isn't extremely huge.
Character sheet is totally up to you. As long as you have your history/background on the sheet then the rest is optional. c:
You have 3 days to send in a complete character. Characters will not be accepted until completed!
If an extension is needed let me know.
Taking place in...
2 posts here • Page 1 of 1
Kalista Mars


(And Shane Mars)


Dialogue Color:

#00ff00


Role: Lead Singer
Location: Recording Studio
NPCs Involved: Michael Rosewood (Band Manager)
Kalista couldn't believe everything that was beginning to happen for this band. All her dreams were slowly beginning to come true, though for some reason the more known they all become, the more her best friends have began to change. She wasn't sure if it was something she needed to worry about or not, but she kept an eye on everyone just in case.

"Alright everyone, that's a wrap. Be sure to get rested for your show tomorrow night," Michael stated through the microphone on the opposite side of the recording booth. Kalista let out a soft smile and stepped out of the booth before turning to look at everyone.

"I don't know about you guys, but I'm going to head out to Melted Whiskey, do some partying before turning in. It's only eight o'clock, too early to crash,"

she stated before turning on her heels and began on her way out the door.

She already knew that her brother was going to tag along whether she wanted him to or not, which of course there was no reason why she ever would not want her brother with her. The two of them did everything together, they're practically glued to the hip. She sighed as she slid her hands into her pockets and looked over at Shane who was now caught up to her, keeping up with her pace.

"Do you think everyone will be able to handle this rise to stardom we're undergoing? I can already see some slight changes in everyone, even you,"

she questioned to her younger brother.



"I wouldn't worry too much about me or everyone else. We'll be alright. As long as we stick together there is nothing to worry about, Kallie,"

Shane responded as he wrapped his left arm over her shoulders. Shane glanced back at the others who seemed to be taking their precious time on making up their decision to join them at Melted Whiskey, drink their brains out.

"Hey, are you bastards coming or not!"

he shouted to the rest of Breaking Angel Hearts.
---
Location:

Recording Studio
Interacting With:
Shannon Guilbert

,

Hadley Gunner

, Shane
Mars,

Kalista Mars

,

Roman Kingsley

, and Micheal
Rosewood
"Alright everyone, that's a wrap. Be sure to get rested for your show tomorrow night," Micheal told the group after their session. The young woman smiled at him as a silent "thank you." After all, they wouldn't be where they were today without him. She would always be grateful to him for helping the band out and for letting her become a part of it.

Julia gently set her violin back into its case before wiping the rosin off of her strings. She loosened her bow and set it back in its place. Securing her violin in the case, her delicate hands closed the lid. "I don't know about you guys, but I'm going to head out to Melted Whiskey, do some partying before turning in. It's only eight o'clock, too early to crash," Kalista told the band before turning to leave. No one would expect her to say anything different, as they were all aware of her and Roman's like of drinking and partying.

Standing, violin case in hand, Julia glanced at the others. The rest of her bandmates-- Roman, Shane, and Hadley-- would like go with Kalista. Actually, Shane was out the door already. So if Shane was going, the ever present Shannon would be as well. She made her way to the door, which Roman opened for her.

"Thanks,"

she told him as she walked to join the other two. She could hear Roman's footsteps just behind her as Shane called out to them, asking if they were coming or not.



"I'm coming!"

she called to them.

"I just need to put my violin in Roman's car."

The small girl hurried over to the car. Her blue eyes looked to Roman, who unlocked the car as he walked towards her. She opened the trunk and waited for him to place his bass in before putting her violin in. She closed the trunk and turned to go to her friends.

She was soon lifted off the ground however by Roman, who there her over his shoulders.

"Roman!"

She was surprised by his actions, but unafraid. Laughing, she repeatedly asked him to put her down. He only complied once the two had gotten to where Kalista and Shane were. Once she was back on her feet, she looked up at her friends.

"Let's do this!"

Julia didn't drink, but she didn't mind going out and meeting new people. Of course, it usually took one of the other band members to convince her to talk to any strangers around her.
---
Location:

Recording Studio
Interacting With:
Shannon Guilbert

,

Hadley Gunner

, Shane
Mars,

Kalista Mars

,

Julia Snow

, and

Micheal Rosewood
"Alright everyone, that's a wrap. Be sure to get rested for your show tomorrow night," Michael, the band's manager told them. Roman snickered. Chances were, he, Kalista, and Shane would go out and party for awhile before going to sleep. The others would probe;y tag along too, but he could always count on Kalista and her brother to show the band a good time. He didn't mind, as he was happy to go drinking. He wasn't a fan of dancing, but he was usually busy chatting up girls anyway.

His instincts were correct, as Kalista stated she was going to the Melted Whiskey before leaving the building. Roman grabbed his electric bass and opened the door for Julia, the young violinist in the group.

"After you my lady,"

he grinned as she passed through. She thanked him. The 6'1" Roman followed behind the much smaller young woman, reaching into his right pocket for his car keys.

Shane yelled to them.

"Who are you calling a bastard, bastard?"

Roman yelled back to him, laughing. The man almost never took anything that Shane said as offensive, it was just who he was. Only on a few occasions had Shane said something to really piss him off, but most of the time the two got along. It was nice to have another guy in the band.

Roman followed Julia to his car, unlocking it for her once she reached it. He set his bass in the trunk before she put her violin in. She closed the trunk and turned around, giving him the perfect chance to strike. Before she knew what was happening, he had lifted her up off the ground and put her over his shoulder. He started to run with her over to Shane and Kalista with Julia laughing the entire time. He set her back on the ground. "Let's do this!" she said excitedly. He chuckled, knowing that he or one of the other members of Breaking Angel Hearts was going to have to coax her into talking to any strangers they encountered. Julia had an odd way of being extremely social and outgoing one second and introverted and quiet the next. He guessed she was just more comfortable with her friends, which he could understand.

He looked back at Shannon and Hadley, hoping they were coming along. It was always more fun to have the whole group out to drink and party. Granted, Roman usually found other companions over the span of the night.
---
2 posts here • Page 1 of 1
Arcs are bundles of posts that you can organize on your own. They're useful for telling a story that might span long periods of time or space.
There are no arcs in this roleplay.
There are no quests in this roleplay.
Here's the current leaderboard.
There are no groups in this roleplay!
Welcome home, Promethean. Here, you can manage your universe.
Arcs are bundles of posts from any location, allowing you to easily capture sub-plots which might be spread out across multiple locations.
You can create Quests with various rewards, encouraging your players to engage with specific plot lines.
Settings are the backdrop for the characters in your universe, giving meaning and context to their existence. By creating a number of well-written locations, you can organize your universe into areas and regions.
Navigation
While not required, locations can be organized onto a map. More information soon!
There are no groups in this roleplay!
By creating Collectibles, you can reward your players with unique items that accentuate their character sheets.
Once an Item has been created, it can be spawned in the IC using /spawn Item Name (case-sensitive, as usual) — this can be followed with /take Item Name to retrieve the item into the current character's inventory.
Give your Universe life by adding a Mob, which are auto-replenishing NPCs your players can interact with. Useful for some quick hack-and-slash fun!
Mobs can be automated spawns, like rats and bats, or full-on NPCs complete with conversation menus. Use them to enhance your player experience!
Current Mobs
No mobs have been created yet.
Locations where Mobs and Items might appear.
You can schedule events for your players to create notifications and schedule times for everyone to plan around.
Add and remove other people from your Universe.
The Forge
Use your INK to craft new artifacts in Breaking Angel Hearts. Once created, Items cannot be changed, but they can be bought and sold in the marketplace.
Notable Items
No items have been created yet!
The Market
Buy, sell, and even craft your own items in this universe.
Market Data

Market conditions are unknown. Use caution when trading.

Quick Buy (Items Most Recently Listed for Sale)
None
Discussions
Topics

Replies
Views

Last post
Most recent OOC posts in Breaking Angel Hearts
There have been no posts in the OOC topic for this roleplay!