Shane Elijah Mars

Face Claim: Ash Stymest || Role: Drummer || Dialogue Color: #849490 || Portrayed By: Aquamarine


Nickname(s)
Shae || Common || Unsure
Eli || Often || Likes

Age
21

Birthday
September 29th

Zodiac Sign
Libra

Nationality
French & American

Sexuality
Heterosexual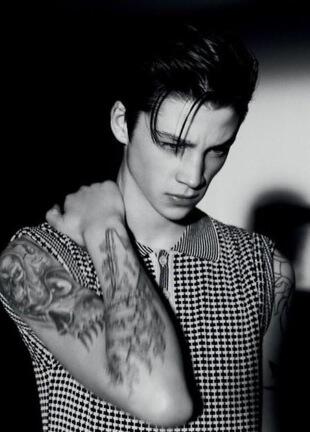 Personality
Shane is your everyday typical sarcastic jackass kind of guy. He may act like a total dick but that's not who he is. He really does care about people but he also knows how reality is. You can't trust everyone and you can't always wear your heart on your sleeve. Things are tough in the real world and if it takes him to act like a jackass in order to keep himself safe, then that's what he is going to do.

Shannon is the only one outside of his family who knows his true heart. He loves endlessly and would do anything for the ones he loves and cares about. Even if he had to give his own life in order to be sure they were safe and happy, he would do it. Deep down he is a huge romantic. Shane enjoys picking up random gifts for Shannon, taking her out on surprise dates, doing things she likes to do even if he doesn't like it. All he wants is to show his love to her. That's how he always was with his past girlfriends and that's how he will continue to be.












History
Shane was born into a very laid back average kind of family. He was always able to do things he wanted as long as he never got in trouble. In this case he was the complete opposite of his sister. The worse he ever did was start smoking cigarettes at the age of sixteen and hasn't quite since then. Of course his parents never found out about this habit until he was eighteen. In his parent's eyes, he's the good child. Kalista always believed Shane was their favorite because of this, that Shane could do no wrong, which was probably true in their parent's eyes.

While growing up he focused on his schoolwork, stayed home on the weekends, and worked at an automotive garage during the week after school, this job he still has to this day. When he was able to move out at the age of eighteen, he moved in with his older sister, Kalista. The small two room apartment is just big enough for the two of them but he hopes their band will take off eventually so they could get a bigger place.

The two of them promised each other they would always live together as long as they didn't have anyone else to live with. But of course Shane is hoping that won't be for too much longer, at least for him anyway. He wants to have Shannon move into the apartment, but first he has to run the idea by his sister then hope that Shannon would be ready for that step. Shane sees a future with Shannon, one that he hopes will happen.