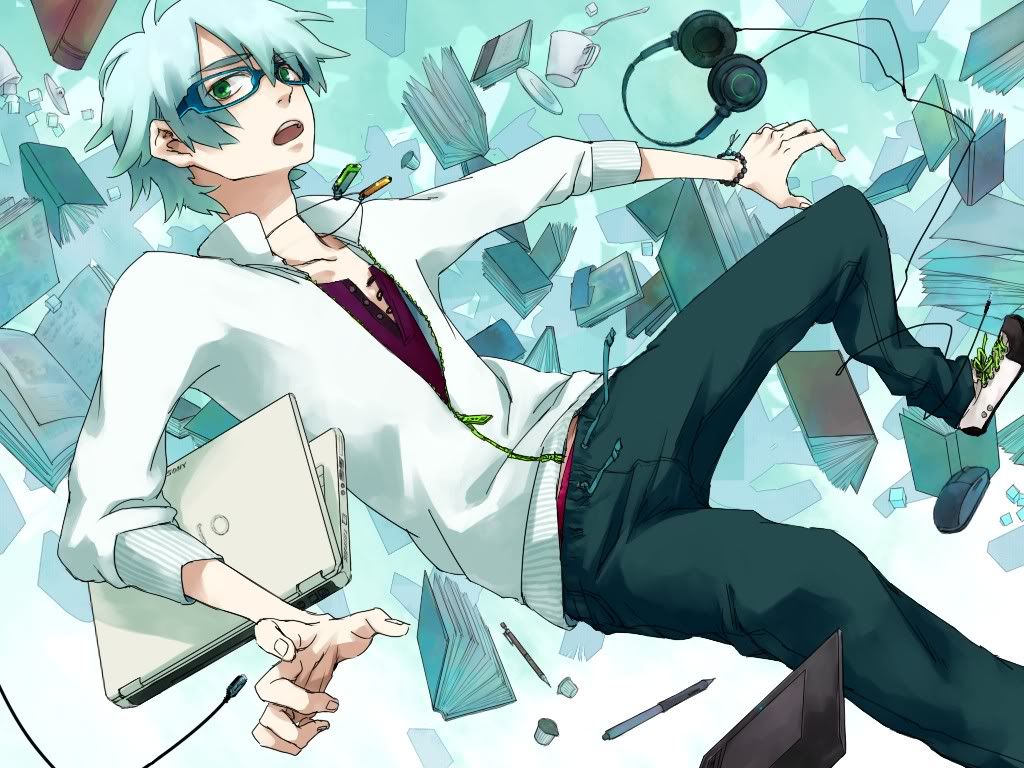 Role
Angel Brother
"Is that good enough for you?"
Gender
Male
"I'm female you say? Need proof?..... That's what I thought."
Age
17
"Here want my birth certificate?"
Personality
Senpai is hard to describe. He's sweet, sarcastic, understanding, humorous, smart, talented, and yet, devious. He is sweet and caring because he loves to help people and is understanding of peoples feelings. He is the certain person that would help an old lady cross the street. Hes also quite humorous. Cracking jokes and being sarcastic with others. Hes smart, he always got good grades in school and he can crack any problem you throw at him. Hes talented because he can cook, can sing and play the violin, and lastly he can write beautiful poems. Devious because he likes to toy with peoples feelings. He will make them feel love or sadness, even happiness, its his specialty. He highly regrets doing it to some people, but others he just has a blast. That's the really only thing wrong with him. He hurts people. With his horrid powers.
Brief Description
Senpai is a handsome man. He has short blueish green hair that shines in the sunlight that he despises so much. He has the same colored eyes that are behind blue rimmed glasses. Could you tell he liked blue yet? Well his blueish green. Hes tall and slim. He doesn't really care on his fashion. So most likely he will where anything. But he will never ever take off the necklace he wears. It has one green and one yellow jewel on it. He adores the necklace.
"Blue green is my thing. Hey see I almost made a rhyme there."
Skill(s)/Abilities
Senpai is really good at cooking. Hes a master chef. When he was alive he was a chef, actually. His food melts in your mouth. Its like he recreates Heaven. He also is a talented writer. He can write great songs and poems. They are great. He should of been a famous author or something, but he didn't make it to the bucks. Another thing is he plays the violin. His music is smooth and relaxing. Great melodies. He writes song to is violin. Its like the best thing that would ever happen to your ears. He could of been a musician but he didn't want the paparazzi. The secret ability he has though is his angel power. He can controls someones feelings for a bit of time. It wont last forever though so he has to be careful.
"Stop flattering. I know I'm great!"
Likes
+ Rin Akawa +
+ His sister +
+ True love +
+ Cooking +
+ The rain +
+ Clouds +
+ Violin +
+ Food +
+ Reading +
+ Poems +
"The sound of the violin is amazing. And rain it feels great!"
Dislikes
- Nemo Loki (Hes afraid he will hurt his sister) -
- Snakes -
- Heights -
- The heat -
- Brightness -
- Untidiness -
- Bad music -
- People who THINK they can play the violin. -
"Nemo Loki better be good or hes dead."
Phobia
~ Heights ~
~ Claustrophobia ~
~ Things called Snakes ~
~ To become as mad as his sister ~
~ Loud noises ~
"Don't even say the word snake you devil!"
What do they wish for most?
* For Rin Akawa to love him back. *
* To break out of his stupid palace. *
* For his sister to become happy.*
* To live a happy life *
* For Rin to always be safe. *
"OH what can I say?"
History
Senpai had a great life. Amazing girl friend and sister. No parents but who cared. He hated his terrible parents anyways. His girlfriend was awesome. She was sweet, talented, smart, funny. Just perfect. On valentines day she got him an awesome necklace that had real jewels on it. He didn't like it very much though since it looked a bit girly. She got hurt and didn't talk to him the rest of the day. He loved her so much but he hurt her. Then that day he died. Senpai died a fatal death. That day his sister an him were walking and Rose almost fell off the cliff. He saved her by pulling her back. But he slipped causing him to fall off. He died that day. He waited and waited missing his sister. Then one day when she was 15 she came to Heaven and met Senpai. Senpai got so excited. Then that day they were sent to earth and trapped in the horrible castle. He hated being there but with his sister he was ok. But then months and years passed. He was getting upset. His sister started to go crazy and Senpai cried that very night. It was awful for him to see his great sister to become that way. Then after a while they got used to it. Then he found the girl of his dreams. That looked just like his old girlfriend. He then couldn't help but steal her.
"Who says I'm crazy. Its called love People!"
Crush
Rin Akawa. She reminds him of his first love when he was alive.
"Oh Rin...." *Smiles as he dazes off about her.*
Other
He wishes he didn't have to kidnap the girl of his dreams. but that was the only way he could do it.
"I can't help it. I feel bad for my love!"
Nine in the Afternoon
Back to the street where we began
Feeling as good as lovers can, you know
Yeah we're feeling so good

Pickin' up things we shouldn't read
It looks like the end of history as we know
It's just the end of the world

Back to the street where we began
Feeling as good as love, you could, you can

Into a place where thoughts can bloom
Into a room where it's nine in the afternoon
And we know that it could be
And we know that it should
And you know that you feel it too
'Cause it's nine in the afternoon

And your eyes are the size of the moon
You could 'cause you can so you do
We're feeling so good
just the way that we do
When it's nine in the afternoon

Your eyes are the size of the moon
You could 'cause you can so you do
We're feeling so good

Back to the street
Down to our feet
Losing the feeling of feeling unique
Do you know what I mean?

Back to the place
Where we used to say
Man it feels good to feel this way
Now I know what I mean

Back to the street, back to the place,
Back to the room where it all began, hey
Back to the room where it all began
'Cause it's nine in the afternoon

Your eyes are the size of the moon
You could 'cause you can so you do
We're feeling so good
Just the way that we do
When it's nine in the afternoon