---
---
Kelly Mae Michaels (Dynasty)
---
---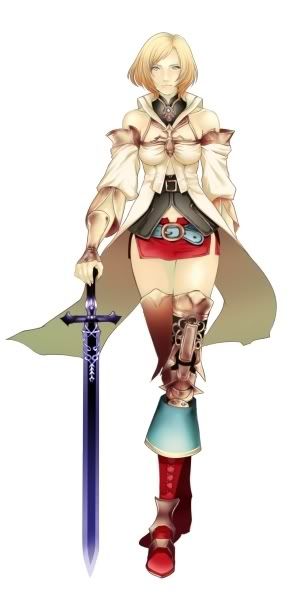 Role:
Professional Bullet Hell Participant. Mentor.
Team:
Era's End
Age:
23
Gender:
Female
Appearance:
Kelly is very cold-looking. She has wrinkles, already, from frowning all the time. Her blue eyes are very unforgiving and uncaring. She can silence a person with just a look. She taller than an average female, in at about 5'9" and has a very packed build. Not outwardly showing it, but she is quite strong an muscular. If she wasn't so unapproachable, than maybe she'd be beautiful. But only beautiful in a way a Bullet Hell participant can be.
Personality:
Kelly was never an upbeat person. Even when she was young, she had a very hard and strict personality. She likes to have complete order. She actually allowed people in before Bullet Hell. But now, well, she's cold. Stone-cold. She doesn't care anymore. It's not really the stress that got to her, it's more of the killing part of it all. She had never enjoyed it. But now she's completely immune to everything. She's also really smart. Which makes her calculating. Which also goes hand-in-hand with her being cold.
Combat Style/Weapon Preference:
Kelly is a mid-to-short-range specialist, even though she can use all other weapon-types quite well too, like most pro's actually. She doesn't have a set weapon she uses, anything that works well in the current situation. She uses her mind's genius to take her shots clear, even in stressful situations.
Bio:
What is there to say about Kelly Mae Michaels? Other than that she was the daughter of two well-known politicians. Well, they were well-known before they got offed. Her parents had never seen her much, due to work. She raised herself in a way, with help from the butler and maid. And when she started school, she got bored quickly due to picking up everything faster than the other students. So, what happened to her? She was put in Advanced Studies. That was when she was eight, and also when her parents were killed. She didn't care much though. She didn't know her parents well enough to, actually, cry. Not having anywhere to go, she was given to a Bullet Hell trainer. Her name was Jennifer Duggins. Jennifer trained Kelly hard. And still put Kelly through school, to boost everything about her. When she turned seventeen, now already a very, very cold young-woman, Kelly dominated the playing fields. And five years later, having finished her five-year contract, Kelly had enough. She decided to mentor an unlucky team of junior individuals.