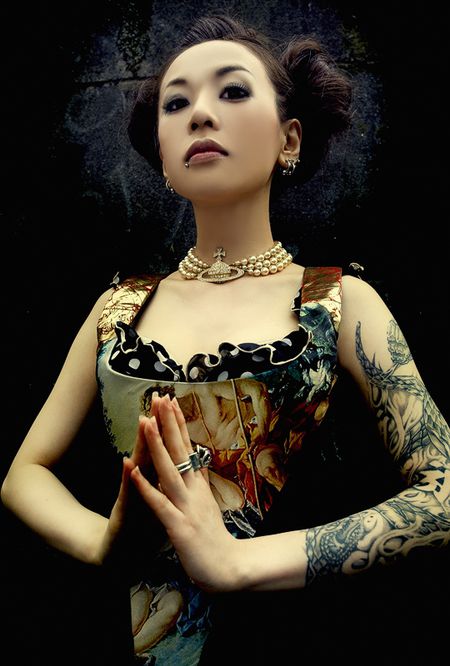 Name:
Ongaku Fuyuki
Age:
21
Gender:
Female
Appearance:
Fuyuki is the girl with the dragon tattoo. She is tall, about 5'7 and weighs 110lbs. Skinny with several tattooes all over her left. The most prominent is her arm tattoo, the first one she had gotten when she was eighteen. She likes to dress however she pleases, whether it is a flowing black dress with heavy, dark make-up and her dark brown hair curled or a mini-skirt with a tank top and her hair tied up. Admittedly, her hair isn't brown, it's really black but likes to dye it like that. Her brown eyes are quite large and she has several piercings, usually wearing three piercing on each ear and one at the corner of her mouth.
Personality:
Bold and daring, two words to describe both Fuyuki's appearance and personality. She isn't afraid to be playful and flirty. Fortunately for the band, they are nothing but games to her. Something to keep her company and lacks any romantic feelings for anyone. Her best weapon is her voice, known for her deadpann remarks and dry wit but she isn't afraid to get down and dirty. She would take up a fight if she had to and wouldn't care who got hurt as long as they weren't children. She is not very humble, taking pride in everything she does and she has all the reason to. Considered a prodigy in music, Fuyuki cares for music as if it was her own child. She knows talent when she sees it and will tell you beforehand her most honest opinion. She does have a soft spot for children and does care for her band as they are like a second family to her.
Band:
Next Oktober
Instrument:
Guitar but also excels in piano and bass
History:
Fuyuki won't admit it as often because she would rather make a name for herself but she was born to a very wealthy family of musicians. Her parents were classical trained musicians who graduated from Juliard in America. Her mother was Japanese and her father was a Chinese-American. She is the eldest of seven children and each had a gift in music. She was the best, growing up as a prodigy. This cause her a lot of stress, taking up smoking when she was merely thirteen. She grew out of the phase eventually, growing close to her family once again. She found herself friends whom she could be herself with and she grew to love herself.