Yuuki Ren


---

Burai, The White Wolf
---
"If you want to save anything, then you have to sacrifice something in return. Thus, if you would keep those dear to you from dying, then fight and die in their place. Don't try to pass off this world's burdens on people who can't shoulder them. The only ones who can save everyone trapped within this game are the warriors willing to lose everything so that those they care about can live."
---
Real World Name:
Yuuki Ren
Trivia:

His surname means "courage," while his given name, Ren, is actually written with the character for "love." However, he dislikes this latter meaning, so usually, in an attempt to sound cooler, he writes it in katakana, the writing style usually used for foreign words and names, and when asked about his name's meaning, instead gives either the Welsh meaning of the name Ren - "Ruler" - or the English meaning - "Raven."
Ingame Username:
Burai
Trivia:

His chosen username uses katakana as well, and is pronounced "Bly," but actually does have a Japanese meaning: "Rogue." Fitting, for a loner like himself.
Age:
14, although he's quite close to 15. He doesn't act anywhere near his age, though, since he's got a mild case of Eight-Grader Syndrome and tries to sound impressive and adult-like out of habit.
Appearance:
Ren isn't really a very formidable individual, even inside of Sword Art Online. Standing only about five feet, seven inches, he's a bit below average in height. His face is rounded, with deep cheeks, sharp ice blue eyes, and a small nose and chin. Lacking any sort of facial hair, his overall appearance is rather childish, even more than you'd expect for a boy of his age. However, his demeanor clashes vastly with his boyish look, being closer to the attitude of a shell-shocked soldier than a child. His expression is distant and cold, his icy gaze seeming to stare clear through you rather than looking at you. His lips are pursed, and a perpetual frown adorns his features. Although when he smiles, you can certainly see the boy he once was, the advent of the Death Game has changed him greatly, making such expressions somewhere between "rare" and "nonexistent."

His physique is lean, with little in the way of muscle or fat. He's in shape enough that you can see evidence of some physical activity, but he seems less like a sporting youth and more like the quiet geek who sits in the corner looking out the window and plotting out the ideal stats for his RPG characters. Generally, Ren is very unremarkable.

I say generally because there is one stand-out exception to this otherwise universal rule: his hair. Perpetually a bright silver, like new-fallen snow, it draws attention to him where his otherwise inconspicuous appearance and distant attitude does not. Matched by the paleness of his skin, his albinism is one of his sole remarkable traits.
---
Clothing
In the Real World:

Ren is usually seen clad in the attire of a Junior High School student - a black school jacket and matching pants, and a white shirt underneath. Although rather featureless, there are a few things about it that are rather indicative of his general attitude and personality. The ensemble, although orderly, is slightly over-sized on him, with sleeves that are too long and slightly baggy legs on his trousers. Evidently, he doesn't care enough to replace it, and so it merely serves to highlight his rather small stature.

Secondly, however, the coat is always rather rumpled, so that even when he wears it fully buttoned and everything should be in perfect order, it still displays an unkempt air that rather aptly demonstrates his general apathy at his appearance.


In Sword Art Online:

Within the virtual world in which the players are trapped, Ren's appearance is completely different from his usual unremarkable appearance. Clad in several distinctive layers of gear, his distinctive ensemble, in addition to his iconic silver hair and solitary attitude, have earned him his moniker: Burai, the White Wolf. Although perhaps nowhere near as famous as anime-story personas such as Kirito and Heathcliff, he's nevertheless usually recognized on sight by most members of the Clearing Guilds, having singlehandedly taken on many field bosses, in addition to being instrumental in many key floor boss battles.

His gear is of the Light Platemail Class, somewhere between the leather armor favored by Kirito and the heavier armor used by tanks. Wearing a sleeveless white undershirt and matching pants, he tops this off with an ornate, masterfully crafted breastplate of silvery steel, in addition to matching greaves and gauntlets to protect his extremities. Completing his ensemble with a flowing, high-collared and mail-reinforced brown cloak, his appearance is enough to catch the eye despite his small stature.
---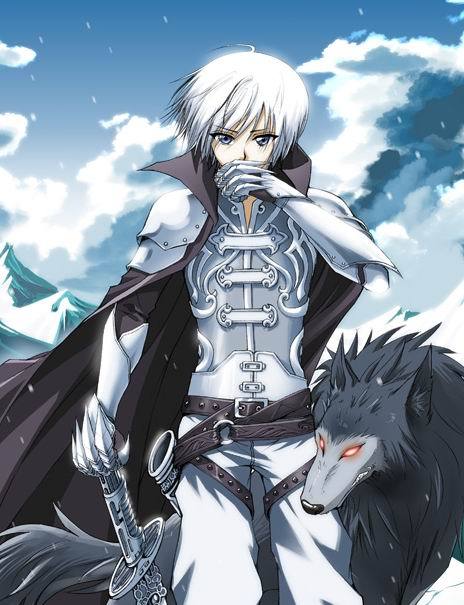 Gear and Character Statistics
Armor:

Ren, as Burai, uses a set of rare gear known as the Moonsilver Knight's Fauld. Dropped by the Floor 62 boss, a gigantic knight, Burai has used it tirelessly since its acquisition, continuing to upgrade and enhance it whenever he gets the chance. Providing remarkable protection, it nevertheless has a special effect that vastly decreases its weight, allowing him the maximum amount of speed whilst still allowing him to take multiple hits before he dies. Also, although he doesn't admit this to anyone, it looks really cool in his opinion, and he'd thus like to stick with it for as long as possible.

Weapon:

Stardust Fang is another iconic item of Burai's: a hand-and-a-half length straightsword that combines a great deal of weight and power with a fairly compact and simple design, as well as having the somewhat rare feature of being able to use both one-handed and two-handed Sword Skills. Custom forged at his request, it's been his constant companion throughout the most recent floors, cleaving a path towards the top of Floating Castle Aincrad, and to the freedom that lies beyond it.

Character Build and Fighting Style:

Burai is something of a cross-class. With the strength of the average tank and the speed of a high-speed attacker, his strategy isn't really one or the other. On the one hand, he can take several hits before succumbing to damage, but on the other, he likes to move quickly and flank his enemies, tearing them apart with vicious, powerful strikes. Due to his solitary playstyle even after his recruitment into the Stardust Brigade, it's useful to be able to fill any role in combat, since when fighting on his own, he has to fill all of them at once. If you had to describe him in combat, the best word would probably be "Berserker." Charging headlong into his foes, he carves through them viciously, never ceasing in his movement, or letting incoming attacks slow him down, as though he has no fear of death at all. Nevertheless, his recklessness sometimes gets him into trouble, so it's probably for the best to keep someone watching his back at all times.

Miscellaneous:

...which is where his pet wolf, Kurogane (literally translating to Black Steel, and shown in the picture along with his avatar), comes in. After stumbling across the wolf on its own and helping it against several other mobs on Floor 29, Burai unintentionally found himself a partner who has helped him ever since. With the wolf's keen senses and long range detection skills, it keeps him out of ambush, and also lends a hand in combat, leaping around the area quickly and dishing out a flurry of clawstrokes and bites that inflict bleeding condition, wearing down his enemies for him to finish off. On a final note, he's also managed to work out how to equip items to it, resulting in the humorous yet deadly combination of a wolf wielding a sword with its mouth - when he has one to spare, that is.
---
Personal History:
Ren wasn't always the sour individual he is today. Born along with a twin sister to a single mother in the busy city of Tokyo, he inherited some genetic defects that led to his albinism. The condition isn't serious, merely causing him to occasionally catch colds and sunburn rather easily, but nevertheless, it wasn't easy on his self esteem having people laugh at his strange appearance every so often. The only exception to this rule was his sister, Ouka, who always reassured him, comparing his appearance to that of a hero in some fantasy tale. These compliments sparked his imagination, and drove him to envision himself as a hero, protecting his sister from whatever might threaten her. And so, taking this as his new duty, he guarded her from the insults and taunts that came from her relation to such a strange person as himself, or their father's absence.

Their family situation was rather unpleasant. Their mother was always working, trying to support them, as their father had walked out on her before either child was born. They only spoke at the end of the day, over dinner, before all of them retired to their rooms to rest. But Ren didn't feel lonely. He couldn't relate to others, or make friends like a normal child, but so long as he had his sister to protect, he was content with his lot in life. Things continued this way into his teenage years, where the two of them took up gaming as a hobby to give vent to Ren's overactive imagination. He was something of a space case, occasionally crossing the boundaries between fiction and reality, and losing focus on situations at hand. He would space out, entering elaborate fantasy worlds until somebody finally snapped him back to earth, leading him to forget seemingly basic things, like where he was or what he was doing, or to spout seeming nonsense with a completely straight face. This only served to further his isolation, since everyone viewed him as either stupid or a lunatic. But still, he didn't mind, because he enjoyed his life and welcomed the company he had in his cheerful sister.

Then, everything changed on the twins' fourteenth birthday, which happened to coincide with the release date of Sword Art Online. Hoping to reconnect with her children, their mother took a vacation from her obligations, purchased three copies of Sword Art Online, and offered to try playing one of their games with them. They agreed joyfully, glad to have her along on one of their many adventures. Naturally, however, things went sour when they found themselves trapped inside the game and forced to fight to survive.

At first, they hesitated, not wanting to risk their lives in vain. However, when the conditions inside the City of Beginnings began to deteriorate, they had no choice but to take action. Not wanting to put their mother in danger, the twins volunteered to hunt basic monsters in order to make a living. Their mother reluctantly agreed, on the condition that they always exercise caution and avoid the more powerful mobs. For a while, things went well, as they were able to sell the basic materials and items they looted for high prices to other needy players, and thus made a livable, if not comfortable, place for themselves within the game world. However, one day, on a routine hunt, Ren and Ouka were ambushed by a field boss. Although it had wounded them, Ren insisted on staying to fight it, having damaged it greatly as well, and hoping that he could kill it and claim some sort of rare loot in order to better their miserable lives. But this recklessness would cost him dearly, for overestimating the damage of his intended finishing blow, he left himself open to attack by the boss, which prepared to finish him off. He was only saved by the intervention of his loving sister, who took the blow in his place, and was killed instantly. Mad with rage, he struck back at the boss, killing it in a frenzy of blows. But upon returning home in tears to his mother to bring her the grave news, he unintentionally placed the last straw upon her psyche. Snapping at him for his recklessness, she screamed that it was his fault that his sister was dead, and that she never wanted to see his face again. Thus chased away from the only home he had, Ren was left embittered at his failure to protect the person most precious to him, hating himself for the blood he had allowed to be spilled. In his eyes, he was nothing better than a murderer.

And so, the boy was left with only one path left to him: live. Fighting his hardest, he leveled up frantically, collecting rare drops and the money he needed to buy food, and continuously moving from place to place, always seeking more powerful enemies to kill and more rewarding quests to complete. Little by little, he inadvertently entered the frontlines. And yet, he was still a solo player, not wanting to risk failing anyone else who might rely on him and leading more innocent, kind people to their deaths. Nevertheless, out of nessecity, he at last relented in this way of thinking, and accepted an invitation to join a small but powerful guild known as the Stardust Brigade. Serving as their foremost soldier, he took the front in every battle, clearing a path on his own for the others to follow so as not to put them in the way of harm. But all that was going to change when, on Floor 71, they encountered enemies and bosses that they simply could not defeat, and were forced to search for additional players with whom to ally themselves in the hopes of forging a path onward. It was at this crossroads of destiny that Ren met someone who would become vital to him in the days to come, and his life, perhaps, finally took a shift in a different direction...