---
"You know I can never say no to chocolate."
---
---
---
---
---
---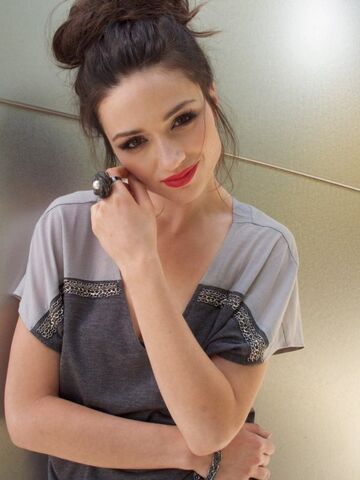 Appearance and Personal Info:



Nickname: Vi

Role: Female Friend Two

Weight: 122 lbs

Height: 5'7

Sexuality: Heterosexual

Eye Color: Brown

Hair Color: Brown

Skin Tone: Fair

Age: 23




---
---
---
---
Details:



Habits:She has a habit of looking down when she is embarrassed or nervous. When she is concentrating on something she tends to bite her lower lip.

Strengths: Creativity - Give her a blank canvas or a paper and she will paint new worlds and write her own fairy tales.
Kindness - Be it an animal who needed help, or just the grandma from two houses down the street, Violet will be there helping as much as she can.
Open-mindedness - Werther is it about a new receipt, her uncle's boyfriend or change in her friends music taste she will always be there to get to know about things without judging.

Likes:Sweets (especially chocolate), reading, drawing, painting, animals, dancing, cooking, coffee, green tea, watching cartoons ("You are never old for cartoons."), Autumn, lazy Sundays, music, aromatic candles, stuffed toys, horror movies...

Dislikes:Spiders, mess, being late, people who hurt animals, big crowds, pain, rude people...

Flaws: Impatient, stubborn, clumsy

Crush:
(Decided when all characters in)


---
---
---
---
History:
Her mother got into a car accident and the doctors had to perform a cesarean section, thus Violet was born five weeks before her due date. After she was put into the NICU the doctors proceeded to try to save her mothers life, but failed. After his wifes death, Paul Jennings, was left alone to take care of his only daughter. Being a single parent he made sure that his little girl had everything she wanted just so he could see the smile on her face. Working as a chef, he had to leave her home at night with his sister, but Violet didn't mind. She loved being with her aunt because she would always make up bed time stories for her. When she was sixteen her father remarried and soon her little brother, Jordan was born. As she reached her senior year in high school she discovered that not only did she like cooking with her father, but also draw and make up her own stories, so it was no surprise when she took double major in Art and English. Now it had been a couple of months she had graduated and is currently working in a Cafe-Bookstore called The Lagoon while working on a children's book.
---
---
Personality:
Being an only child and having only her father, many would think that she is spoiled but that is not true. She is the kindest girl you could ever meet. She is intelligent and very adaptable to every situation and every person. She likes to read and has a big collection of books. She is a loving and caring girl who would do anything to make the people around her smile. She is a good friends, she always looks out for her friends with caring and generosity and will protect them if it's needed and encourage them with her natural optimism. She is not a very good liar and other people can usually see through her lies. If confronted, she can turn to be quite childish. She is very determined when she gets set on something, and some might say she is a bit stubborn. She is more then willing to take a gamble and follow her dreams and goals.
---
---



Other:



Relations with other characters: (Decided when all characters in):


---
---