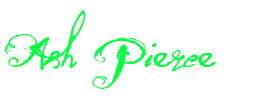 Name: "I have no middle name." Ashlynn Lilith Pierce
Nicknames: Ash
Age: "I'm a big kid now." 18
Alliance: Rebel
Sexuality: "Straight."Heterosexual

Likes:

"Puppies."[/code]

Rain, music, motorcycles, guns, parties
Dislikes: Body Piercings, Heavy bass, extreme cold, circles, gnomes

Fears: Acrophobia - Fear of heights.
Aerophobia - Fear of flying.

Skills: [color=#FF00FF]"Only a few things."
Shooting, drawing, dancing, sleeping, fashion
Deficits:
"Nothing, obviously."
Bad liar, dying her hair,
Personality:
"I'm shy."
Having grown up with rebels, Ash is an outgoing person. Going out to play lasertag or taking a ride on her motorcycle are things she won't pass up. The adrenaline gets to her, and she believes that is the source of her confidence. That's why she often goes out and doesn't stray too far from the rebel side of the city; adrenaline seems to only exist where the rebels are.
Just watching the Upper Class go about their business is boring. They are always too proper, never doing much that strays from their daily routines. Sometimes though, there is a bit of adrenaline when Ash takes the risk to journey into their side. The fear of getting caught, what she would say if someone saw her. Even in her rehearsed mental conversations, she chokes up. She's too shy to talk to any of them for real.
History:
"I was president once. Half a term."
Her mother and father split up when she was young, choosing to live in different parts of the rebel territory. It was her mother who had gotten custody of Ash and her younger brother, Ansel. Her mother wasn't around often; working constantly to pay for the apartment, food, and clothes. Ash made a vow that when she turned 18 she would leave so her mother would only have to supply for her Ansel.
Ash lives in an apartment in the middle of the city, equal distance from both her parents. She works, but she also receives a little money from each of her parents as well. Her days are sometimes long, but not too hard. Lonely at times.
Other:
"My body is a temple, and I like to paint on the walls."
This tattoo is on the inside of her right arm.