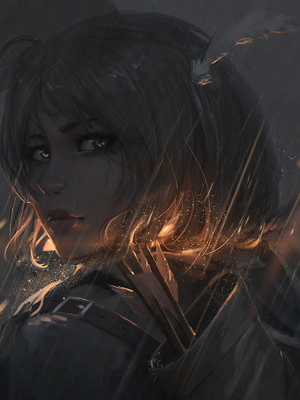 ____________________
THE PRINCESS
____________________
X
X
X
X
X
X
X
X
X
X
X
X
N A M E
Camilla Olivie Enais of Duunba
A G E
24
H E I G H T
5'5
W E I G H T
120 lbs.
O R I G I N
Duunba
G E N D E R
Female
S E X U A L I T Y
Bisexual
R E L I G I O N
Enorasis, Old God of Dreams
---
____________________
G E A R
____________________
As it turns out, it is good to be the daughter of the most powerful man on the continent, especially when it comes to material wants and needs. For this particular journey through a dangerous forest to a far-off mountain, little has been left wanting for Camilla: she has sturdy, perfectly fitted leather boots for walking, a similarly fitted set of cloth pants for wearing, and a set of cloth shirts that doesn't buck the trend. Over these are a leather jerkin, finely made, and the necessary assortment of belts for holding things like coins and charcoal and small, packaged food. Covering it all, as is expected for a long, outdoor journey, is a few hooded cloaks of various colors to help keep out the rain and the chill. The extras for all of these, of course, being carried by someone else. And, attached to her body rather than thrown over top of it, is a set of earrings. Supposedly magical and thus a perfect fit for the only magical being in the world, no one has really managed to come up with a good idea of what they actually do, if they do anything. As far as she can tell, all they do is catch the light really well and look nice.

When it comes to something other than an outfit, Camilla wears a well-made short sword on her hip that she desperately hopes she won't have to use but looks menacing enough for a big knife. On her back is a decorated quiver filled with feathered arrows, all of expected quality and with extras stocked in a separate container. To accompany these, is her expertly crafted, well-loved, well-maintained longbow that she hopes to get a chance to use in a more "natural" environment, though hopefully doing little other than impressing her travel companions by victimizing some trees in a skillful manner.

____________________
P E R S O N A L I T Y
____________________
Polite, dignified, and proud: Camilla is the jewel of the Empire and a fine example for all nobles who aspire for respect and admiration. She's able to read the social situations she's presented with well enough to almost always have a fitting, proper response readied. Simplicity is making sweet words of praise even sweeter, but coating a bitter dressing down with an obfuscating innocence and a disarming smile takes talent. It's only recently that she's been given some manner of official authority and power, so she's had a long time to polish this talent and it's become somewhat ingrained in her as a response. There is no question of the bluntness of her responses and the offense meant by them, but having plausible deniability is important. She isn't so disciplined and restrained as to keep her composure in the face of mounting frustration, but she has a decent ability to manage it. She never suffers disrespect for her or her father, and has never been in a situation where she couldn't descend upon it with the full weight of her station. Words and wit might be sharp, but she wields them like a club and throws them from her high tower.

That is the face, at least. Camilla is the future queen, after all, and can neither have the image of a rash child nor someone who tolerates irreverence towards the throne. Outside of public, she's largely the same, though more free with her frustration and less strict about answering every possible criticism with her verbal force. Tutors can (but won't) attest to the ease at which the stress of difficult problems or barely-comprehensible texts can crack her composure. They can also tell of how relatively open she is to criticism after the frustration of failure has cooled a bit and her desire for improvement kicks back in. And handmaidens, court ladies, and some visiting diplomats gossip about her flirting with this or that person; it's true but, again, keeping it to gossips allows it to be dismissed easily when convenient.

Beyond other people, though, Camilla has simply been energetic since a young age. She ran around and around (and around…) to the displeasure of her caretakers and always wanted to try some manner of new thing. First it was horse riding, then sword fighting, the reading, then writing, then painting, then archery, then singing, then archery, then music, and so on covering every possible activity she might be able to learn. Even though the appearance of her sight was accompanied by months of being prodded and questioned and sprinkled with painted grass, once the answer was finally found she approached that with similar enthusiasm; she was, after all, one of the only people with magic in the world. Though she may have the desire to be better in all she tries and the drive for general improvement, her enthusiasm for something can burn out quickly.
____________________
H I S T O R Y
____________________
Duunba wasn't always the center of the world, it started as just another kingdom among many, competing for power and influence and prestige. There was an ebb and a flow to the conflicts that maintained the state of things as they were. Then a daughter was born, an auspicious day for any parent, and a cause for celebration when she happened to be the princess. Despite this, there was little change in the world's affairs for several years, not until Camilla, heir of Duunba, began suffering in her sleep. The first few times she awoke with a fright, the nurses and caretakers simply considered them nightmares that silly children have, but after weeks of them, and their intrusion into even the waking hours, something needed to be done. Physicians were summoned, then Priests but neither their tonics nor their prayers seemed to accomplish anything. The king and queen would not stand for the suffering of their child and so sent for even more people, of varying talents: mystics and witches, scholars and historians, alchemists and monks.

It was only after months of these dreams, lessened by time though they were, that some manner of conclusion was reached. Magic was something only the mystics and witches supported as an explanation: using rituals no one believed in to try and prove that the princess had been cursed by a rival kingdom. Eventually one of the scholars humored their ramblings and researched a few instances of ancient magic, stumbling upon some old letters detailing something very familiar. Camilla was then quizzed on what she had been experiencing, and everything she said was cross-referenced. Many of these dreams and nightmares were found to be images of ancient history and recent events.

With some reservation, the king and queen were told of the magical nature of their daughter. It took some time for it to finally sink in, but it was eventually accepted; the princess of Duunba had the sight. And so this magic was nurtured, and found to have use: a vague image of their neighboring country's flag appeared a mere two weeks before said neighbor launched an attack. Similar premonitions, though often convoluted, began appearing to Camilla. Pride and ambition swelled in her father. Duunba was blessed with a daughter whose power could render its enemies perpetually hapless. As a young teenager, Camilla would relay the visions she had come to manage to dozens of individuals who would decipher any subtlety and debate all interpretations as her father utilized these visions to advance on any who would oppose him. Though it took some time out of her day to explain a vision she'd had so the experts could work, her routines went roughly uninterrupted. She was still seeing her tutors and meeting with other highborn and preparing for her eventual succession.

Things were going well, until misfortune fell upon the southern army. Led by the queen herself, its beachhead was beset by a storm and enemy saboteurs. Sickness had stricken many soldiers, but defeat was far from certain. Then a creature emerged from the sea. Those who managed to escape and make their way back to Duunba have given conflicting, unclear reports of what it actually was. All that is certain is that it ravaged the camp and struck down the queen. There was mourning in the capital, but a fury in its king. After the storms had passed, a new army was sent south and the kingdom that had harried the queen's forces was destroyed. After the bloody display there, some of the remaining kingdoms surrendered the moment they were told to.

The fury was lost on Camilla, though; she had little want for anger in her mourning and her father's attention being drawn elsewhere sapped her of her energy. She had little desire to practice riding a horse or shooting a bow or playing a flute, and no patience for her tutors' insistence that she continue her studies. A cloud hovered over the palace, and things were broken. The visions still happened with their usual ambiguity and she relayed it to the appropriate people, but, as with her tutors, she had little patience for their prodding questions. Weeks went by without relief and with little sleep as the stress and the frustration piled up. The only rest seemed to come when she was struck by a fever, and the only relief came when her father rushed to her side. He sent others to manage his empire and defeat his enemies even after she regained her health. Camilla actually had to shoo him away at one point lest he continue to neglect his people for her sake, but the cloud had finally passed.

It wasn't long before the entire continent fell to the Empire, and the Emperor sat on his throne, alone but for his daughter. Camilla kept to her studies, and even began taking on the responsibilities a future ruler would be expected to. She met diplomats and generals, took the council of court advisors, and mingled amongst the nobles knowing they all knelt to her. Though all was not well, as her visions continued to show conflict and horror even after the battles had ended. Strange creatures rise from myth itself and plague the people, and tales of magic have spread where they were once laughed at. Something needed to be done, and so her father gave her a mission that only she could accomplish.
O C C U P A T I O N
Heir Apparent
H O M E
Palace at Duunba
R E L A T I O N S H I P
Single
F A M I L Y
There's a lot, most notably her father, the Emperor
A L I G N M E N T
Neutral Good
S T A T U S
Hype Train
C O L O U R
#f0571b
---