It's late and I thought I should branch out with another roleplay. This is very unorganized, but I hope you get the basic idea about this rp. If I didn't type this out now it might my inspiration might have gone poof~ Hope you enjoy
( ̄Д ̄)ノ
---
---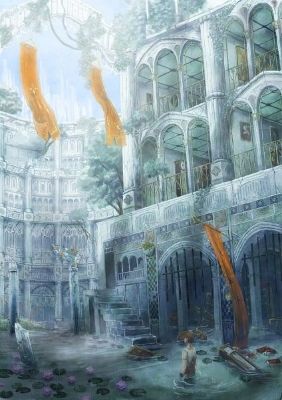 In the mid-16th century, the renaissance was spreading and art was valued above all. Leonardo do Vinci was the most known and masterful of this subject. There are many others but his work was the most inspiring. However much of this artist's work wasn't valued after he died. When he finally died the genius paintings he produced were stolen, sold, and destroyed throughout the years tht followed his death. It seemed as though the great master's work would disappear from the world. Until one sunny day, a painting bearing the same style and signature as the late artist appeared on the doorstep of Michealangelo. It sparked a wave of confusion and fear throughout Europe. The great master was dead wasn't he? Three times this happened and finally each within the house of a genius artist. The last painting depicted four men in black stealing a painting from a king and left where Leonardo's Last Supper was painted.. That was all and the story of 4 paintings created by Leonardo do Vinci after his death became a myth. And then it was lost to the pages of history.
---
---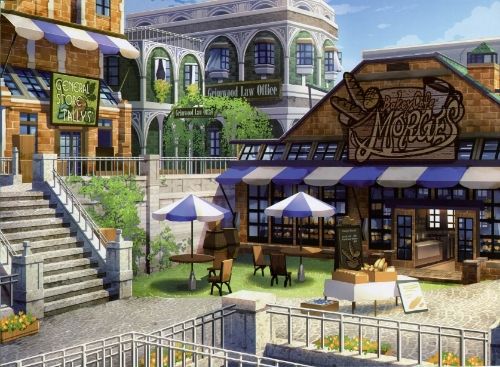 It's now the 21st century. The Lovure in Paris, France has gained three new paintings. Each one has been identified as a work of Leonardo Di Vinci. The paintings undoubtedly attracted the attention of art fanatics, historians, and tourists alike. The most previlaged and skeptic examine bed the painting behind the scenes though. From their reviews and test of the painting, a conclusion came that the paintings were a set. The first one, two men conversing and shaking hands at crossroads. The second had the same men, but with a third shaking hands with the apparent leader. The same with the third painting as well. The background that changed each time was the only difference. Moreover, the backgrounds contained a different art style. The news was released to the public and chaos erupted. Theories and conspiracies now encompassed around the paintings.
Meanwhile, a new cafe, named the Black Cat Cafe, had opened up in Paris. The owner and his waiters good-looks, talents, and charming personalities attracted many customers. However the same day it opened, the three paintings in the Louvre began to fade. Not from exposure, but frighteningly just turning blank as if it were being erased. Another outbreak of reporters, tourists, historians, and policed flocked to the Louvre. Extensive investigation occurred....no leads were found. Whatever was happening just couldn't be explained.
---
---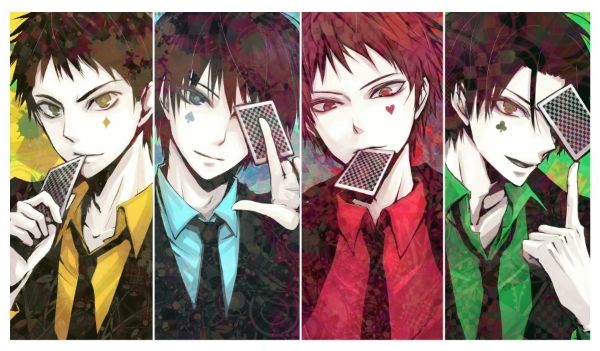 ---
A year or two passed and its quieted down. The biggest attraction is now large amount of paintings being donated to the Lovure mysteriously every few weeks. If you stop by the cafe, the workers will tell you the story of the whole thing. Though the four workers aren't exactly who they seem to be...in fact they are the very people who donate the priceless paintings to the Louvre. A group of thieves who steal art from those who have art illegally and give them to the museum for the public to see. They are....the Black Cats. A group whose case has fallen to a detective with a perfect case record~
A skilled hacker, dependable sniper, master of disguise, and narcissistic leader make up this team. However they are more than just a bunch of skilled thieves. They are the four great artists of the renaissance. Leonardo, Michelangelo, Donatello, and Rafael. Their spirits contained in the three paintings displayed in the Louvre and now alive again with the purpose of finding a successor to their art skills. The mass attraction of the three paintings have them many customers and they scouted each one as a successor but no luck.
As the group is out on another mission to steal a painting from a university, supposedly the last painting in the set Leonardo had painted. Unfortunately, four students catch two of the members in the act of stealing. They escape as usual, but those witnesses show up the next day at their cafe. Three of them decide its best to eliminate the witnesses, but the leader tramples on the idea. The students, their luck, major in art and are damn good at it. Seeing potential, Leonardo leaves a mere letter in the students' mailboxs. "We're coming for you. ~The Black Cats"
Your adventure begins here. As a thief and centuries old artist, a student, or the detective trying to make sense of all this.
---
---
Roles
Black Cats ~ Back after their first time awakening as residents in their own art. The little group are quite the troublemaking bunch now and are trying to find a way to finally get to the afterlife. They resemble good-looking young men, what they looked like in their prime of youth.
1. Leader: Leonardo Di Vinci - Taken
2. Sniper: Michelagelo - Taken
3. Master of Disguise: Donatello - Taken
4. Hacker: Rafael - Taken by ゆうい
Students: preferable 2 boys and 2 girls. Each of the students know each other and have been close friends since junior high.
1. Student: Male-Akito Kouzakura ~ Taken by リんーちゃん
2.Student: Female-Chie Ansel ~ Taken
3.Student: open
4.Student: Female - Millie Hayes ~ Taken
Detective/Police: They are dedicated to catching the group called the Black Cats. The Head Detective is very determined on catching them, legally. He merely does so for the fact what the group is doing isn't the right way to make the world better. Even if no one is hurt or it benefits others, they must be taken as criminals.
1. Head Detective: Reserved(needs to be filled)
2. Police/Detective:
---
---
Code: Select all

[center][size=400][font=Font here!][Color=Color Here!][u]Full Name Here[/u][/color][/font][/size]
[b]Role[/b]
[img]Image Here[/img] (Anime)
[b]Basic Appearance[/b]
(Brief description)
[b]Quote[/b]
[hr][/hr][hr][/hr]
[b]Name:[/b]
[b]Age:[/b]
[b]Gender:[/b]
[b]Weapon(s):[/b] (If multiple, only around two or three please!)
[hr][/hr][hr][/hr]
[img]Image Here[/img]
[b]Personality:[/b]
[b]Likes:[/b]
[b]Dislikes:[/b]
[b]Talents:[/b]
[b]Flaws:[/b]
[b]Hobbies:[/b] (During any free time)
[hr][/hr][hr][/hr]
[img]Image Here[/img]
[hr][/hr][hr][/hr]
[b]Bio:[/b]
[b]Other:[/b]
[b]Relationships/Thoughts towards Other Characters:[/b]
[/center]
Taking place in...
21 posts here • Page 1 of 1
21 posts here • Page 1 of 1
Arcs are bundles of posts that you can organize on your own. They're useful for telling a story that might span long periods of time or space.
There are no arcs in this roleplay.
There are no quests in this roleplay.
Here's the current leaderboard.
There are no groups in this roleplay!
Welcome home, Promethean. Here, you can manage your universe.
Arcs are bundles of posts from any location, allowing you to easily capture sub-plots which might be spread out across multiple locations.
You can create Quests with various rewards, encouraging your players to engage with specific plot lines.
Settings are the backdrop for the characters in your universe, giving meaning and context to their existence. By creating a number of well-written locations, you can organize your universe into areas and regions.
Navigation
While not required, locations can be organized onto a map. More information soon!
There are no groups in this roleplay!
By creating Collectibles, you can reward your players with unique items that accentuate their character sheets.
Once an Item has been created, it can be spawned in the IC using /spawn Item Name (case-sensitive, as usual) — this can be followed with /take Item Name to retrieve the item into the current character's inventory.
Give your Universe life by adding a Mob, which are auto-replenishing NPCs your players can interact with. Useful for some quick hack-and-slash fun!
Mobs can be automated spawns, like rats and bats, or full-on NPCs complete with conversation menus. Use them to enhance your player experience!
Current Mobs
No mobs have been created yet.
Locations where Mobs and Items might appear.
You can schedule events for your players to create notifications and schedule times for everyone to plan around.
Add and remove other people from your Universe.
Orphanage
By marking a character as abandoned, you can offer them to your players as pre-made character sheets.
"Don't sit there! I'm sketching!"
The Forge
Use your INK to craft new artifacts in Cafe of Thieves. Once created, Items cannot be changed, but they can be bought and sold in the marketplace.
Notable Items
No items have been created yet!
The Market
Buy, sell, and even craft your own items in this universe.
Market Data

Market conditions are unknown. Use caution when trading.

Quick Buy (Items Most Recently Listed for Sale)
None
Discussions
Most recent OOC posts in Cafe of Thieves