"People shouldn't label me, I hardly know how to label myself."
---
---
Full name
Amber Walker
Nicknames
Ambs, Freckles, Bambi
Age
16 years old
Role
The Shy One
Sexuality
Lesbian
---
---
Likes
|| horror movies || dogs || rain || her friends || sushi || bacon || Greek mythology || iced coffee || cooking || cycling || loud music || lazy days || baseball || comic books || chocolate || haunted houses ||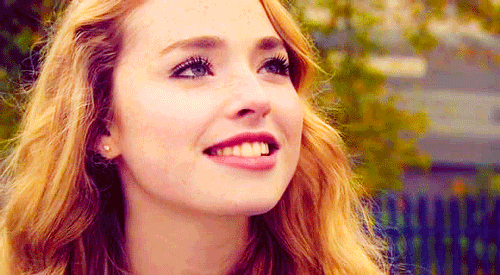 Dislikes
|| heights || her parents conservatism || clowns || early mornings || too much alcohol || her shyness || needles || people who smoke || guys who try to flirt with her || hospital smell || fear of flying || too much make up || prejudice ||
---
---
Appearence
Amber is about 5'8" tall and quite thin. She could be described as the ultimate ginger, red hair, freckles and a skin as white as paper. Her light skin makes her red lips and blue eyes stand out. She likes to wear jeans and nice tops, but doesn't always gets to wear those. Her parents are pretty strict regarding what clothes she has to wear. Their choices are usually skirts below the knees and vests. She had to fight to get her ears pierced and at age 15 they finally allowed it. No wonder that she has no other piercings, tattoos or anything else marking her body. She doesn't wear any make up aside from some mascara and eye shadow.
Personality
Amber has the difficult task to alternate personalities in between her home situation and her school. Her parents are very religious and as such very conservative. So when she it at home she speaks one language and when she is at school she speaks another. Her friends know this and over the years they also learned to make this distinction whenever they visited her house. Her parents make it even harder to express her feelings and her nature, she has believed she is lesbian for some time now and she is more sure of this every day. Her parents would never accept this, since they already have trouble with anything that is not from the 1900's.
Amongst her friends Amber is the quiet one, the shy one. Always there, but always silent. Of course this is only when others are around. If it is just the four of them she can talk your ears off. She looks to the other girls for fashion and make up. It happened on more then one occasion that she changed from her long black skirt to a pair of jeans in the school's bathroom. Her parents no-going-out rule means that she has never had much contact with clubbing, smoking or drinking. Under strict rules from her parents and the promise that Ashley's brother will chaperone them she is allowed to away for the summer. She counts on her friends to keep her safe when she tries new things.
---
---
History
Amber is the first and only child of Joseph and Esther Walker. Her parents met in university and married the moment they both graduated. Her father's family is very religious and that was a big part of Amber's upbringing. Her mother, although having a degree, never had a job other than a mother and a housewife. Every meal started with the bible, and so did every day, every night and every journey. Her mom did keep contact with her sorority sisters and so Amber grew up with her friends.
As a redhead you will always have a certain amount of bullying coming your way. But with Ashley, Ria and Samantha there it would never be for long. They would always have her back and she will always do the same for them. Amber always loved to stay over with her friends, there were different rules, better rules according to Amber. In high school Amber wanted to try different things, to rebel against her religion and her parents. When they send her to school in one of the long black skirts she would change in the bathrooms into a pair of jeans that one of her friends would bring for her.
Amber has had boyfriends while in high school. She did it because it was the norm. A normal girl is supposed to have a boyfriend one time or another. It never came further than kissing and she can't say she ever really loved a boy. She knows she likes girls, she has come to terms with that. However, she has not told her friends or anyone else.
---
---
General
Counting stars

Lately I been, I been losing sleep
Dreaming about the things that we could be
But baby, I been, I been prayin' hard
Said no more counting dollars
We'll be counting stars
Yeah, we'll be counting stars

I see this life
Like a swinging vine
Swing my heart across the line
In my face is flashing signs
Seek it out and ye shall find

Old, but I'm not that old
Young, but I'm not that bold
And I don't think the world is sold
I'm just doing what we're told

I feel something so right
By doing the wrong thing
And I feel something so wrong
By doing the right thing
I couldn't lie, couldn't lie, couldn't lie
Everything that kills me makes me feel alive

Lately I been, I been losing sleep
Dreaming about the things that we could be
But baby, I been, I been prayin' hard
Said no more counting dollars
We'll be counting stars
Lately I been, I been losing sleep
Dreaming about the things that we could be
But baby, I been, I been prayin' hard
Said no more counting dollars
We'll be, we'll be counting stars

I feel the love
And I feel it burn
Down this river every turn
Hope is our four letter word
Make that money
Watch it burn

Old, but I'm not that old
Young, but I'm not that bold
And I don't think the world is sold
I'm just doing what we're told

And I feel something so wrong
By doing the right thing
I couldn't lie, couldn't lie, couldn't lie
Everything that drowns me makes me wanna fly

Lately I been, I been losing sleep
Dreaming about the things that we could be
But baby, I been, I been prayin' hard
Said no more counting dollars
We'll be counting stars
Lately I been, I been losing sleep
Dreaming about the things that we could be
But baby, I been, I been prayin' hard
Said no more counting dollars
We'll be, we'll be counting stars
Love interest
Fell in love with a girl

Fell in love with a girl
fell in love once and almost completely
she's in love with the world
but sometimes these feelings
can be so misleading
she turns and says are you alright?
I said I must be fine cause my heart's still beating
come and kiss me by the riverside,
bobby says it's fine he don't consider it cheating

Red hair with a curl
mellow roll for the flavor
and the eyes were peeping
can't keep away from the girl
these two sides of my brain
need to have a meeting
can't think of anything to do
my left brain knows that
all love is fleeting
she's just looking for something new
and I said it once before
but it bears repeating

Can't think of anything to do
my left brain knows that
all love is fleeting
she's just looking for something new
and I said it once before
but it bears repeating

Fell in love with a girl
fell in love once and almost completely
she's in love with the world
but sometimes these feelings
can be so misleading
she turns and says are you alright?
I said I must be fine cause my heart's still beating
come and kiss me by the riverside,
bobby says it's fine he don't consider it cheating

Can't think of anything to do
my left brain knows that
all love is fleeting
she's just looking for something new
and I said it once before
but it bears repeating