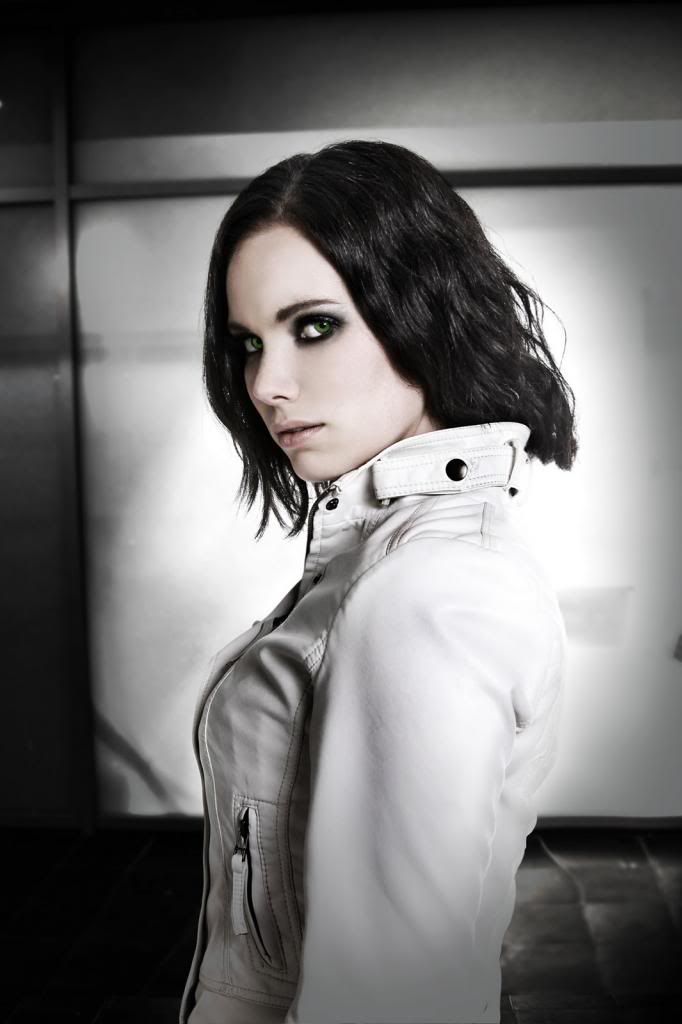 Full Name:
Ava Ambershard
Nickname:
Av'
Gender:
Female
Age:
24
Sexual Orientation:
Homosexual with just a pinch of bisexuality
Height:
5'10
Race:
Human/Cursed
Class
Assassin
Skills:
• Stealthy – Ava's years of training have left her with a subconscious trait of walking silently and blending herself into the background.
• Night Vision – Thanks to her working at night, Ava has gained impeccable night vision. It's not superhuman of course but better than most peoples.
• Weapon Proficiencies – Ava is a deft hand with a sword and bow although her line of work often calls for swift attacks and fleet footing over brute strength.
• Dextrous/Athletic - Fleet footed and dextrous Ava is quick moving and incredibly athletic, often gaining entry to places otherwise inaccessible by climbing whatever she can.
Weakness(es):
• Cursed – Before she was born a curse was put upon her adventurer parents, causing their future children to all bear the evil mark of a demon.
1. Blood Lust - Ava has a thirst for blood and must drink to sustain herself and to stave off the more negative effects of the curse. She still needs normal food and drink to sustain her body however.
2. Allergy to Silver – The curse brings with it an allergy to silver and Ava would react almost as though she had been burned should it pierce her skin.
3. Aversion to Religious symbols – Although Ava herself is not inherently evil, her curse is still demonic in nature and due to it being from before her birth, she has been left with an aversion to religious relics, holy symbols leaving her feeling slightly light headed.
• Light Armour – Plate armour isn't known for its quiet nature and as such, Ava will wear whatever is lightest and most suited for her aims. Usually this is leather armour though on occasion she will wear leggings and a light shirt. This does of course mean that if she were to take a blow in a sword fight in would likely be fatal.
• Socially Awkward – Although when in disguise or blending in Ava knows what to say and when, it is more of a mental script to be read out depending on her situation. When put into social situations of her own she is inexperienced with talking to people and what is ok to ask and what isn't, often asking inappropriate questions and putting her foot in her mouth.
Equipment:
Ava loathes to go anywhere without her weapons, keeping two curved short swords on her at all times and her bow slung over one shoulder.
Personal Quote:
"I will kill anyone for a price."
Description:
With impossibly green eyes, pale skin and unusually elongated canines Ava is hardly an ordinary woman at any stretch. Her curse only affecting her physicality in the slightest of ways but hardly leaving her totally normal. She is rarely seen wearing anything but black, either her leather armour or on occasion a lighter clothing to aid in being totally undetectable if the need ever come across, even going barefoot to mask her steps on certain occasions. Thus far she has managed to escape most scarring, only showing one small arrow mark from several years prior on her left shoulder.
arrow wound from several years prior on her left shoulder.
Personality:
Ava's solitary childhood has left her slightly disjointed from social conduct and although she has learnt much over the years there are many social graces that are entirely alien to her. She enjoys the company of others and tries to make conversation when the opportunity presents itself although her inexperience often leads to embarrassing ends. On the occasions in which she successfully holds a conversation with someone, Ava is surprisingly talkative, curious about the world around her and the lives that others keep as well as the stories of various acts that people commit through their lives.
History:
Ava's history begins with her mother Maya, a cleric and adventurer. Her party was tasked with the hunting of a demon named Calibast whom had been terrorising the local areas. The endeavour cost her party many months and ended in one glorious stand against the demon. Despite fighting bravely, all were lost and the Calibast saw fit to spare the Cleric's life deciding it more amusing for him if she were to live with his taint forever.
It was from the Demon's curse that Maya discovered her pregnancy and his wicked laughter that filled her ears as she was left to fend her own way out of his cavernous abode. Eventually, Maya managed to escape and fled to a distant village leaving behind her past and praying for the demon's curse to be false. Nine months later her daughter Ava was born.
She was a sickly child, often being ill and falling over requiring constant care from her now damaged mother whom could never forget the demon's involvement in Ava's condition.
Ava was not a popular child, her unusually elongated canines and pale skin leading to her nickname 'Vampire' from the other children who would usually follow their mocking with jeers and other profanities. Instead, Ava found solace in books, at first it was just her mother's small book collection but eventually Ava was devouring anything she could get her hands on, from cookbooks to epic tales of adventurers, her favourites however were the books of the lands famous assassins and thieves capable of feats of dexterity of which she could only dream.
As Ava grew, she began to feel a growing emptiness inside of her at first no more than a niggling such as that of slight thirst but soon she felt as though she were starving and dehydrated yet neither at the same time. The unfortunate girl could never decipher what was the cause of her requirement until one day whilst reading in the woods she witnessed a bandit attack; as frail as she was she could nothing but watch the attack unfold.
It took what seemed like mere seconds for the bandits to cut down their prey and finish picking their corpses before vanishing back into the trees. Gingerly Ava made her way down towards the caravan. It was here she encountered a survivor, he was bleeding profusely from a wound on his neck and begging for help but Ava's cravings were too strong, instinctively she bit into the man's throat, finally satiating her curse's hunger.
Ava knew she should be horrified with herself for what she had done, she was a murderer and worse than that she had literally drank the man to death but she didn't care she felt so alive for the first time in fifteen years she felt complete, her empty void satiated. As Ava stood to return to her home a voice echoed through her head,
"At last."
it spoke simply and sinisterly but once more Ava couldn't care what demonic pact she had just entered into she felt incredible!
It took almost a quarter of the time it would usually have taken Ava to return home, her feet seeming to move with a much greater speed then she had ever been capable in her life before, her constant dizziness subsided for an undeniable clarity.
Her mother could not hide her pleasure to see that her daughter had seemingly finally escaped Calibast's curse even going as far to tell her daughter the story of her unusual birth. Ava was distraught, the knowledge that her lineage was anything but as normal as she had been lead to believe.
Things changed for Ava from then, she retreated into herself and stowed away regularly in the night to feed her sinister craving, at first starting with small animals from the village before she learned to use weapons of her own and took to hunting in the forests but nothing could compare to the human blood she had first drank from.
Several years past with this continuing pattern and although no animal blood gave her the same rush Ava sustained her cravings enough to keep herself satiated enough to grow into a fine archer and swordsman. She eventually decided to leave her home in the dead of night to take up the profession that she had idolised in her childhood. Donning the black garb of an assassin, she began to create a name for herself across the kingdom of Calisma, becoming an impressively skilled assassin with a gruesome calling card as she drained her victims of their blood.
Anything Else:
Other details of note.