Full Name:
Travian Zarel
Nickname:
He is frequently addressed by his last name, and also goes by "Ian" for short.
Gender:
Male
Age:
30
Sexual Orientation:
Prefers women, but aside from a little friendly flirting avoids relationships.
Height:
5'9"
Race:
Human
Class:
Paladin
Skills:
He is skilled in fighting with a shield and pole weapons. He prefers the thrusting variety, like spears, but can use slicing kinds such as glaives (though in addition to being not as skilled with them, his armor limits the range of motion such weapons require). He can also use thrown spears quite effectively. The sword is not completely foreign to him, but as he prefers the reach of pole weapons he does not carry one nor has he practiced it in quite a while. As for non-combat skills, he has enough knowledge of forging and woodworking to make his own spear tips and poles respectively, along with other basic things such as horseshoes and simple carvings.
Weakness(es):
His heavy armor slows his movement, though not enough to detriment his combat skills as his fighting style generally involves being rooted to one place.
Additionally the only pieces of plate armor that cover his back are the chest plate and pauldrons, leaving his rear less protected than his front. He is not particularly concerned about this though, thinking that if the enemy manages to get past his shield then he has already failed anyway.
He is not very well protected from magic. The defensive enchantments his shield can create do offer some defense, but it takes a lot of energy to make them really effective against magic.
Furthermore, channeling his energy into the shield to create those enchantments requires concentration and he may leave himself vulnerable while trying to do so.
Equipment:
His most distinctive piece of equipment is his enchanted shield, which can produce simple, defensive spells around a target of his choosing (so long as they are within ten feet of him) when he channels his energy into it. Naturally the more powerful he tries to make these spells/the more people he tries to cast them on, the more energy he drains. For weapons he currently carries two heavy spears for melee fighting and three lighter ones for throwing.
Personal Quote:
"Get behind me! I'll protect you!"
Description:
Travian is dedicated to building as much muscle as possible and it shows, but his physique is more lean or even scrappy than it is bulky and has a subtle feminine curve, though his armor hides it well. His skin is a tan olive color, but this comes more from heredity than it does sun exposure as his body is covered most of the time. His dark hair is close cropped and often messy (especially when he's been wearing his helmet) despite his efforts to tame it and his eyes are a dark bluish grey. He also sports a slight beard around his jaw line which he takes care to keep neat and tidy.
His "clothing" consists of four layers the first of which is an off-white set of underclothes that cover nearly his whole body and leather boots that reach just below the knee. His underclothes are heavily padded over the areas his plate mail covers, to prevent discomfort and absorb the shock of any blows he might take. The second layer consists of short-sleeved chain mail that covers his neck and runs down to his thighs. Over this he wears a black and red tabard, buckled at the waist, with a golden boar symbol on the chest. The final layer is his plate mail which consists of a pauldron on each shoulder a chest piece bearing the same symbol as his tabard that extends down to cover his abdomen, and greaves. He also wears a gauntlet on his right hand (spear hand) and a thick leather glove on his left (shield hand). His plate mail is very thick and somewhat ornate, though its heavy use has begun to show despite his best efforts to care for it, and the decorative coloring is beginning to peel off. He also has a matching helmet with decorative bristles which imitate those of a boar, though since he finds it uncomfortable it is usually strapped to his belt instead of his chin. He also has a black cloth mask that he tends to wear over his nose and mouth when wearing his helmet. He has a cloak too, but as he is rarely cold with his many layers it is folded up in his pack most of the time.
He always carries one of his melee spears and when he has no horse to carry the rest he stores them in a pouch on his back that is similar in design to a quiver although on a much larger scale. It is somewhat cumbersome to walk with and so provided he has enough warning at the start of combat he will remove his spears and stab them into the ground around him for quick access. The "quiver" also has a few pouches in which he keeps basic traveling equipment. He can also strap his shield to his back and always does so over the quiver so that he can always get to it quickly.
Pictures:
whole body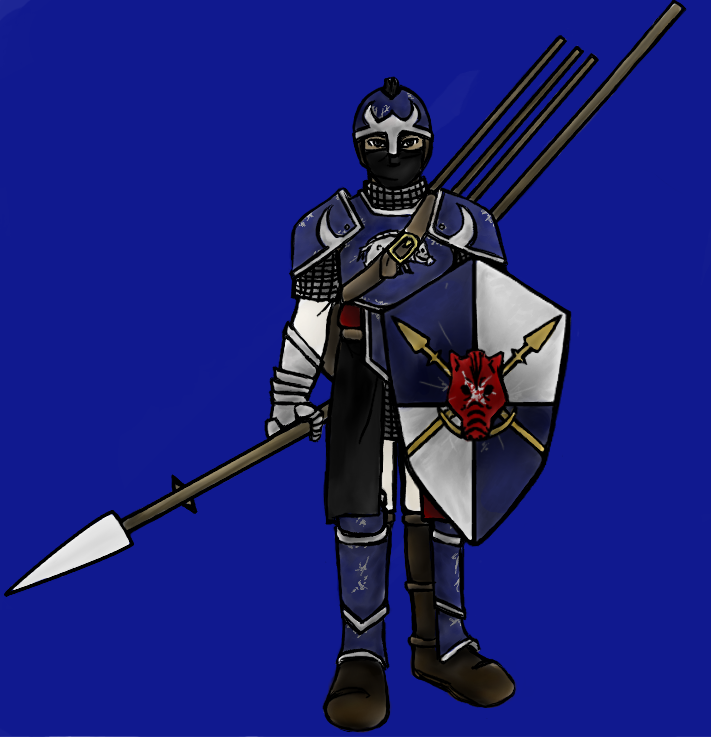 face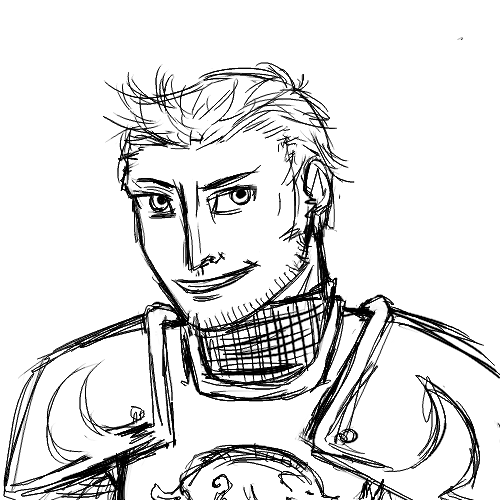 Personality:
Travian is overall a good natured person. He is very concerned about everyone he meets and is willing to help them in any way he can. However, sometimes he can become overbearing. Furthermore, even though he has pretty much devoted his life to helping others he has trouble admitting when he needs help and often tries to take everything on himself. He acts confident, but on the inside he is very self conscious about whether or not he is doing everything as well as he could. In fact his greatest fear is the death of one he tried to protect. For this reason he is very frustrated when in a position of powerlessness.
History:
The Zarel family belong to the landed gentry, meaning that they owned a large portion of land (between areas 15-16) that they could live off without having to actively work. Their family was not among the wealthiest gentry families and they bore no title, but they did live quite comfortably. Furthermore, though they were near the bottom rung of the nobility, they were considered as such and had access to all the perks that came with that. Perhaps the most important of these, in Travian's eyes at least was that male members of the family could train as knights if they so chose. Travian's father had done so, but unfortunately his arm was injured while serving as a squire on the battlefield and was dismissed from training.
Travian loved nothing better than to hear the stories of his father's few short years in training, despite the bitterness with which the old man told them. He longed to become a knight more than anything, there was just one problem: all his family expected of him was to find a good husband. For though Travian had always felt more masculine than feminine; he was born Miss Vivian Zarel. Even though he had faced many hardships on the road to becoming a Paladin there was no time in his life as awful as those first twelve years of long tresses, dresses that were near impossible to move in and education on how to be a proper lady. Such things felt as unnatural to Travian as they would any man.
Fortunately, Travian's life changed for the better around the time he turned 12 when he first assumed the name he would go by for the rest of his life. For he knew that this was the age at which knight training began and about a month before his 12th birthday he cut off nearly all of his hair and ran away from home; stealing some of his younger brother's clothes, a seal proving his family's identity, a horse, and as many supplies as he could think to bring on the long journey to the capital.
Most of his journey was without incident, however one night near the end of the trek he was set upon by bandits. He had just begun making camp for the night when his horse, which he had not yet tied down, became very startled and ran away. The bandits revealed themselves before he could catch it and he followed the horse's example. His camp was near the edge of Gaeric forest and it was in that direction that he ran. Due to his small size he was able to move more easily through the thick woods and managed to lose them. Once he felt he had gotten far enough away he climbed a tree, hoping he wouldn't be found there and it was only then that he noticed a sounder of wild pigs resting nearby. There were several baby pigs among the group and knowing well the ferocity with which boars defended their young he was relieved that they hadn't noticed him. However, the bandits that came charging through the forest after him were impossible to miss and the boars charged them with such aggression that they had little choice but to run.
As the sounds of stampeding hoofs began to fade, another creature came into view; walking with the utmost calm. The darkness prevented him from getting a good look at it until it was almost right under him and his draw dropped in fear and awe when he did. Just below him was the biggest boar he'd ever seen in his life; had he been standing next to it, his head would have only reached the creature's shoulders and it sported huge mastodon-like tusks. His alarm only increased when the creature looked up- something he had been told pigs were incapable of- and their eyes locked. After staring at him for what seemed like hours the creature put its head down and walked away, fading into the darkness. Travian had heard stories of the god, Urusk and how he was said to be able to assume the form of a boar. There is no doubt in his mind that it was Urusk who appeared before him on that day and he has since devoted his life to the god.
After spending the night in the tree (he was too scared to come down) he began trying to find his way back to the road. Fortunately his map, seal, and money were all in a bag he was carrying and were not lost along with his horse. After wandering around a bit he came across a local farmer. He explained his situation and by chance the farmer was heading to Paetax the next day to sell some of his produce and would let Travian ride in his cart with him in return for some help around the farm. The boy was more than willing to accept the farmer's terms and made it through the rest of his journey with no problems. Furthermore, he was accepted into knight training.
The training would continue until he became 25 years old and during those years, Travian spent nearly all his time either training or in the local temple of Urusk; giving himself very little time to relax or rest. Once his training was finished he began devoting all of his time to the temple and soon became an official Paladin, working to guard the city in the name of his god.
Anything Else:
Urusk is a god of protection, though he also preaches respect and tolerance. No one is beneath the god's protection and those who seek it are not considered weak for needing it. Urusk's protection takes many forms besides defense from physical harm. His temples offer sanctuary and a place to sleep for anyone who may need it and food for those who are starving. All of Urusk's followers, be they members of the clergy or ordinary citizens, are expected to volunteer themselves to the service of the less fortunate, usually through the temple. Furthermore, all of the clergy train in the art of combat and are willing to lay down their lives to protect others. Because it takes a rare type of person to devote themselves in this way, Urusk's priests are less concerned with converting people than those of most other gods, knowing that these types of people are likely to seek out the god on their own. Urusk's symbol is the boar because he is known in legend to use boars as familiars or even take the form of a boar himself. As such, boars are held sacred by his followers and to kill one or consume its flesh is a grave taboo. Worshipers of the god are generally respected by those outside church, however, some have developed a bad reputation for being uptight, or worse act smug and superior towards those they aid.