Vaylen Stroud, The Wraith of Ibaolith
Physical Description
The first characteristic that an individual will realize when viewing the image of Vaylen Stroud are his eyes—a steel-gray hue that garners no grief, no fear, no misery. They are the eyes of a killer, a man who enjoys watching the life fade from an enemy's eyes, knowing that he was the one who determined their fate. While usually wearing the Mask of the Wraith, his heirloom, below the facade is nothing more than a young man, but a young man of great physique. Peaking at the height of five feet and eight inches, he is defined by his small frame that is capable of performing athletic and acrobatic feats not akin to most human beings. His body itself is formed around sinewy, toned muscle that seems to be structured correctly at every angle of his anatomy. Large, calloused hands that held daggers since he was a young lad run through his short dark brown hair constantly. His jaw-line is well-structured, being mostly squared off into a handsome feature. His cheekbones are nearly unnoticeable, centered at either cheek wonderfully. Thin, dried lips are usually displayed in an unemotional line across his countenance, but sometimes they form a smirk—an expression that foretells doom. Finally, a light beard rounds his cheeks and jaw, lining his lips as well.
Age
"To reveal your age is to reveal your mortality. To have mortality is to have weakness. Wraiths are of the undeath, and therefore no client of mine will ever know of my age."
Kingdom
"Pledging one's allegiance to a single group, a single faction, a single ruler is utter idiocy. I enjoy the reward of my kill: infamy, money, women. Why must I need to align myself with a certain political identity if I have all that I desire?"
Likes
"There are three things I strive to master in this world: the art of killing, the manipulation of people, and immortality."
Dislikes
"If you challenge me, I will kill you. If you steal from me, I will kill you. If you attempt to change me, I will kill you."
Skills
"I have not acquired the title of the Wraith of Ibaolith for nothing. My athleticism is unparalleled in the Six Kingdoms. My acrobatics, my balance, my speed, my instincts, my ferocity, my disregard of fear, my unshakeable confidence, and my willingness to do anything in my power to watch the life fade from your eyes at the end of my dagger is what makes me the most dangerous warrior the world has ever seen. But there is a side of me that slips me into the web of political affairs without effort. I am charming, I am sarcastic, I am witty, and most of all, I will deceive you until the very end."
Equipment
• Armor—Crafted by his own hands, Vaylen wears a set of black leather armor called Phantom Blacks. The light, but tight-fitting, armor protects every joint and major bodily area from slashing attacks, but bludgeoning and piercing damage cannot be evaded. The suit of armor containts a leather breastplate, greaves, shoulder guards, gauntlets, and boots. As for clothing, Vaylen wears a gray tunic beneath his armor along with leather pants. Besides that, the assassin dons black, fingerless leather gloves and a gray silk cloak.
• Weapons— Five throwing knives and two curved daggers called falcatas. His primary falcata, sheathed in a scabbard on the left side of his waist for easy retrieval with his right hand, is called Nightwraith.

His secondary falcata, sheathed at the right side of his waist, is named Goldwraith.
• Unique Item— The Mask of the Wraith. As a family heirloom of Vaylen's unknown and mysterious family, it allows him to bring on the abilities of the wraiths of old. When triggering its effects, he becomes ethereal. When in this translucent form, ranged attacks (arrows, throwing knives, ranged magical attacks, etc.) miss their mark, but melee combat remains unaltered. In addition, when in this contortion, Vaylen can pass through walls and barriers unhindered.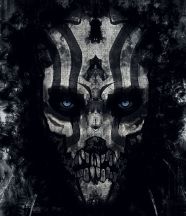 History
"If you wish to know my past, prove to be my equal. Until then, you will die before my upbringing ever reaches your ears."