【

x x x x x x x x x

CAYDEN STELZNER

x x x x x x x x x

】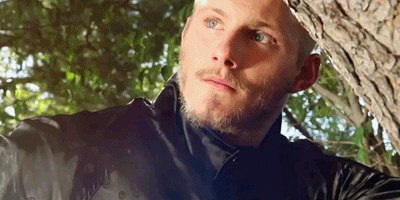 【

x x x x x x x x x x x x

p e r s o n a l i t y

x x x x x x x x x x x x

】
Loyal - Resilient - Determined - Caring - Impatient
Beneath his layer of armor, he has a heart of gold. His loyalty lies with those he considers to be his friends, and family, even if he has spent most of his teenage years by himself. He would never betray those he cares for, especially not over childish rumors that used to pass around the playground amongst kids at his old school.
He doesn't have time for games, so he prefers people to be honest with him since he has a distaste for fake people. He doesn't like clingy people either since he is the type of guy who values his own space. Company is good but in small doses.
Even though he's the Spawn of War, Cayden does have a much more gentle and caring side to him. He doesn't show it often, but it's mostly to those he feels close to since he feels they won't judge him for it or think that he's weak. He hates being underestimated, so he is also always determined to prove anyone wrong. Friend or foe.
He has been known to be pretty laid back by not getting involved in drama unless it includes himself, and he can get impatient when it comes to joining in on activities. Waiting around for spars for example - Cayden loves to get in, gear up, and go. Letting off steam and keeping in shape are two of his main priorities. He's always ready for a war.
He has anger issues when he becomes overwhelmed with emotions, and used to lash out at the nearest jerk he could get his fists into. Now, he tries his best to control the rage that feels like a constant brewing volcano in the bottom of his gut, which he controls with some rounds on his punchbag.
【

x x x x x x x x x x x x

b a c k g r o u n d

x x x x x x x x x x x x x

】
As the son of Ares, life as a teenage boy was hard. He could feel the rage inside of him, felt the lust for fighting and blood, yet he didn't understand any of it. He thought it was just down to his teenage hormones, but it was more than that. His mother knew about his father but never told him anything until his last year of high school which he didn't get to graduate from.

The other kids were practically scared of him since he didn't exactly play nice, and after high school he'd get into organized fights with the other elder boys, just to see who was the toughest in school.

His mother got sick and tired of the constant calls from the school's headteacher, explaining that Cayden had, yet again, been involved in a fight. Only this time, he had almost put the other kid in the hospital for calling his mother a whore. She packed his bags and threw him out, causing Cayden to couch surf at his mate's houses until he found his own place after landing some job to pay for it.

The anger still stirred inside of him, so he started to attend controlled boxing classes since it was the only way he could get rid of his rage without hurting anyone else. He had been expelled from so many schools before his mother gave up on him. She no longer wanted people coming to her home looking for him, so that was when she threw him out at the age of 19 and prayed for his father to come to deal with his own son.

Ares did indeed come. Cayden finally understood why he was the way he was, and agreed
to go to Camp Athens which would help him to be more in control of himself, and have
the chance to be around others like him. Demigods.
【 cs nations | inspiration spirit dancer | faceclaim Alexander Ludwig 】