---
---
◤
◥
{
"Creativity is intelligence having fun."
}
Dialogue Color ✦

#006400

|| Thought Color ✦

#2F4F4F
|| Apparently || The Hills || Dark Times || Always ||
◣
◢
---
F U L L N A M E
Ian Gregor Campbell
N I C K N A M E S
Ian ✦ Most common ✦ Likes
B I R T H D A Y
October 22th
A G E
20 years old
G E N D E R
Male
G O D L Y P A R E N T
Athena
E T H N I C I T Y
Scottish/Irish
S E X U A L I T Y
Heterosexual
---
---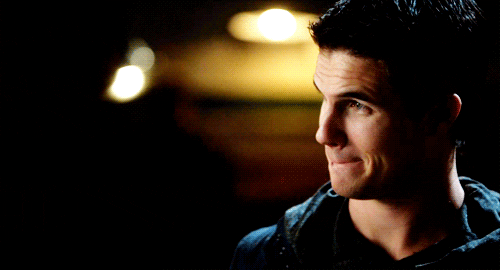 P E R S O N A L I T Y
Charming ✦ Curious ✦ Intelligent ✦ Relaxed ✦ Active ✦ Dependable ✦ Foolish

Ian's your typical rowdy twenty-something year old. Without his mother being present all the time, all he had was his dad who was like a big man child. This of course is what makes Ian so playful and energetic. But like his mother he was intelligent and laid back. You never really know what Ian is going to do next. One minute he's joking around, making sure everyone is having a good time, but at the drop of a dime when thing's get serious Ian reverts to a more calculating leader who's all business.
It's easy to fall for Ian's charming, go with the flow ways. He was just an easy person to get a long with. This doesn't make him a shallow jock though. In fact, Ian is so much deeper than what he portrays. He likes to get to know people and have meaningful conversations once he feels comfortable with them. There's a lot to say about Ian, but it's up to you to make your judgements.


L I K E S
Beer pong: "I only get better the more I drink." ✦ Reading: "I just want to know more." ✦ Comedy: "I love to laugh and make people laugh." ✦ Weapons: "Want to see my swords collection?" ✦ Hiking: "Let's go on an adventure." ✦ Being surrounded by people: "I'm a people person." ✦ Sparring: "Wanna fight sometime?" ✦ Jogging: "Keeps me calm and level."


D I S L I K E S
Licorice: "Doesn't everyone hate that stuff?" ✦ Stereotypes: "I know I'm adorable but I'm pretty smart too." ✦ Emotions: "Please don't get all emotional with me." ✦ Hangovers: "Why? Why does my body do that after a fun night?" ✦ Having no plans: "What will I even do with myself?" ✦ Early mornings: "If the suns is just rising, I'm just getting into bed." ✦ Coy people: "Just be upfront with me." ✦ Cooking: "Fast food all day baby."


F E A R S
Not living up to expectations: "I just want to make my parents proud."
Chaos: "I'm trying to keep the peace, if all hell breaks loose I'll go insane."
Flying: "I'll take a boat ride or drive anywhere, let's just not get on a plane."
The Unknown: "I just want to know what's going to happen or what is happening."
---
---
F A M I L Y
James Connor Campbell, the man he looks up to the most. James did a great job raising his son for the most part on his own. Together the two of them were more like best friends rather than father and son. There weren't many rules in the Campbell residence. If Ian wanted to throw a party, James would allow him. Hell, James would be there too partying alongside his son. Life wasn't always a party though, James taught Ian self-control and discipline through boxing, his occupation. With years of boxing behind him, James spend his time training others in the art and with his new wife Margaret.
Margaret McPherson-Campbell, Ian's stepmother. For a while it was just Ian and his dad until he started noticing his father started to bring Margaret home more and more. By the time he knew it, she became his stepmother. When she moved in, she didn't know how to tame James and Ian. But little by little she brought order to the wild household. Not that Ian minded, in fact, Ian rather liked Margaret. It took his father's mind off his biological mother. Yes, Margaret was a kind soul who loved Ian as much as she love James.
R E L A T I O N S H I P W I T H G O D L Y P A R E NT
For a few years Ian didn't really know who his mother was. She came in and out of his life so frequently, he thought she was only a friend of his father's who just cared for him. When Ian turned 9 years old he found out exactly who she was, and what he was. He thought he was more like his father, that was until he really got to know his mom. The two were more alike than he could ever imagine. When they were together, she had way of calming him down and making him see clearly. She taught him how to detect when someone was lying and when to fight and when to retreat. Not that Ian liked the latter. But everyday Athena spent with her son, was all to help him grow and prepare for the life of a demigod. It was a special responsibility, but she knew her son was equipped to handle it. Like her, he was smart and brave. Ian was everything she would of hoped he'd grow up to be.
---
---
B I O G R A P H Y
Life was always easy for Ian. He had a gravity around him the attracted people to him. He was well liked and making friends was never hard for him. It was quite picturesque life than maybe would envy. But to Ian, there was something always missing. Not hard to guess that it was his mother. The first time Ian realized he wasn't like all his friends, he had so many questions, and they could only be answered by his mother. For years he went unanswered as to what he really was until his mother quite literally transcended from the heavens above. Then he got the answers he needed. He was a demigod and the son of Athena. From there he began training with his mother whenever she came to see him.
Athena didn't always have to time to dote on her son though so she referred him to camp Athens. The thought of a camp with others like him excited him, just as much as the promise of parties and s'mores.
P O W E R S
Invisibility ✦ Vanishing and appearing as if magic
Superhuman Strength, Stamina, and Endurance ✦ It was a basic for every demigod
Heightened intelligence ✦ Out thinking opponents and creating perfect battle schemes
Shape shifting ✦ A new ability for him, can transform into a hawk
Ability to tell if you are lying ✦ There's no lying to him without him knowing
M I S C E L L A N E O U S
✦ Has a large collect of battle axes, swords, and shields.
✦ Has an IQ of 190, similarly to the late Leonardo Da Vinci.