Name: Degall Euridiclyes-O'Connor
Age: 25
What are you: Lamia/Half Dragon
Human Appearance: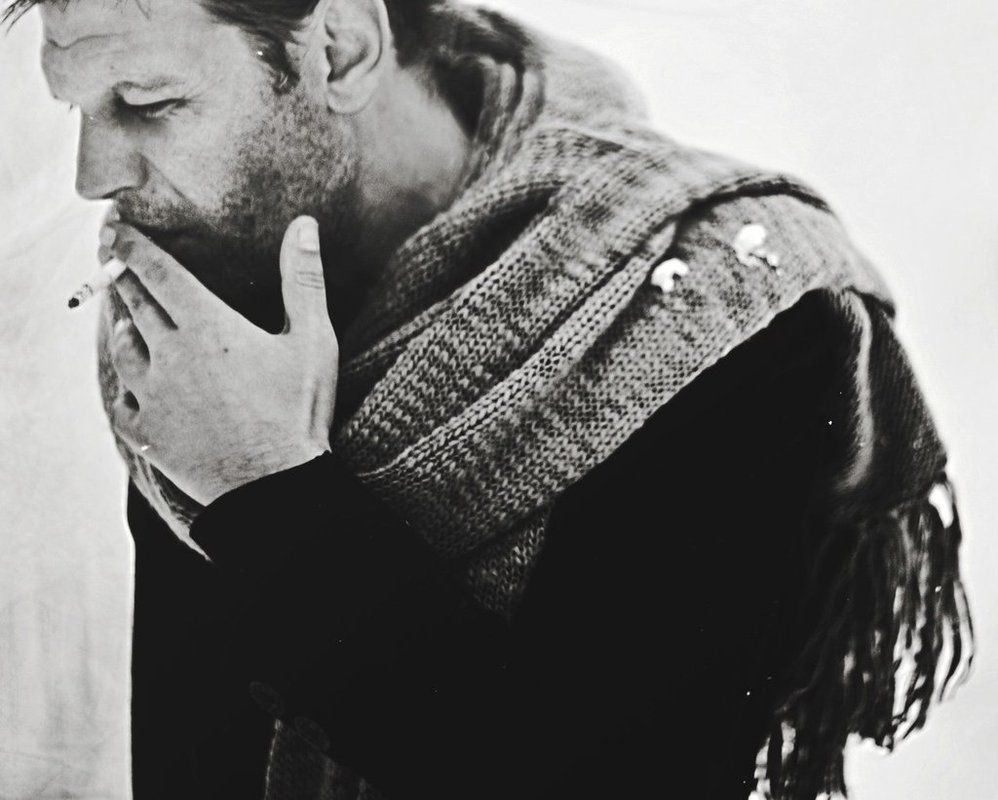 Eye Color: Blue
Hair Color: Red-brown
Height: 6'11"
Weight: 243 lbs
(Dragon blood causes him to grow taller and more muscular than a normal human)
Personality: Unlike his parents, Degall is reserved, quiet, and tends to listen more than speak. It's not due to an inherent dislike of people, or a feeling of supremacy, but rather due to the enjoyment he garners out of seeing others act upon the things they encounter. He often finds himself lost in his own world and as such, is often deemed forgetful and a bit clumsy, but the moment he focuses on something, his entire being is devoted to it.
Power(s):
-Hypnotic gaze - Degall's eyes work much like his mother's voice. If he chooses, his gaze becomes hypnotic, ensnaring people who look into his eyes and making them susceptible to his suggestions.
-Steel strong scales and claws
-Immense strength
-Dragon/human shape changing
-Incendiary breath
Cabin #: Staff
Likes/Interests/hobbies: Degall enjoys much of the same things his mother does including playing and listening to music, drawing (though he believes he has much to learn), and anything with the colors green or blue. However much like his father, Degall has a love for anything to do with heights.
Dislikes: Degall has a distaste for being on boats or indoors and detests honey in any form.
Crush: TBD
Enemies: TBD
History/Bio: Degall was born to the two directors of the previous Camp Keystone, Athest Euridiclyes and Bridgette O'Connor, five years after the camp closed in twenty-fifteen. The older of two children by two years, Degall grew up loved and surrounded by family which he was very protective of. Not much of great consequence ever happened to Degall aside from the few moves his family endured due to his father Athest's seat on the High Council as the elder of the Lamia race, but that changed on a visit home when he was twenty-four. Degall's parents and his uncle, Nicholas Soren were discussing an invitation they all received from an unknown benefactor explaining that he wanted to re-open the subject of Degall's bed-time stories, Camp Keystone. While the consensus between the three was no, Athest felt the need to keep the invitation which turned out to be a mistake. Degall, believing that he could revive the mystic place his father so often spoke of, stole the invitation, forged a response under Athest's name and returned it, setting out at the same time as the letter so as to avoid the reprimanding he was sure to receive from both of his parents and his uncle. So Degall took his father's place at Keystone for now. However, Athest was never known for his even temper and has no doubt found out about his "cunning" plan by now.
Other: Degall can change shape but it's not required for his abilities to function normally. He is also extremely protective of his younger sister who tends to be the more impulsive of the two. He has a tendency to smoke, though due to his dragon physiology, the cigarettes do nearly no damage to his health.
Position: Camp Director/Manager