Name:
Vincent Phantasmagoria Abbatoir
Nickname(s):
Vin, Vinny,
Vince
. (More, check 'Personality'.)
Age:
17
Appearance:
Vincent is a rather thin young man - Slender and weighing in at 160lbs with a towering height of 5'10". He generally wears very regal clothing or nicer looking casual clothing, generally in the color blue - Vincent's favorite color, alongside with white. His face is gaunt, cheekbones high and shallow in depth. Vincent has silver-blue eyes and snow white hair - An albino. His complexion is pale and he doesn't enjoy being outside often because of how easily he gets sunburned and how sunlight hurts his eyes.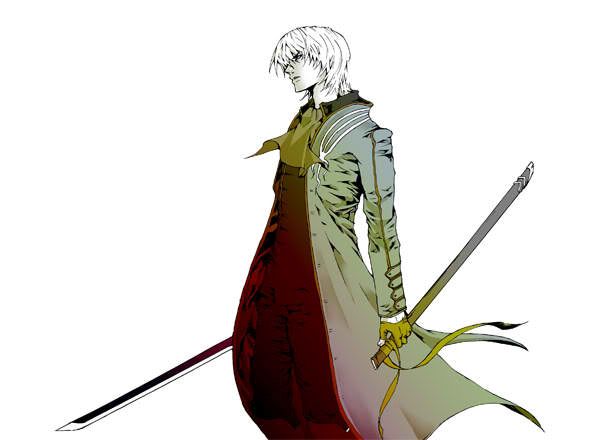 Personality:
Vincent is a generally quiet man, stoic and without much emotion. Vincent has just as much emotion as the next person, but doesn't express it, and if he does, he doesn't do so very well. He comes across as cold and self centered to many people, which has given him many names among people who have met/know him such as: Ice, Chills, Frosty. Vincent finds it annoying when people call him nicknames that doesn't derive from his actualy name, such as some other nicknames: Snowy and Blues ('Snowy' from his white hair and 'Blues' from pale silver-blue eyes). Many people that have met Vincent consider him a hard person to get along with, although this is entirely unintentional when it comes to Vincent himself. Vincent is somewhat socially awkward and spends most of his time alone; Listening to music, reading, or just wandering around. Although he probably wouldn't share it with other people, he does get very lonely sometimes and will often get a bit upset about it. Vincent is always very eager to have intelligent conversation about things like Art, History, and Music. If he can, he will stay up late and go on walks during the night.
Other:
Vincent has a younger twin brother named 'Anthony', who goes by 'Tony'. The two of them are flawlessly identical in appearance if you don't count the way they dress. Both twins are half blind in their left eyes. Vincent is an incredibly gifted scholar and musician, able to play many instruments beautifully. Vincent loves cold treats such as Ice Cream and Popsicles and will often go out of his way if there is a change of acquiring one. Vincent is a gifted scholar and is an incredibly talented musician, but doesn't have much skill in social situations at all - Which is why he tends to be that 'Tall, dark, and quiet' person, although he doesn't really mean to be. Vincent's last name means 'Slaughterhouse' in french.