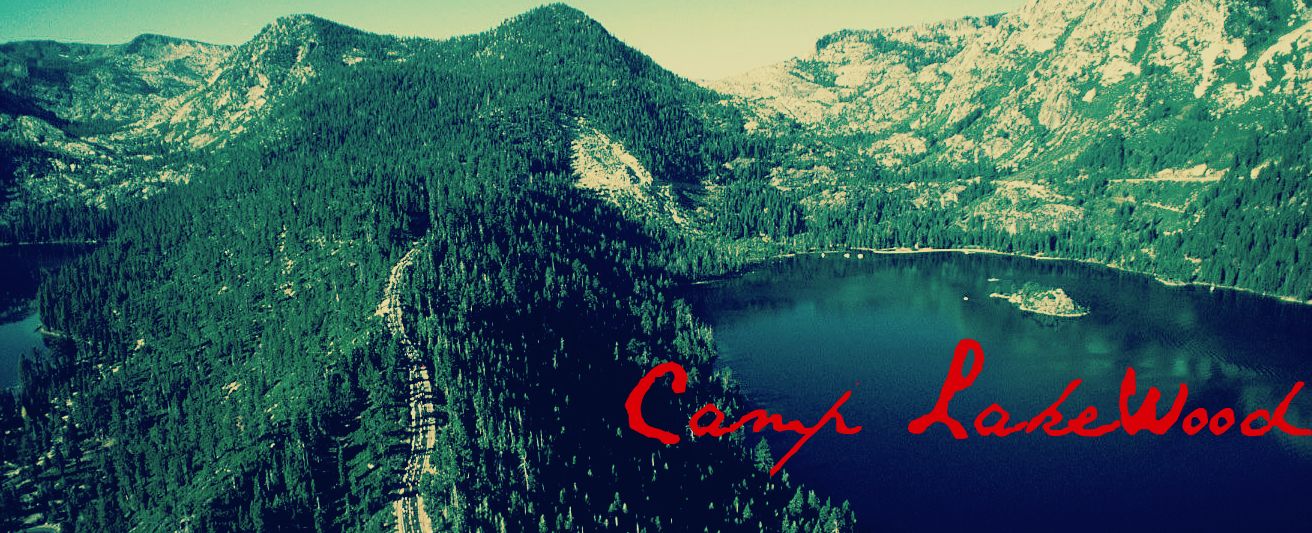 Based in a scenic, but abandoned, mountain town on the edge of lake Tobanco. The only thing remaining in use is Camp LakeWood. Once a summer camp for the children of the wealthy families in the area, it has since been re-purposed for the use of penniless ne'er do well's.
Once a thriving tourist town set on the shore of what was once considered one of the most beautiful bodies of water in the world. Thanks to a mysterious fire in the late 80's, the area is now not much more than a place to start a bonfire or post up in an abandoned building.
Some say the fire was started by radical environmentalists, but other believe the forest holds an unholy secret of ancient burial grounds and unsettled souls that were trying to rid the modern world from their resting place. Some people still wish to visit this place but most self respecting people leave early into their trip. Desperation, however, will lead a some to be faced with a truth they can't escape.
The only question is do you choose to stay or flee?
- Post at least once a week
- Speak in third person, past tense
- Posts should consist of at least 100 words
3 posts here • Page 1 of 1
Elizabeth pulled onto the wet, northern facing, dirt road. Her GPS had shown the area as a blank space and the map she had been using was a bit wrecked due to cup of coffee she thought would balance in between her and Revolver. Looking around the property she was able to make out a building marked registration with the address listed below, she double checked the address on both the map and deed. "Finally.", she exhaled. She managed to halt the large truck, locking the tires up, after many bumps, in front of the building, pulled the parking break and began to exit the vehicle, sliding her ass off of the warm vinyl seat. She took a deep breath of the cold spring air, the morning sun hitting her face as her feet touched the ground. "Why would anyone abandon a place this peaceful." She whispered.

Elizabeth rounded the large truck and reached for her purse and companion and began heading towards the main building. As she began to ascend the steps Revolver began to fidget in her grasp as though she was uneasy. "What's up Dude? Chill." She cooed. Elizabeth was stopped by the very large door and began clawing through her purse trying to find the key with the red tag marked "REGISTRATION", the cool breeze and rustle of trees taking her attention. "Come on, I know you're in here." she breathlessly exclaimed. Finding it she slipped the key into the lock and pushed the heavy wooden door open. Subsequently Revolver removed herself from Elizabeth's grasp and went hurling herself after something into the darkness of the large cabin. The first step into the door came with an icy rush of air, almost like that of someone other worldly running past her. She began to blindly fumble for light switches to no avail, pulling her phone out of her pocket she saw the room around her, elegant furniture covered in sheets, windows boarded and covered with tattered curtains and a single light switch at the other end of the room. "I guess they didn't build these places for convenience." She sighed. She reached the switch and began flick it... nothing. *flick..flick flick...flick* "Damn, the electricity was supposed to be turned on by now!" she exclaimed huffing this time. Elizabeth begrudgingly turned and walked out of the front door, shutting it with Revolver inside.
---
Setting
1 Characters Present
Tag Characters »
Add to Arc »
The woods were thick and dark in the early morning. A heavy fog swept eerily off the dark calm waters of Lake Tobanco. Tendrils of fog swept up from a small fire on the edge of an overgrown beach. Sitting next to the small cooking fire a man tends to an old tin coffee pot. He pours a dark brew into a beat-up tin mug. Steam rises from the mug as he draws it to his lips. He sips slowly and reaches in to a pocket to pull out a pack of Marlboro Reds. With a flourish He flicks the top of a worn Zippo lighter. The silver lightning bolt insignia over a black shield reflecting in the fire light. He strikes the flint in a practiced motion, lighting the cigarette and inhaling deeply. Smoke drifts from his mouth as he exhales slowly. He looks down at the freshly caught fish hanging over the fire, then up and across the lake. The fog is thick, but, he was sure that he saw it. A light was on in the abandoned camp across the lake. Who would be foolish enough to go into that God forsaken place? Suddenly, he heard movement in the woods. His clear blue eyes focused through the fog looking for what might emerge from the dark wood. His hand slid automatically down to the powder black Desert Eagle at his side. The bush parted and a scruffy German Shepard emerged from the woods. He stared at the man sitting there and hesitated only a moment when he saw his hand on the gun. The tension melted away as he recognized the mangy mutt that had adopted him in his travels. The dog came up beside him and whimpered as he looked at the fish over the fire. "What's the matter Sampson? You didn't catch your own breakfast this morning?" The dog licked his lips and sat next to the man waiting to share his meal. The man looked down at the dog and scratched behind his ear receiving an appreciative whine from the dog, who kept his eyes on the fish cooking on the fire. A smile softened the strong jaw of the man as he reached for the fish. As they finished breakfast the man's attention was once again drawn to the light across the lake. How many people would die this time, he wondered? The sky began to lighten as the sun neared the horizon. Wisps of fog rose slowly off the lake and began to dissipate in the cool air of morning. The man slowly rose from the fire, stretching his long legs and walked slowly towards an old shack that was his temporary home in this dreary empty wood. He looked back over his shoulder and noticed Sampson staring at the building across the lake. He heard a low growl coming from the dog. He called him and the dog hesitated a moment before turning and following the man that he had heard people call Jericho. They entered the shack and the man walked over to an old cracked mirror. He reached down to an old enamel pan and drew an old white washcloth to his face. He slowly scrubbed his weathered face. He stared at the face in the mirror. Three days of a grizzled beard adorned an angular tanned face. His hair was black and just starting to grey. He stared into the icy blue eyes and decided that he would need to find out what was going on at Camp Lakewood. He grimaced at the thought. He didn't scare easily. His time in Afghanistan had seen to that. The place just creeped him out. Too many people had died in that place. He set his jaw and decided that it would not happen again!
---
Setting
1 Characters Present
Tag Characters »
Add to Arc »
She wiped the cold sweat from her brow and continued up the steep and tiresome path, puny twigs crunching beneath her weary feet. The air was cool and fresh in the morning. What the hell was she doing up this early? The fucking dew was soaking into her shoes.
Where the hell was she, anyway? Her second cousin's rusty old pickup had stalled the night before, somewhere further down the mountain. Goddamn dusty piece of shit couldn't hold it together for a couple more miles. What is it with cars? You keep 'em for twenty years or so, and they just quit on you. While you're driving up a mountain. Just before nightfall. And she already suffered from insomnia.
She had an obnoxious cramp in her neck from spending the night in the thing. She rubbed at it irritably. The torn up asphalt she'd been driving on a while back had ended in a mass of gravel and tree, which she'd found after about two miles of grumbling. Even if the car hadn't stalled, she still wouldn't have been able to continue for much longer.
Still would've saved her ten thousand five hundred and sixty feet of energy.
The foot-trail she was on had come off of the crushed remain of the road. It was overgrown, barely there. Either very new or very old. Didn't change the fact that it took her about a half hour of yelling obscenities at the remains of the road to notice it. Probably didn't lead anywhere exciting. It probably didn't lead anywhere at all. A short little adventure with a disappointing end, as usual.
She swatted at a mosquito.
"Come any closer and you'll never taste blood again, you tiny whirring vampire bitch." She snarled. It didn't listen. She made good on her word.
The sack on her back, bearing the awesome power of a Kroger logo, was feeling ungodly heavy. How fucking long would it take her to get somewhere? Her patience was wearing thin. Just like her shoes. She needed a new pair.
---
3 posts here • Page 1 of 1
Arcs are bundles of posts that you can organize on your own. They're useful for telling a story that might span long periods of time or space.
There are no arcs in this roleplay.
There are no quests in this roleplay.
Here's the current leaderboard.
There are no groups in this roleplay!
Welcome home, Promethean. Here, you can manage your universe.
Arcs are bundles of posts from any location, allowing you to easily capture sub-plots which might be spread out across multiple locations.
You can create Quests with various rewards, encouraging your players to engage with specific plot lines.
Settings are the backdrop for the characters in your universe, giving meaning and context to their existence. By creating a number of well-written locations, you can organize your universe into areas and regions.
Navigation
While not required, locations can be organized onto a map. More information soon!
There are no groups in this roleplay!
By creating Collectibles, you can reward your players with unique items that accentuate their character sheets.
Once an Item has been created, it can be spawned in the IC using /spawn Item Name (case-sensitive, as usual) — this can be followed with /take Item Name to retrieve the item into the current character's inventory.
Give your Universe life by adding a Mob, which are auto-replenishing NPCs your players can interact with. Useful for some quick hack-and-slash fun!
Mobs can be automated spawns, like rats and bats, or full-on NPCs complete with conversation menus. Use them to enhance your player experience!
Current Mobs
No mobs have been created yet.
Locations where Mobs and Items might appear.
You can schedule events for your players to create notifications and schedule times for everyone to plan around.
Add and remove other people from your Universe.
The Forge
Use your INK to craft new artifacts in Camp LakeWood. Once created, Items cannot be changed, but they can be bought and sold in the marketplace.
Notable Items
No items have been created yet!
The Market
Buy, sell, and even craft your own items in this universe.
Market Data

Market conditions are unknown. Use caution when trading.

Quick Buy (Items Most Recently Listed for Sale)
Inside Tobanco forest is were you can find the ruins of buriel grounds among other things.
A gorgeous body of water with a hidden secret.
This is where E and her cat Revolver reside.
Once a thriving area of business, what is to be found here?
The former summer camp where residents now call home.
Discussions
Topics

Replies
Views

Last post
Most recent OOC posts in Camp LakeWood
You may see an uncompleted character thing come up- that was an accident, it submitted for some reason.
This is the auto-generated OOC topic for the roleplay "
Camp LakeWood
"
You may edit this first post as you see fit.