---
---
---
---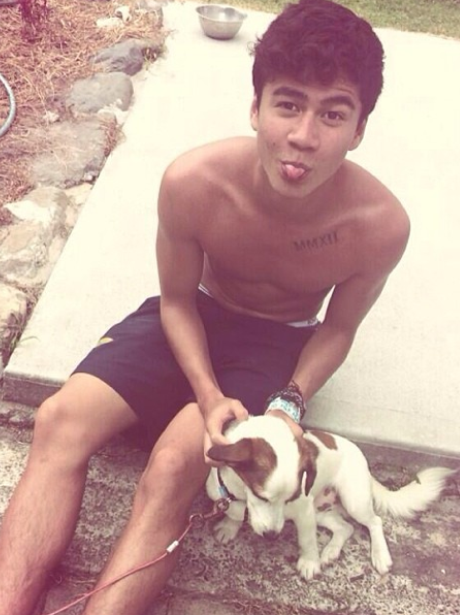 「
Ι flick the switch on the generator, so I can turn you on. You better get to know your operator, before you pick that tone. "
」
-WHO
[url=songLink]Heart and soul[/url] || [url=songLink]Sing[/url] ||
---
---
|Name|

Connor Ricky Tanabe

|Age|

17

|Color|

Green

|State|

New York


|Ethnicity|

Pacific Islander (Tongan)

|Gender|

Male

|Years at Camp Liberty|

Two
---
---
「
"You own the lock and the key, for the window to my soul, t
」
---
---
[color=#Color]Favourite...[/color]


|Country?|

Tonga. Obviously, he used to live there, but he still loves the culture.


|Song?|

Anything by Ed Sheeran

|Movie?|

The first Hangover

|Decade of the 1900's?|

1980's

|Season?|

Summer, obviously.


|Animal?|

Honey badger


|Color?|

Green, obviously


|Celebrity?|

Chris Lilley


|Food?|

Pizza


|Smell?|

Any food
---
---
「
"Cause it must have been something. Out of control. Yeah, it must have been worth it- Cause I had nothing left to show. How you put my life in your hands"
」
---
---


|Likes|

Summer || Smiles || Friends || Tonga || His family || Food || Swimming || New shoes || Bow ties || His phone || Pranks || Funny people || Thrift shops || 'Camp Popsicles' || Breakdancing || Green || His bed || Canoeing ||

|Dislikes|

Miserable weather || Hill-walking || Most of the Blues || Crying || Being hungry || Hospitals ||

|Secrets|

|| Drug Dealer ||
No one knows of his old, drug dealing ways.

|| Depression ||
He still has bouts of depression, especially when others are depressed. As such, he only surrounds himself with happy people.

|Fears/Phobias|

Disease || Starvation || Loneliness || Being hated || Depression ||

|[color=#Color]Oddities[/color]|

Has a collection of vintage sneakers || Dances when he's happy || Will put letters in front of curse words so he can say them in front of supervisors "Motherpucker!"||
---
---
「
"Open up your heart and your soul. Take my love and never grow old, yeah."
」
---
---
|Personality|

Connor Tanabe is happy, and he wants you to clap your hands. Years spent in deep depression over his mother's death, and you'd expect the kid to be as happy as he can.

He loves to break dance because it gives him the opportunity to feel as though he is a whole new being, the music flows through his limbs and he, as if it is instinct, moves with it. When the music is playing he feels like he is at his best, he feels as though he can do anything.

Connor can get a little cocky within his happiness, though. This extra spark of somethin' somethin' is enough to make Connor feel like he always has a reason to get his swagger on. Strutting down the street with his head held high and perhaps a little too much swing in his hips, there's never a day that passes where he's not foolishly convinced he's completely untouchable. Perhaps this is what gives him the brazen confidence to let his words run unchecked, prattling on as if supervisors were little more than troublesome puppies he hasn't finished house training yet, but he'd rather give credit to his mouth itself. The boy has a big ol' grin and knows how to use it, baring his pearly whites any time he finds himself caught in a stitch of trouble, as if the reflection off them might be enough to blind people to his misconducts. One would think he'd be content to rely on his full lips to attract notice to that cheeky smirk, he's a connoisseur when it comes to overkill.

Slander and cockiness aside, He loves to break dance because it gives him the opportunity to feel as though he is a whole new being, the music flows through her limbs and he, as if it is instinct, moves with it. When the music is playing he feels like he is at his best, he feels as though he can do anything.

Not even his harshest critics would imply that he is truly incapable of making sacrifices for the sake of another person. If there's one thing he's willing to risk his precious neck to protect, of course it's himself, but he also knows he's bigger than his own body. Blood is a connective bond that can't be broken and, in his mind, that means the friends he shares it with has a little piece of Connor Tanabe in each of them too. Likewise, proof of loyalty to his friends can only be shown in one way: a blood bond. A blood brother earns his allegiance for life, which is no small commitment especially coming from someone so selfish. Other friendships are simply a sea of attentive faces that live to bask in his glory and reaffirm his shallow sense of self-worth.

Now, don't get the wrong idea. This kind of vanity is a virtue — it inspires self-confidence and that's something that can't be easily taken from you unlike houses, loved ones, and respect. When things start to slip away, you need to hold onto whatever's left and make the best of it: smile at a girl even though she's so much like your dead mother; strut like a golden god regardless of your empty pockets. Insist with conviction — and a flex of your biceps — and you can convince people of anything. A silver tongue can quickly turn you into a smooth criminal with your pranks despite the way you clumsily trip over yourself when no one is looking and kick the wall in petty, short tempered retaliation. Words will return you to grace and gracefulness. Sound as if you know what you're doing and people will forget that you're making everything up as you go along.

|History|

Please keep this in mind: Connor doesn't want your two-bit pity; doesn't want your charitable words; doesn't want your sympathetic looks. Such things don't pay rent or buy food — they only make him feel small. His childhood often feels like someone else's memory, a wistful hallucination he can't shake off and he wouldn't want to mess up that carefully styled hair trying to. The carefree days of his youth, spent practicing magic and attending his sister's imaginary tea parties, have turned into fairy tales against the aftermath of their mother's death and Connor has grown far too manly for story time.

Life was blissful for Connor in the beginning and, by his neighbourhood's standards, the Tanabe family lived an extremely fortunate life. His mother, Eleanor, was a well respected and successful pharmaceutical developer, responsible for several ground-breaking discoveries in vaccinations. Days were never passed with empty stomachs, even after their father, Parker, lost an arm in a factory accident and was unable to continue working. Their three children were bright and carefree, doing well in school and finding themselves with enough free time to cause plenty of good-natured mischief.

The brothers Tanabe, Connor and Napoleon (who is often called Poe, now 18), were pint-sized imps from the start. Their interest in magic tricks began innocently enough, conjuring coins from behind their mother's ear or making flowers disappear into handkerchiefs with a flourish. It came most naturally to Napoleon, his quick-handed illusions fooling even the keenest of watchful eyes. Everything from card tricks to a specialty in juggling unconventional objects found its way into his repertoire, but as their lives took a turn for the worse, so did their tricks.

After accidentally contracting a lung disease she had been studying in her lab, their mother unexpectedly passed away, throwing the thunderstruck Tanabe family into mourning and destitution. With a disabled father unable to find work and a younger sister to care for, Connor and Napoleon turned from magicians to juvenile con men, adapting their once innocent deceptions for financial gain. Pickpocketing became routine and although Napoleon was as subtle as a phantom, Connor's clumsier fingers soon outed them as notorious swindlers. Desperate for a new way to save their family from starvation, the pair of young teenagers talked their way into jobs in the local medical factories.

Old habits died hard, or rather, didn't die at all. Discovering that their minimal factory wages alone weren't enough to make ends meet, the brothers plotted new scams that utilized their individual strengths far better than their previous cons. With Napoleon's unrivaled slight of hand skills and new position working the conveyor belts that transported unbottled medications for packaging, he began stealing from the loose pills. The pilfered capsules and tablets would be passed along to Connor, whose silver-tongued street smarts made his transition into the friendly neighborhood drug dealer look effortless.

It was only when his school found out that he was a drug dealer that his life turned around. Connor was put in a juvenile diversion program along with his brother. Luckily, their father got a new job of a motivational speaker, giving the family that extra bit of money. Their father wanted the kids to have a bit more of a normal life, and so here he is in Camp Liberty.
---
---


|Other|

FC is Calum Hood
[/center][/font]