Welcome to Camp Pride!
{Camp Registration Form 2014}
---
GENERAL INFO
Camper's Full Legal Name:
"Ask me my birth name and I will gracefully remove your limbs."
Seren Keith (It's not his birth name but his parents allowed him to change it to Seren)
Preferred Name:
Seren
Ethnicity:
Caucasian
Birth Date:
February 18
Age:
16
LGBTQA Status:
The T as well as the P that doesn't receive as much recognition.
Self Identified Gender:
He wasn't born male but identifies as male and uses male pronouns (he, his, and him)
Sexuality:
"I'm clearly too hot to be with one person."
Polysexual (He's attracted to just about every possible gender and isn't a fan of monogamy)
APPEARANCE
Height:
"I'm not that tall but my legs make up for it."
5'8
Distinguishing Marks:
"Other than my exceptionally gorgeous face?"
The most distinguishing feature is his two scars that he got from top surgery, that have healed well. He has a septum piercing that he wears occasionally, one pierced ear, and even his voice is quite androgynous even though it does lean more towards the male sounding side. His hair is naturally brown but he recently dyed it blonde, and he doesn't really do a lot to it when he styles it because he spends more time on his clothes than his hair.

He wears things that he's sewn himself or things that he finds at thrift stores. His passion has always been related to fashion, and it often shows through the outfits that he puts together. His skin is a fair porcelain color due to his lack of time spent in the sun, and his eyes are a dark blue. He is often told that his stare as well as his presence is very intense (which he used to be self-conscious about but he eventually stopped caring). Also, he recently got top surgery, and no longer has to bind his chest.
(His top surgery scars look similar to this)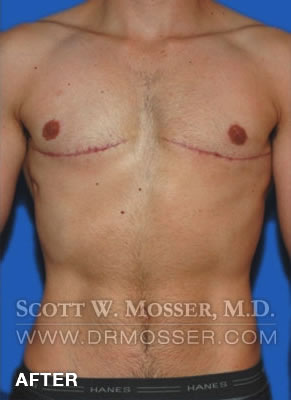 PERSONALITY
"Yeah I'm an asshole but at least I admit it."
Materialistic

Manipulative

Passionate

Affectionate (to those he trusts)

Blunt
Seren is known for being an extravagant ass hat, and he owns it like badge of honor. He doesn't outwardly put people down unless they annoy him in some way or try to pry into his personal life. Although, he appears to be distant he actually does enjoy the company of very specific people but if he were to go to a party without anyone he knew he would probably complain about every possible thing until he was escorted home. Seren is used to being pampered and spoiled rotten, so it often shows in his interactions with people.

Despite his faults he can be somewhat of a decent person around those he cares about. He is very emotional and will start to cry when he sees something inspiring and he never hides his or emotions. It's easy to tell when Seren is upset because of his expressive features and when it comes to his emotions he's not very good at lying or hiding. However, no matter how hurt he is he will never talk about it with anyone he doesn't trust and is very stubborn when he's decided on something.

Seren secretly loves hugs and will often cuddle with his very close friends and his mother.
Likes:
The city
Rain
Fashion
Soft pillows
Hugs
Vegan pizza
Photography
Electronic swing music
Dislikes-
Storms (they absolutely terrify him)
Obnoxiously hot weather
Blackmail
Meat & Fish
Sports
Things that aren't clean
Bugs (they also scare him)
Being misgendered
Hobbies-
Singing
Sewing
Sculpting/Making Pottery
Doing costume make-up
Fears-
Lightning
People giving up on him
Being ignored
Fire
Drowning
Quirks-


He can't tell his right side from his left
He forgets things easily
He can't sleep without milk and rain sounds
Year:
It's his first year.
HISTORY
Relationships:
Family-
He and his mom are the best of friends, and they are completely honest with each other. He was the only child she ever had so of course she was always protective of him and spoiled him from the day he was born. She was completely supportive of his transition and his coming out to her as trans. His father never really showed an opposition to it, and always sends him money but never really cares enough to talk to him.
Friends-
He only has two close friends who he absolutely loves named Jessica and Eric. He has no idea why they put up with his shit but they've known him since he was four.
Partners
He dated one guy in his freshman year of high school named Alan who was abusive, controlling, and would continuously misgender him and refer to him as "girl" or use the wrong pronouns like "she". The only reason they dated was because Alan saw his chest in the locker room (no one else did because he'd gotten really good at hiding and changing alone) and threatened to tell everyone that he was trans if he didn't date him. Thankfully, he told his mom and she moved him to a different school. He transitioned over the summer and during the rest of the school year (got his name changed and recently got top surgery). Despite this, a part of him still fears that Alan will start stalking him or do something worse.
Seren was born in Mayfair, London England and grew up around fashion, art, and theater. His mother, Maya Keith, was a model and actor who did lots of visual art projects on the side. When she met his father, she married him at a young age for his money because she didn't grow up wealthy and knew she needed support for her careers and art endeavors. They formed an open relationship where they would willing be with other people but stayed together in order to keep up appearances. When Maya gave birth to Seren, she spoiled him and treated him like her little prince.

He was used to having things done for him because there was always a maid around the house, and even now he still doesn't know how to wash clothes. However, he is pretty good at cooking and would often make vegan dishes because the rest of his family ate meat.

Even though Seren was born female, he was always a very androgynous looking child. His mother always let him dress as a boy, when he didn't feel comfortable in the many dresses that were given to him. He came out as trans at twelve years old. and his mother allowed him to start taking hormone blockers that would stop female puberty and his chest was never that big anyway. This allowed him to pass easily as male, and he presented as male at school as well. In his freshman year, he was blackmailed by a boy named Alan who caught him in the locker room who caught him taking off his binder and threatened to tell everyone if he didn't date him. Seren agreed because he didn't know how everyone would react to him being trans. His relationship with Alan disgusted him because he was never respected and Alan would often misgender him (refer to him as "she","he-she", "it") or call him by his birth name. He tried to keep it a secret, but didn't last very long because of how close he was to his mother. Maya put him through therapy, because she wanted him to recover from the incident and she also allowed him to get his gender marker changed, his name changed, and top surgery (which he still has two small scars on his chest from). Maya also moved him to a school in America where he now lives his father. He and his mom skype almost everyday, but he still misses her alot. In one of their recent skype sessions his mother told him about the camp, and told him how happy it would make her if he went so he could make more friends and work on his social skills.

Seren is actually looking forward to going to the camp, and actually started practicing toning down his rude remarks with his therapist in preparation for the trip.
Known Languages:
English is his first language but he knows some french and wants to continue learning it.
WIP
Side Note:
He has a stereotypical british accent
---
Thank you for registering! We look forward to having you!