---
---
---
---
---
---
Androria was once a world rich in wealth and culture. Poverty was rare and the people lived long full lives. Blessed was the land with abundant food and minerals. And with this abundance came curiosity. Like all worlds Androria's scientists were are first considered quacks trying to disturb the peace. But that all changed with H.E Calcifer a man who would spark the beginning of the industrial revolution and all with creation of a mechanical bird capable of transporting letters and remembering faces. With H.E Calcifer's invention more and more scientists rose to challenge of showing off there own creations. And thus began the industrial revolution. Factories were seemingly built over night as the wealthy plunged there money into the creation of new technologies those unable to keep up fell into poverty and were forced to pick up work in the factories. In time the demand for newer and newer technologies pushed the factories to be kept opening 24 hours and with all that was happening within the factories it seemed that few people cared to see what happened outside of them. The endless stack of black smoke that rose from the factories began to form thick clouds over cities soon the sky became dark and in time storm began to pick up. It was a hot summer day though that truly marked the beginning of problems. As acid rain began to pour mercilessly down on the people of Androria. And although many scientists found 'solutions' to the acid rain nothing could stop its venomous downpour that scorched the land and poisoned the streams. The over-zealous industrial revolution left destruction and soon food and water became a scarce commodity. Fearful the wealthy demanded the problem be fixed and once more H.E Calcifer answered with the construction of floating cities. They would sit above the acid filled clouds safe from destruction. And though some cities were built for the poor others were made unique for the wealthy. Others still had no floating city designated for them at all, they were poor and useless left to await death under the black acid filled clouds.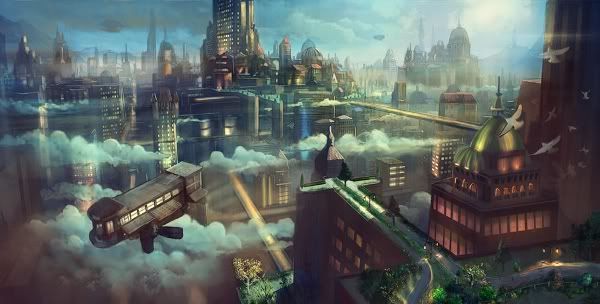 It has been 89 long years sense the surface was abandoned and those living above the clouds (Now named the cities of Aether) continue on in there lifestyle. H.E Calcifer is remembered as a hero and his great grandchildren still run his company. Scientist above the clouds have continued there work pushing the boundaries into molecular science despite the many warnings. The dark acid clouds still loom over the earth bellow blocking out light and view and despite the danger many floating cities have adopted ways to send parties bellow the clouds to bring back, ore, exotic pets, and remnants of things lost. The floating cities designated for the poor and working on the other hand have remained much the same though some have fallen into despair. With some working class cities designated to the tiresome job of working the factories others are home to the farmers who work tirelessly to feed the wealthy. There are rumors of an uprising though few believe it as all the cities are well monitored by the Angels.
Meanwhile down below those who were left to die have found there own way of life. Flourishing despite the acid that rains down they have taken up living in ruins or underground fearful of the 'Angels' that those from Aether sometimes send. Many have given up hope while others band together stealing to survive. Others still join to build small villages, and although it is just a rumor it is said some have banded together in hopes of taking down the flying cities and the wealthy pigs who now run them. But those are just rumors and most believe that the idea of taking down the Aether cities is ridiculous while others who have had there family's taken as pets or servants believe that it is the only way. But for the most part politics and talks of revolution are set aside for the need to survive.
---
---
---
---
This is a steampunk rp where you my dear reader will help me really create the plot to its entirety. But as previously mentioned in the story section the main goal of the plot revolves around the many groups who wish to revolt against the rich who have been striking down the poor and forcing them to work to culling those who still live on the surface not to mention the many scientific experiments that are beginning to push what humans would deem acceptable. Take on a character or two or even three if you dare from all over the world of Androria. You can play as a rich lounger from one of Aethers wealthy city's or you can be a scientist. Try your hand at being a survivalist down on the acid worn planet. Jump in the role of a poor farmer or industrial worker in one of Aether's poor cities or even be one of the few brave enough to venture down to the ground leaving behind Aethers beautiful cities. Your allowed to be creative here and your allowed to add plot twists and crazy ideas just remember that it is /steampunk/ so no random space travel or super cannons. Or weird stuff. Also if your wondering about the 'Angels' from Aether then pop over to the Character Details in the ooc.
---
---
---
---
Code: Select all

Name:
Nickname:
Gender:
Age:
Class: [See OOC Character details page]
Hair Color:
Eye Color:
~ . ~
Likes:
Dislikes:
Skills:
Flaws:
~ . ~
Personality:
History:
Relationships: [See OOC for chart on what to do here]
~ . ~
Gallery: [Anime or Drawn Only]

- Be Respectful

- Be Creative.

- Remember this rp takes idea cooperation.

- No godmod.

- No ignoring other players.

- No starting fights with other players.

- Be helpful if you can to other players.
Taking place in...
9 posts here • Page 1 of 1
9 posts here • Page 1 of 1
Arcs are bundles of posts that you can organize on your own. They're useful for telling a story that might span long periods of time or space.
There are no arcs in this roleplay.
There are no quests in this roleplay.
Here's the current leaderboard.
There are no groups in this roleplay!
Welcome home, Promethean. Here, you can manage your universe.
Arcs are bundles of posts from any location, allowing you to easily capture sub-plots which might be spread out across multiple locations.
You can create Quests with various rewards, encouraging your players to engage with specific plot lines.
Settings are the backdrop for the characters in your universe, giving meaning and context to their existence. By creating a number of well-written locations, you can organize your universe into areas and regions.
Navigation
While not required, locations can be organized onto a map. More information soon!
There are no groups in this roleplay!
By creating Collectibles, you can reward your players with unique items that accentuate their character sheets.
Once an Item has been created, it can be spawned in the IC using /spawn Item Name (case-sensitive, as usual) — this can be followed with /take Item Name to retrieve the item into the current character's inventory.
Give your Universe life by adding a Mob, which are auto-replenishing NPCs your players can interact with. Useful for some quick hack-and-slash fun!
Mobs can be automated spawns, like rats and bats, or full-on NPCs complete with conversation menus. Use them to enhance your player experience!
Current Mobs
No mobs have been created yet.
Locations where Mobs and Items might appear.
You can schedule events for your players to create notifications and schedule times for everyone to plan around.
Add and remove other people from your Universe.
The Forge
Use your INK to craft new artifacts in Candles & Clockwork. Once created, Items cannot be changed, but they can be bought and sold in the marketplace.
Notable Items
No items have been created yet!
The Market
Buy, sell, and even craft your own items in this universe.
Market Data

Market conditions are unknown. Use caution when trading.

Quick Buy (Items Most Recently Listed for Sale)
None
Discussions
Topics

Replies
Views

Last post
Most recent OOC posts in Candles & Clockwork
There have been no posts in the OOC topic for this roleplay!