Age: appears to be in her mid 20s
Gender: Female
Appearance: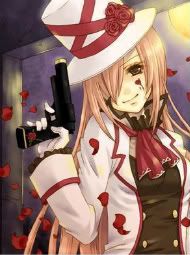 Clothing: A white suit and a top hat. Wears a red eyepatch over her left eye. Sometimes she wears a dress.
Likes: Cute things, sweet things, magic
Dislikes: Mean people, bad manners, people claiming to be her friends but then leaving without notice
Personality: On one side Mina seems to be very playful and never grew out of being a child. On the other side, she is actually pretty mature and has a motherly personality to her. Her presentation is slightly Willy Wonka-ish.
Background: Her past isnt really known but time seems to be different to her since she can remember kids coming into Candyland but they might be already adults by now. She is older than she looks and had a daughter with Candylands forester. Her daughter runs the Griswood candy store. Because Mina is able to use magic, she might be suspected of being the Candyland witch but you shouldnt be so sure. Mina says that there is no witch and that what people in Griswood say are all just rumors. But the sanity of the human residents of Candyland is questionable. Mina sometimes visits Griswood and catches stares of curiosity or amazement.