Shiro Tsukiko
Role
Male Neko 1
Gender
Male
Dorm
Will be announced
Age
17
Personality
Shiro isnt clearly sure what it is about him that makes people hard to approach him. Perhaps it's the way he looks at people sometimes, or maybe it's just because of his red eyes. He has to admit... he doesnt always have a friendly look on his face. For this reason, Shiro seems to be alone most of the time. However, he's someone that enjoys one's company. Growing up in an orphange, he was around a lot of kids. This got him used to socializing with others. But once he became a neko, it seemed as though a large wall was built between him and other people. It's not like he wanted this, it just kind of happened without him realizing. Unless he doesnt feel like talking, Shiro would reply to you when spoken to first. He has a huge complex when it comes to his tail. Simply brushing your hand against with is okay, but even that makes him tense up. If someone grabs it, or tries pulling it, he'll snap at you. Shiro is someone who's not angered easily. He learns to forgive people for their mistakes, and usually wont hold and grudges against you. That's unless you did something to his tail that he didnt like. On early mornings, he tends to be lazy, enjoying a nice nap in the sun. If possible, he would find a good tree or a roof top to sleep on. When he's rather blunt with you, please do understand. Morning just isnt the time of day for him. Shiro grew a dislike towards dogs when he was chased by one a few years back. It really wasnt a a pleasant experience.
Brief Description
In his human form, Shiro has a light shade of red eyes, which appears to be 'pink' when in shaded areas. His hair is a mix of white and silver, while his car ears and tails are black. This is what makes his cat features stands out... a lot. He stands to be 5'10 and maybe a few centimeters more, weighing around 121 pounds. He has a lean body, with a few muscles, which are hidden under his loose clothings. His canine teeth are sharper than a normal humans, which is just part of his cat features. In his cat form, Shiro has long, grey and black fur with white paws. He fur on his chest area are also white, making its way down to his stomach. His ears and the tip of his tails are black. Shiro's eye color changes once he's in his cat form, into a dark shade of golden/green.
Skill(s)/Abilities
Shiro is very agile, both in human and cat form. He has very fast reflexes, and can smell fairly well. He's an extremely fast learner; able to do things by seeing it once.
Likes
◎Cat-naps
◎Fish
◎High places
◎Music
◎Peaceful time
◎Sweets
◎Reading manga
◎The sound of thunder (dont ask... he just likes it)
Dislikes
✖Getting his tail pulled
✖People judging him for what he is
✖Dogs
✖Swimming
✖Rain
✖Bitterness
Phobia
◕Getting his tail pulled/cut offed
◕Drowning
History
Shiro was left in front of an orphanage at the age of 4. His father had gotten into a car accident from drinking and driving, leaving his mother to pay for the hospital fee. His mother, who was still young, decided to give up on her child. She was already have trouble with getting all the debts paid. To tell the truth, Shiro didnt have any problem living in the orphange. The memories of his parents are blurry, but it's not like he tries to remember them. The only thing he considers 'unfortunate' is being caught up in this whole experiment thing. He freaked out when he became a neko, but gradually became use to the half-cat life. However, when he entered school, people gave those weird looks. He was often bullied, getting his tail pulled (the reason why he hates people doing that), and almost got his tail cut offed.
Who is their partner?
To be announced
Crush
~To be added~
Hex Code
#CDCDCD
Other
He's bisexual... not that anyone knows or cares... Wait, do they?
Cat form: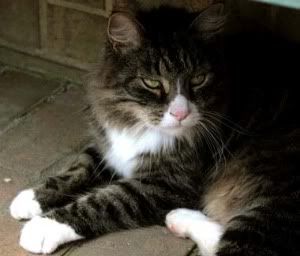 Easy Go
English:
I can hear your voice that's slipping into the crowd
Im searching for the the map of the future in the center of the intersection

I believed in dreams always coming true on the other side of the sky!

Lets go with EASY GO! To the drawn future...
Embracing your only dream that no one knows about

What is there beyond the night? There are times filled with anxiety
Even if it's impossible, If we dont dont do anything, it will stay ZERO

Not caring about whats around us, lets step beyond the wall!

Lets go with EASY GO! To the unseen world...
Even if i fall down again, my heart that started to beat wont be stopped
Going toward the future with my PACE
I WANNA GO AND FIND MYSELF just one chance
Grasp it! EASY GO NOW

Being worried, to be done worrying, it would be nice if i can find it myself
Without looking back, I advanced on a path I believed in.
Now is when it begins

Someday you can definately reach it!
Embracing your only dream that no one knows about
Going toward the future with my PACE
I WANNA GO AND FIND MYSELF just one chance
Grasp it! EASY GO NOW

I hear your voice that's slipping into the crowd