Aria Adonia Calista Syviis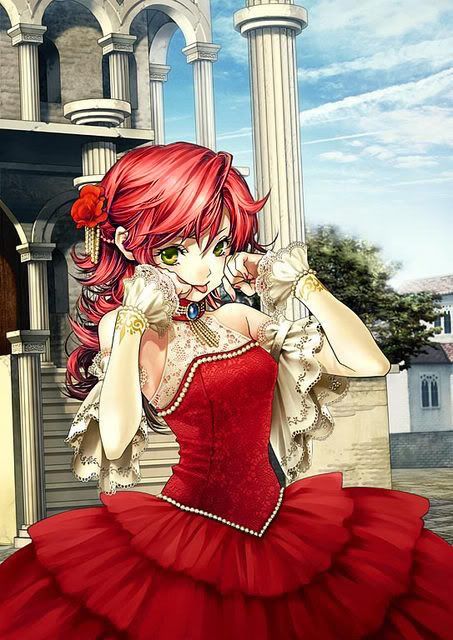 Role
Girl 2
Gender
Female
Race
Part Canción; part Demon
Age
19
Personality
Aria is a relatively complex girl. She tends to shift between two "sections" of her personality quite frequently. One moment, she could be enjoying the world for all its worth, and the next, she could be explosively angry and easily ticked off... berating you and biting your head off, or using one of her Haiku stylized songs to ruin your day. She can be sharp tongued, and ill-humored. But, of course, this is only in one of her moods. As mentioned before, her other mood is quite upbeat. Smiles and laughter characterize this mood, and its always best to catch her that way than to try to cheer her up from her bad mood, as only a few things and people in life have been able to do this. Also, you'll usually come out without scars when she's in a good mood.
Brief Description
Aria is a small girl in stature. She stands at just 5'2'', and has a slim body. Her hair is a lovely orange-red color, and she has bright gold eyes - this is most likely due to the mixed heritage of her parents. Her mother was a Canción who fell in love with and married a Demon; her mothers hair and eyes had both been light, while her fathers were the opposite. And she seemed to gain their personalities, albeit mixed, as well. Besides what she inherited from her parents, she also usually found in frilly clothes; the color of said clothing changes depending on her mood at the beginning of the day when she dressed. Her features are relatively soft overall, which can be deceptive when she's in a rotten mood, or a cynical one.
Skill(s)/Abilities
Because Aria was born part Canción and part Demon, she has powers of the two. Because of her Canción heritage, she has a wonderful singing voice - she also has the power to make things happen because of the songs she sings. She has stylized her magic, and it usually works best for her when she turns her song into a sort of Haiku, or at least a well-spoken Haiku. Because of her Demon heritage, she has a bit more "added fire" to her spoken Haiku's and songs when it comes to hurting someone. She's used them in the past to hurt those around her, or someone who has mistreated her, and its always seemed to be more powerful when it was a negative thing, than when it was a positive thing. And while her positives are very strong, her negative songs are even more so, and can do more damage.
As a note, if she cannot come up with a Haiku that relates to what she would like to do, than she simply cannot do it. Her powers must be versed in that format only, or they cease to work.
Weapon(s)
Aria has carried a small silver dagger necklace that is shaped like a serpent around her neck since she was quite young. As such, she doesn't really think of it as a weapon, and more as an accessory. She's never actually had to use it.
Likes
Music. Singing. Rooms that echo. Dark clothing. Frilly things. Getting her way. Having loyal friends. Relationships that last. Books. The color red. Dance.
Dislikes
Sketchy Men. Sweat. The color pink. Being called a ginger/daywalker. Things she views as being 'unnecessarily dirty', like mud. Being called prissy. Being told not to be 'quite so violent'. Being looked down upon because of her crossed heritage. Moths.
Phobia
The fear of heights.
The fear of moths.
History
Aria Adonia Calista Syviis was born to a relatively "normal" family, for the time. They weren't poor, nor were they wealthy. They just... were. Her mother was a Canción, and her father was a Demon - she was the only child they ever had together. They were a relatively happy family, aside from the regular sort of quarrels. Aria never really had any problems growing up - besides the obvious personality problems - nor did she have any in her later years. She simply was who she was, regardless of whether or not that person happened to be violent sometimes. Up until being told she was to marry a prince, her life was sickeningly average.
Who are they engaged to?
Rainier Caligula de Alicante
Love Interest
She fell in love once with a painter. And a carpenter. And a traveler.
She has loved and lost.
And she loves easily, still.
As such, anyone is a potential love interest.
Hex Code
#992299
Other
Regardless of the cover and fronts she puts on from time to time, Aria is easily hurt. She also loves too much. And when she finds people who are willing to put up with the way she acts, she tries with all her might not to chase them off, or to give them up.
I Am Not Yours
Poem by Sarah Teasdale
Arr. Z. Randall Stroope: Song
I am not yours, not lost in you,
Not lost, although I long to be
Lost as a candle lit at noon,
Lost as a snowflake in the sea.

You love me, and I find you still
A spirit beautiful and bright,
Yet I am I, who long to be
Lost as a light is lost in light.

Oh plunge me deep in love -- put out
My senses, leave me deaf and blind,
Swept by the tempest of your love,
A taper in a rushing wind.