Rave "Eagle Eye" Heartnet
Role
Girl 4
Gender
Female
Race
Armas
Age
19
Personality
Most people that know Rave would use two words, prideful and stubborn. Once she makes up her mind about something or someone, you'll better believe she'll stick with it even if she has to go through Hell fire. She also is blunt and has a tongue sharper than her own favorite blade. Meaning she gets in a lot of disagreements and fights. Which if there's signs of a fight, Rave doesn't back down or run away and faces her enemy but not directly head on. She likes to think with her head while she fights, that's one reason how she earned her nickname "Eagle Eye". Rave has a natural talent of watching her opponent or her surroundings for a weakness or opening. Which in turn earn her more than one victory. The other reason her nickname is "Eagle Eye" is how she can see through people if they trying to be fake or trick her. Yet, most likely ANOTHER reason why she gets in so many fights. Being blunt and confronting people trying to act their part around her.

Rave is cautious and a bit untrusting when she first meets someone, but after a bit of time she'll either warm up to you or try to kill you. Depending on the person. But that is her outter shell, underneath the raging fighter is a loyal friend and lover. The few that can called themselves friends of Ravelin know that she would put her life on the line in order to save them nor abandon them even if they abandon her unless it was some foolish reason like trying to fit in some other group or no reason what so ever. Rave is distance to people as it is, except the ones she allows to get close, especially after her mother done to her family but to her as well. So when she's betrayed, which hadn't happen yet, she will become a nearly emotionless loner for a short time period until she or someone else snap herself out of it. Other than that, she is rarely vulnerable and is a bit on the cocky side.
Brief Description
Skill(s)/Abilities
Rave doesn't have any other abilites apart of her non human stregth, but she is a skilled swordswoman. She always makes sure that her favorite sword is with her at all times, and will use it at any sign of trouble. Her skill with a sword is not only powerful but it is also grace and precise. To train in the fall, she would normally go into the forest and stand in the center of a troop of falling leaves. By using precision, she would cut each leaf in half before they fell onto the ground. Other than swordsmanship, Rave is also skilled with lances, bow/arrows, and fearsome with hand-to-handcombat
Weapon(s)
Her favorite sword that she has at all times, but she is also skilled with hand-to-hand combat as well as with a bow and arrows
Likes
Ravel likes to:
fights
her blacksmith job,
quite,
being outside,
her boyfriend Sado.
Dislikes
Ravel dislikes:
not having her sword or weopens are her
parties
crowds
rain
most people
Phobia
Claustrophobia- fear of being trapped inside of anywhere for too long(she doesn't mind small spaces). Instead of freaking out, she get a lot more violent than usual
History
Rave was raised with her five older brother by their father. Her mother left them for her second family, she was with another man after the third son was born. Once her father found out, he was furious and heartbroken. After a long argument, her father said "You can not have both of us. It's either us or them." Needless to say, she chose the other family but she tried took Ravel with her. Being only ten years old, she was highly confused of what was going on. Especially after her mother brought over to her new home and family. Her 'sister' came to greet her with a unnatural sweetness. Her mother had an affair with a Hechizo and had a hybrid child with him. The whole setting was wrong and they tried to make Rave "more lady-like and reformed". Which was the exact opposite how she was raised. After two weeks of living with the fake family, she ran away to her father and brothers..... Her mother never even looked or asked about her. (More about these two weeks will be revealed in the RP)

Years went by and she and her family got by perfectly. Her brothers already moved out of the house and now had lives of their own and a few of them even had a family. Her father owned a blacksmith and taught Rave everything in the trade and in combat that he knew. Sado came into the picture when she was 16, he started to come into the outdoor shop everyday. Until one afternoon he asked Rave out, she flat out refused with a heart stabbing comment or two. That made all the guys before Sado go away before, but he gave her his lazy smile and walked off. Only to show up the next day, the day after that, and the day after that. Again and again Rave used not only her sharp tongue but her sword to make him buzz off. To her annoyance, Sado always came back even if both his legs were broken..... At one point they were. Then one day, someone set her father's blacksmith on fire with him in it. Her friends and bystanders were holding Rave came from going in after her father. Saying the flames were too big and hot to even think about a rescue. Then outta of no where comes Sado, coaking wet from head to toe, running pass her and into the burning shop. Minutes of dead silence went by as she held her breath, staring helplessly at the burning shop. Two black figures came jumping out of the flames at the enterance of the blacksmithary. Needless to say, Ravel finally accepted Sado's date offer. (How she came to be one of the choosen girls will be revealed in the RP also)
Who are they engaged to?
Ethan Collins
Love Interest
Sado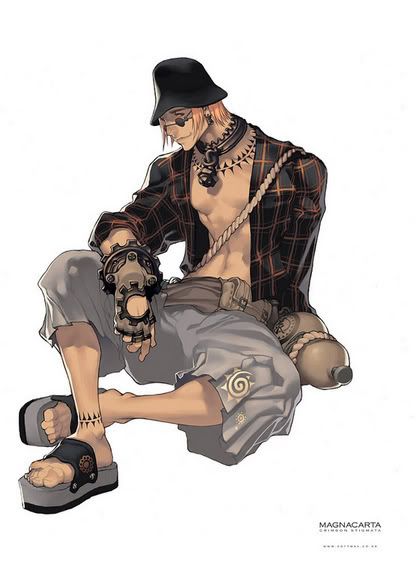 Hex Code
darkred
Skillet- Hero

I'm just a step away
I'm just a breath away
Losin' my faith today
(Fallin' off the edge today)

I am just a man
Not superhuman
(I'm not superhuman)
Someone save me from the hate

It's just another war
Just another family torn
(Falling from my faith today)
Just a step from the edge
Just another day in the world we live

I need a hero to save me now
I need a hero (save me now)
I need a hero to save my life
A hero'll save me (just in time)

I've gotta fight today
To live another day
Speakin' my mind today
(My voice will be heard today)

I've gotta make a stand
But I am just a man
(I'm not superhuman)
My voice will be heard today

It's just another war
Just another family torn
(My voice will be heard today)
It's just another kill
The countdown begins to destroy ourselves

I need a hero to save my life
I need a hero just in time
Save me just in time
Save me just in time

Who's gonna fight for what's right
Who's gonna help us survive
We're in the fight of our lives
(And we're not ready to die)

Who's gonna fight for the weak
Who's gonna make 'em believe
I've got a hero (I've got a hero)
Livin' in me

I'm gonna fight for what's right
Today I'm speaking my mind
And if it kills me tonight
(I will be ready to die)

A hero's not afraid to give his life
A hero's gonna save me just in time

I need a hero
Who's gonna fight for what's right
Who's gonna help us survive

I need a hero
Who's gonna fight for the weak
Who's gonna make 'em believe
I need a hero
I need a hero

A hero's gonna save me just in time