Names:
Elle Mackrell and Falcon Mackrell.
Aged
: 9
Status:
Bloodoak witches, Twin brother and sister, born 3 minutes apart.
---
---
The younger Twin
Elle's appearance:
Elle has her mother's tousled, black hair. It falls just past her shoulders in thick, rich waves. She has her fathers dreamy, golden eyes and his impish face. When looking at her, she seems more intelligent than she's letting on and it looks like she's acquired her fathers hypnotic gaze as many of the coven witches have been left stupefied by her presence. She's long and slim in the body but her massive head of hair makes her body look small.
Elle's personality:
Elle is desperate for her mum and dad's attention and constantly battles against Falcon in order to win the lime-light. She's a fairly envious little madam and likes to get her own way. You could call her spoiled, while her mother is fairly unforgiving in her parental position, her father is very much the soft one which is contributing to her bad attitude. She is a rather fearless youngster. Already it's easy to tell what a little bitch she'll be at school. Her mother often remarks that she "doesn't know where she gets it from" but her father tends to roll his eyes. She's still young and when she's in trouble she runs to her brother falcon for help. She's a little cold towards "mummies bump" at the moment, she fears it will be a girl which could take her parents attention away from her entirely!
---
---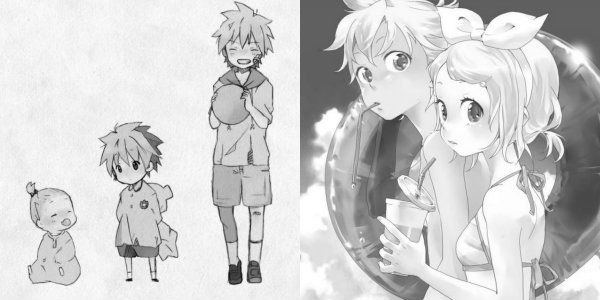 The older Twin.
Falcon's appearance:
Falcon is every bit his mother, he has her sharp, golden eyes and her angelic facial features. When it comes to his hair it's a mixture of both his parents; it's thick like his mothers, scruffy like his fathers and full of cow-licks. It comes down, just past his ears. Like he's sister he's pretty attractive. The Mackrell twins are a pretty pair.
Falcon's personality:
Falcon is the same as his sister in the sense he wants his parent's attention 24/7 however he seems more partial to his mum and follows her around like a second shadow. Unlike Elle, he loves "mummies bump" and talks to it often. He's quite clingy. He has his fathers unfathomable temper despite his general personality being placid and and kind. He's more cautious than Elle but is still bold for his age. He's extremely protective of his family, especially his mum and Elle which is probably something he naturally learnt from his father. He's terribly stubborn.
---
Powers:
Both twin's have inherited abilities from both parents making them a dangerous combination. Both have Freezer's incredible strength and physical power, they also have their mothers ability to cast spells etc. So they are already incredible witches, with the ability to use both body and soul for magic where usually a witch uses one or the other.
Despite being small the twins could easily break adult bones with their bare hands and lift massive amounts of weight, they are currently struggling to understand their strength. It has cost Lin and Freezer a lot to replace all the things the twins accidentally break, and they have had to apologise to many members of their community for various reasons.
Whilst struggling with their abominable strength, they have a slightly better understanding of soul magic (magic casting) but they're still novices and make many mistakes. They have many things to understand and control due to having inherited things from a powerful pair of witches.
It has been a concern to the witching community that the children could inherit traits of the demon "Karma" that lies within Freezer. No one possessed by the demon has ever had children, it's new ground and new territory. Lin and Freezer have their fingers crossed that their children will be spared from the awful condition otherwise getting them accepted into carnes-high will be twice as hard!