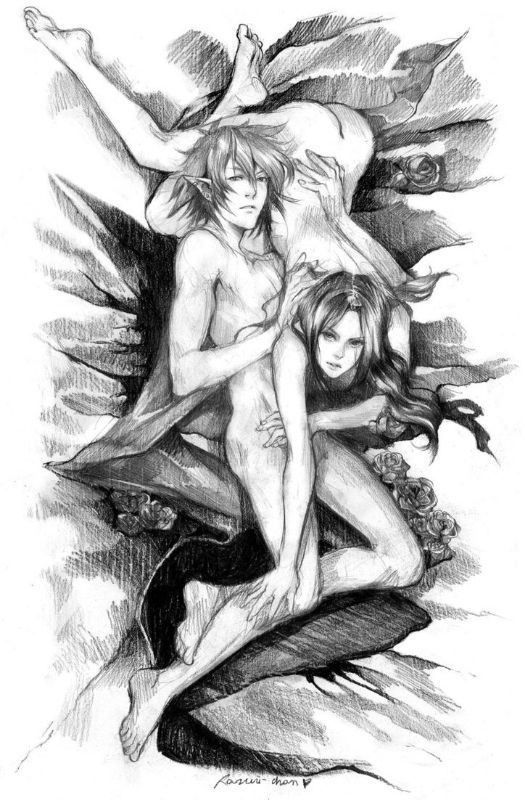 <-- steamy picture for bloodoak witch fan's ;)
Names: Lin and Freezer Mackrell

Status: Married, Twilight Twins (bound) 1 child and 1 bun in the oven.


Appearances: Despite being well into adulthood, both BloodOak witches are wonderfully preserved. Despite looking fantastic for their age (whatever it may be) there is a noticeable mature edge to their appearances.

Lin still has her long, flawless black hair but her rebellious blue streaks have vanished. Her eyes are as sharp as ever and even more piercing now she has entered motherhood. Her figure isn't as thin as it used to be, she has gained a more curvaceous physique and looks better because of it. At the present moment she is pregnant with her and Freezer's second child.

Freezer is as handsome as ever, like a fine wine he has gotten better with age. The blue edges to his unruly hair have grown darker and his charming features have grown less intimidating to the female populace (or maybe they avoid him because of big mamma Lin!) Due to his unusual magical ability, his ears have grown pointy, a presumed side effect of the demon gene within him.

Information and (abit of) History: (to be added, let me remember "-_-)


Lin and Freezer were forced to leave Carnes High a little earlier than the other students, due to Freezer's unstable power the BloodOak Clan called the teenage witches back home. They still managed to graduate from the school after studying from their Clan home. Still the Witches missed the frienemies they'd made. They decided to visit the school they once loved and enrol their children there in the future.


After gaining control over their powers and maturing into fully fledged witches Lin and Freezer became potential leaders for the Clan. They both were elected to join the Clan council at a young age, one that reigned over all witch clans and kept the delicate balance between light and darkness. Lin and Freezer have always kept an eye open for Arabella, a witch they attended school with, expecting her to pop up on the council eventually. They have had brief brushes with the Knight family in their high up positions but only very brief brushes.

It seems that their school generation was destine for greatness and the majority of students that attended the school in their group have climbed the heirarchy of the monster world. Both Lin and Freezer are incredibly powerful now and when teamed together they are predictably unstoppable, the witch clans hold high hopes for them as they continue to progress into legends.