Name:
Rylie, or RJ
Age:
17
Gender:
Female
Sexuality:
Gay
Relationship Status:
Single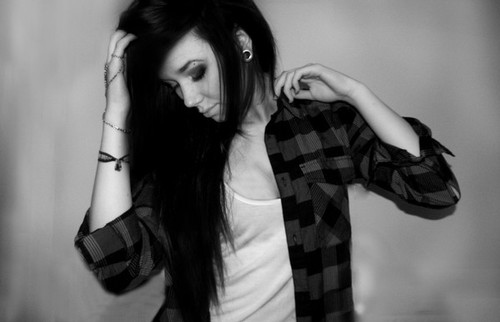 Height:
5'11'
Weight:
152 lbs
Build:
Slender, toned and muscular.
Eye Color:
Navy blue
Hair Color:
Dark brunette
Physical Description:
She has long brunette hair, lightly tanned skin, and usually wears a tank top of some sort with a plaid overshirt, and her aviator sunglasses. Rylie has defined arms and abdominal muscles, and she isn't afraid to show them. Ry wears dark jeans, and black and white sneakers.
Scars/Tattoos:
Rylie has a long scar on his left forearm, multiple scars all over her back, and she has a tattoo on her left collarbone that says: I am Invincible.
Equipment/Items from Wreck:
Rylie always keeps a four inch black flip pocket knife with her (it was her grandfather's), stole a cigarette lighter from her roommate who never returned, when she was washed up on shore Rylie found a plastic bottle that was floating among the debris.
Likes:
Basketball, running, music, working out, mathematics, flirting, sarcasm, skateboarding, and guitar.
Dislikes:
Water, sitting still, talking about emotions, her father, and bullies.
Fears:
Really hates the water.
Personality:
Rylie is stubborn, loyal, tough, and loves to be athletic. She has a tendency to put others above herself, and hates to seem weak. Ry likes to act cocky and loves to flirt and act like a player. She's a leader and has natural confidence and charisma. Rylie is sarcastic and likes to make jokes. Her funny and cocky demeanor completely disappear when people ask her about the scars on her back. She tries to desperately hide them, and hates talking about her family or why basketball and sports are so important to her. She'd prefer everyone to believe she's an arrogant jock than know the fear she has of being home, failing, and ultimately, her father.
Family:
Lives with her abusive father, Allan Krixx, who has a very lucrative career as the CFO of Jace Enterprises.
History/Biography:
Rylie was born in Chicago and lived there until she was four with her mom and dad. Her dad's career really took off and he just met Alexander Jace, the CEO of his young company Jace Enterprises, so they moved to LA. Her mother at the time was really depressed, and when Rylie was six, her mother killed herself. Her dad was at work and Rylie was the one to find her. Ever since then, something inside her dad broke. He blamed Rylie whole-heartedly for the death of his wife, and he abused Rylie for the first time right after the funeral when they came home to an empty house. Her father took off his leather belt, and Rylie has 19 scars on her back from that night. After that, her dad hired a nanny to watch Rylie while he worked, always firing them in a couple of months so they wouldn't be suspicious of the abuse. Rylie grew up learning to avoid him while he was home and especially if he was drunk. When she was thirteen, they moved again since her father, Allan, was promoted to CFO of the company. This time they lived in Tampa, and Rylie was old enough that her father didn't bother with a nanny. From the age of eight, Rylie played basketball and skateboarded. While her dad said that music and skateboarding were a waste of time, he encouraged the basketball. She found that if she did well, he wouldn't be as angry at her. Pretty soon, he would send her off to basketball camps and traveling teams, and Rylie knew she'd be safe for at least a little while.
When she was a freshman, Rylie was the starting point guard for the Tampa Lions. She took her team all the way to the state championship game, but they lost in the second quarter by seven points. Rylie had fouled out in the second quarter of that game, and her dad was furious. Immediately after the medals were passed out and Rylie had both her second place medal and the MVP award she was given around her neck, she was trembling. She could see her dad on the sidelines, his face red with fury and disappointment. Her coach at the time told her she did good and it was alright, they played their best. He didn't realize that Rylie wasn't shaking from just losing the game, but from fear. Before she could open her mouth to respond to her coach, her dad grabbed her by the arm of her warm up jacket and yanked her behind him all the way to the car. The car ride was silent and Rylie leaned as far against the door as possible, trying to put distance between her and her fuming father. When they arrived home, Rylie endured the worst night of her life. She'd broken two ribs, her right arm, and suffered a concussion. The next day, her father drove her to the emergency room saying that she got beat up from some skater punks she hung out with. And her father being the rich, powerful man that he is, had the doctors and nurses nodding in agreement.
Her friends asked her about the injuries, but she just shrugged it off, too ashamed by the fact that she lost the championship game for her team. Parts of her believed her father when he was telling her that everything was her fault and that she was weak and a coward. They moved again when Rylie was fifteen, this time she attended Gydion Academy. The season of basketball, Ry earned her spot as starting point guard, and they won regional championship, but unable to advance further. She's been going there for about a year now, and from her stats, everyone was expecting her to lead the Warriors to state this year.
How you got on the ship:
Besides being the best in the state for girl's basketball, Rylie's father is a good friend of the founder, so she's been roped into the cruise a three times so far. She usually skips out on the seminars now, and prefers to sneak alcohol from the bars, although all the workers knew she was the daughter of the CFO.
How you got off the ship/ What you remember:
Rylie is terrified of water. When she heard the first engine blow, she retreated to her room, desperately trying not to panic. Her roommate never returned, and when Ry heard another loud explosion, she felt nauseous from the rolling waves. The howling wind and pelting rain sent her adrenaline pumping. Running grabbing the silver zippo lighter off the counter, she ran to find where the life boats were. Everyone was in a panic, frantic to escape as the ship started to tip. Rylie gripped the railing as everything began to shift. She could hear screaming and glass breaking, people tumbling over the edge of the ship. The sobbing of a girl sliding by Rylie momentarily caused her to forget her fears. Reaching out, she managed to grab the girl's arm, pulling her up. There was another life boat that was nearly filled, but Rylie used the railing to pull her and the other girl towards it. Briskly, shoving the girl into the boat, Rylie saw the metal clip snap as the ship creaked on its side, sending the little life boat off into the sea. Rylie lost her grip on the railing, sliding into the dark, freezing water. Frozen from fear, she grasped out for anything, barely holding onto a floating cooler. Impossibly, through the churning water and gale force storm, Rylie awoke on the sandy beach to the bright sun rays. Her hands dug into the damp sand, feeling water sweeping up her legs. Jumping up, Rylie stumbled up the beach and out of reach of the horrible salty water. Half buried, a plastic water bottle lay just on the beach as well.
Other Information:
Rylie's plan after graduation is to attend West Point and become an officer in the army.