Cavous Academy
Cavous Academy is a prestigous school for young ladies, each year the head-mistress hand-posts invitations herself to the new young ladies that will be attending in september. The Academy is a private, small establishment that deeply values "the personal touch".

It's windy this time when the Head-mistress goes to post her student invitations, so windy infact that a large bundle of them fly out of her hands and across the street. She regains most of the envelopes but has a nasty feelings that some are missing...

She doesn't worry about it too much, whatever girls failed to turn up on the first day of term were most probably the ones who failed to receive their letters, the head-mistress would simply send them again.
BUT...
Something unexpected occurred. On the first day of term all students turned up...including the four young boys who had received the invitations by accident (blown onto their door step etc.) Startled and uncertain of what to do the mistress excepted the four boys into the Academy until she could work something out...if she could work something out.
The only issue is of course...Cavous Academy is an all girls school! Every boy's dream? Not exactly, the boys are about to discover that too many girls in one spot can be a little more than overwhelming, especially when the girls are all so...talented!
The Cavous Students



The Girls
Cavous Academy may be a prestigous school for young ladies...but they're not all strictly "Lady" material. The Academy is made up of girls who were either smart enough or rich enough to attend and that still leaves a large variety. Cavous has everything from class clowns to lolita dolls. There are bullies, cheats, cliques, lovers and fighters, good old fashioned nerds, girls who are naughty and girls who most certainty aren't!
Helpful Images
GIRL PLACES
1:
The Inpatient Artist
| Yasmine Hikaro
2:
The Spazzy Sweet Addict
| Cheyenne Alexandra Throop
3:
The Musical Good Girl
| Jocelyn Farnir
4:
The Agressive Mother-figure
| Maya Sanchez
5:
The Cute Bitch
| Kumiko Kiyozimu
6:
The Easily Flustered Shy Girl
| Lily Roscoe
7:
The Naughty Pervert
| Amber Lundie
8:
The Predictable Mystery
| Lillian Gray
The Cavous Students



The Boys
The boys are an odd variety. They turn up to the Academy regardless of it's reputation as an all girl school. They know that's it a fantastic school and aren't about to miss a chance to attend whether the invitation was meant for them or not...after all the invitations don't have specific names on them!
BOY PLACES
1:
The Shameless Neko Lover
| Kuroko Minatsua
2:
The Harsh Truth-Teller
| Jude Asher
3:
The Boy-Next-Door
| Jake Robson
4:
The Honourable Cage fighter
| Jon Starr
5:
The Anti-Bully
| Seagus Deaves
Character skeleton



Everyone calm down. Girls, boys stop fighting!
Code: Select all

Name: (full name)
Age: (16-17)
Sex:
Sexual orientation: (straight/gay/Bi)

Appearance: (image, anime)
Appearance description:

Personality: (Importantyou write a fair bit here)
History:

Friends: (can be added later)
Enemies: (can be added later)

Any Crushes: (Can be added later)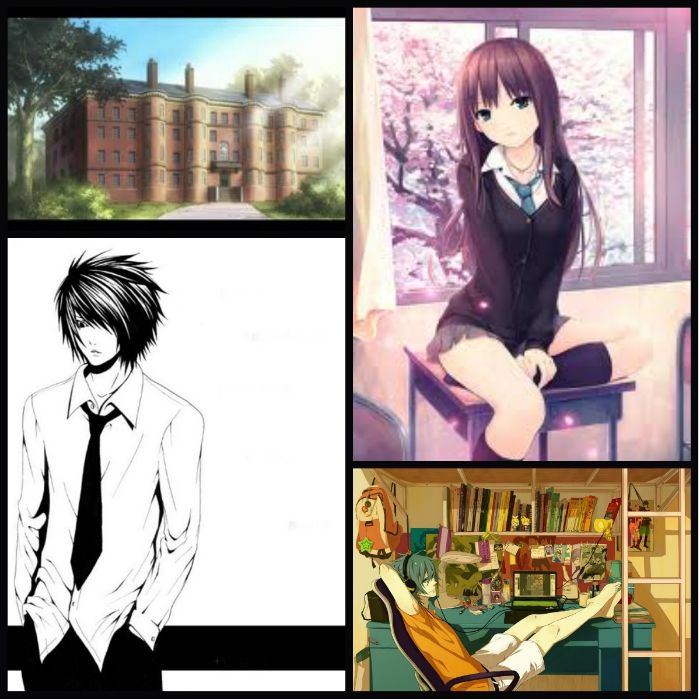 Extra Information for Players.
UNIFORM
School uniform is required and is displayed to the left. The girls are required to wear dark cardigans, the school tie (blue), a white shirt (long or short sleeved), a grey, pleated skirt, long black socks (knee or thigh length) and appropriate black shoes.
The Boys…will be given large white shirts that have been hanging around (for the larger female students), a school tie and will be asked to wear dark trousers/jeans.
Uniform must be worn Monday-Friday.
P.E uniform is the students choice.
Weekends allow for ordinary clothes.
DORM ROOMS and CAMPUS DETAILS
Students are required to stay at the school Monday-Fridays but may return home at weekends if they so desire. Campus is designed to cater for students all through the school year (excluding half terms-end of terms and public holidays) There is a restaurant and dining hall on campus which is open from 7.30am till 8.30pm.
Library is open from 9.00am till 9.00pm
Student Curfew is 8.00pm. All students must be inside school campus by this time. All students must be in their dorms by 9.00pm or else disciplined and in extreme cases sent home.
Three students per room. Four rooms per dorm/ common room.
Dorm rooms consist of three high, single bunk beds. Beneath each bunk bed is one desk, one shelve and two plug sockets. One wardrobe is at the end on each bed. One ensuite bathroom is to be shared between three students. Bathrooms conclude of one shower, one bath, three shelves, one toilet, a wall length mirror and two sinks. Beds are changed once a week. Dirty washing is collected once a week from each room's singular washing bin located in the bathroom.
Common room consists of three sofas, one coffee table, one flat screen television, a mini fridge and two large cabinets for DVD's etc. All drinks and consumable products are to be received from the kitchen. Any drinks, hot food/savoury food can be consumed in the common room but cutlery must be returned to kitchen promptly.
Dorm Details for students:
Room 1: Yasmine Hikaro, Jocelyn Farnir, Kuroko Minatsua
Room 2: Maya Sanchez, Cheyenne Alexandra Throop, Seagus Deaves
Room 3: Amber Lundie, Lily Roscoe, Jake Robson, Jon Starr
Room 4: Lillian Gray, Kumiko Kiyozimu, Jude Asher
Taking place in...
Arcs are bundles of posts that you can organize on your own. They're useful for telling a story that might span long periods of time or space.
There are no arcs in this roleplay.
There are no quests in this roleplay.
Here's the current leaderboard.
There are no groups in this roleplay!
Welcome home, Promethean. Here, you can manage your universe.
Arcs are bundles of posts from any location, allowing you to easily capture sub-plots which might be spread out across multiple locations.
You can create Quests with various rewards, encouraging your players to engage with specific plot lines.
Settings are the backdrop for the characters in your universe, giving meaning and context to their existence. By creating a number of well-written locations, you can organize your universe into areas and regions.
Navigation
While not required, locations can be organized onto a map. More information soon!
There are no groups in this roleplay!
By creating Collectibles, you can reward your players with unique items that accentuate their character sheets.
Once an Item has been created, it can be spawned in the IC using /spawn Item Name (case-sensitive, as usual) — this can be followed with /take Item Name to retrieve the item into the current character's inventory.
Give your Universe life by adding a Mob, which are auto-replenishing NPCs your players can interact with. Useful for some quick hack-and-slash fun!
Mobs can be automated spawns, like rats and bats, or full-on NPCs complete with conversation menus. Use them to enhance your player experience!
Current Mobs
No mobs have been created yet.
Locations where Mobs and Items might appear.
You can schedule events for your players to create notifications and schedule times for everyone to plan around.
Add and remove other people from your Universe.
The Forge
Use your INK to craft new artifacts in Cavous Academy |. Once created, Items cannot be changed, but they can be bought and sold in the marketplace.
Notable Items
No items have been created yet!
The Market
Buy, sell, and even craft your own items in this universe.
Market Data

Market conditions are unknown. Use caution when trading.

Quick Buy (Items Most Recently Listed for Sale)
None
Discussions
Most recent OOC posts in Cavous Academy |