---
---
░
░
░
░
░
░
░
░
░
xxxxxxxxxxxxxxxxxxxxxxxxxxxx
xxxxxxxxxxxxxxxxxxxxxxxxxxxx
█
█
█
█
█
█
█
█
█
█
█
█
█
█
█
█
█
█
█
█
█
▌
▌
▌
▌
▌
▌
▌
▌
▌
▌
▌
▌
▌
▌
▌
▌
▌
▌
▌
▌
FULL NAME
NICKNAME(S)
Shiko-chan, Hoshi-chan, Shi-chan
"My name is Hoshiko,

NOT

Shiko-chan!"
PLANET/STAR
"This is seriously becoming a pain, what does that even mean!?"
GENDER
AGE
SEXUALITY
"I like boys. I'm not into girls."
NATIONALITY
½ American and ½ Japanese
"My mom is Japanese.. My dad is American. So what?"
"I'm a teenager: I have a messy room, I spend most of my time online, and I'm crazy about boys.. NORMAL!"
█
█
█
█
█
█
█
█
█
█
█
█
█
█
█
█
█
█
█
█
█
█
▌
▌
▌
▌
▌
▌
▌
▌
▌
▌
▌
▌
▌
▌
▌
▌
▌
▌
▌
▌
▌

HEIGHT
WEIGHT
HAIR COLOR
EYE COLOR
SKIN TONE
GENERAL APPEARANCE
Hoshiko is of average height, and has a rather slim figure. She has bright blue eyes that give off a hypnotizing glow, like an aquamarine. She has long, lustrous blonde hair, which she usually has tied up in some form or fashion. She is always playing around with her options when it comes to her hair. Her wardrobe consists of namely bright colors; pinks, blues, yellows and white. She only wears her hair in a basic ponytail when she's distracted and needs to focus. Despite having other clothes, Hoshiko is most often seen in her school uniform consisting of black tights, a light blue skirt, a white long sleeve shirt with a blue collar and a light orange tie. It is extremely rare to see Hoshiko in casual clothes, though when she does she prefers to wear preppy clothing
"Trust isn't exactly something that can hand out to absolute strangers.."
█
█
█
█
█
█
█
█
█
█
█
█
█
█
█
█
█
█
█
█
█
█
█
█
█
█
█
█
█
█
█
█
█
█
█
█
█
█
█
█
█
█
█
█
█
█
█
█
█
█
█
█
█
█
█
█
█
█
█
█
█
█
█
█
█
█
█
█
█
█
█
█
█
█
█
█
█
█
█
█
█
█
█
█
▌
▌
▌
▌
▌
▌
▌
▌
▌
▌
▌
▌
▌
▌
▌
▌
▌
▌
▌
▌
▌
▌
▌
▌
▌
▌
▌
▌
▌
▌
▌
▌
▌
▌
▌
▌
▌
▌
▌
▌
▌
▌
▌
▌
▌
▌
▌
▌
▌
▌
▌
▌
▌
▌
▌
▌
▌
▌
▌
▌
▌
▌
▌
▌
▌
▌
▌
▌
▌
▌
▌
▌
▌
▌
▌
▌
▌
▌
▌
▌
▌
▌
▌
PERSONALITY
☮ Generous ☮ Energetic ☮ Loner ☮ Clumsy ☮ Indecisive ☮ Strong-willed ☮ Hesitant ☮ Shy ☮

Hoshiko has always been an energetic person, but she was always socially awkward growing up. She always was a bit....different. She never felt that she fit in with her classmates, which made her feel isolated her entire life. She has a few close friends at school, and loves to go shopping and eat a lot of junk food. She loves hanging out and having a good time, but for some reason she also enjoys shutting herself in her room and doing absolutely nothing. She can lay on her bed and feel like she's having the time of her life. Something about long periods of time alone recharge Hoshiko, and even her parents find it a bit strange. She likes competition, no, she loves it. She isn't very fond of change, actually she avoids it at all costs. She likes the simplicity of her life and she is terrified of the unknown. She is a fast talker, and has times when she can be extremely impatient and tough to handle. She is caring and puts other people's feelings into account, but she always is true to herself. She isn't the type to allow herself to be used, and she gets rather angry when she believes someone is trying to manipulate her in any way. She gets embarrassed easily and often will leave a situation if she feels she isn't equipped to handle it. She changes her mind often, and most of the time Hoshiko isn't even sure what she wants to do with her life. Every time she tries to plan the future she draws blanks. She is a hopeless romantic, and hopes to one day find her 'prince charming', as stupid as she knows that sounds. She reads far too much Manga, and watches way too many corny romance films. Even though her parents are divorced, she still can't help believing in soul mates. She is certain that one day she will find someone that she just can 'be' with. She craves a presence in her life that will just allow her to be herself instead of going through all of the games and the motions involved with being a teenage girl. Some would call her a dreamer, but she likes to call it optimism. She is the type of girl who is ALWAYS late for class, but NEVER misses a meal. She is always seen running around trying to make it on time and keeps her emotions on her sleeve. She is trustworthy and loyal, and truly a very kind person, but she just doesn't think she's cut out to be a guardian. She's never even HEARD of Capella!
LIKES
★ Food ★ Her brother ★ Traveling ★ Shopping ★ Reading Romance Manga ★ Playing Guitar ★ Video games ★ Snow ★ Dogs ★
DISLIKES
✘ Cats ✘ Vegetables ✘ Oranges ✘ Candy (She likes chocolate though) ✘ Her hair getting messed up ✘ Change ✘ Liars ✘ Conflict ✘
TALENTS
♦ Guitar ♦
It's a hobby, but she's gotten really good at playing it over the years. She also has a decent singing voice to go with it, but nothing that will make her famous, her guitar skills are more prominent and she enjoys playing more than she does singing.

♦ Athleticism ♦
Despite being clumsy, Hoshiko can run pretty fast. Though it doesn't mean she won't fall and hurt herself, or others. She has became skilled at running away, seeing as sometimes she just has to be alone or she feels she'll lose her mind. She's also fairly strong physically, but nothing too incredible. She just hits harder than your average girl (You must have really screwed up to make HER hit you...lol...)

♦ Baking ♦
Hoshiko has been cursed to be a horrible cook, but somehow she was blessed with the skill of baking, namely sweets. She can make excellent homemade chocolate, but never ask her to cook your main course! She might just burn down the entire building.
FLAWS
✖ Distrustful ✖
She has never really trusted anyone with her thoughts or feelings. Her parents never understood her, why would anyone else? She's mostly afraid of being mocked or criticized. Also, she finds it hard to trust the Guardians and Celestials, they just hop into her life and expect her to come quietly? She's not even sure she wants to give up her life. She felt perfectly fine being normal and she's completely confused. She just wants break into her emergency fund and run away again.

✖ Sensitive ✖
Capella can be very sensitive when it comes to those around her. She takes other's words to heart and she usually can't tell a joke from truth. She tries to take everything with a grain of salt, but after a while she finds it hard to ignore who she really is.

✖ She runs away from personal problems ✖
She's failing a class? Hide the report card. She's sick? She pretends she's fine. Problems at home? She runs away. Has a crush on a boy? She pushes him away. No matter what the problem is, if it's her own problem, Hoshiko will push it away. She is afraid of conflict to the point that she'd rather avoid it at all costs and ruin a relationship, than risk watching it fall apart right before her eyes. She has ran away from home several times. She is quite familiar with all of Japan, mostly because of the amount of trains she's taken to get out of Tokyo. Her parents have told her if she runs away again; she's offically disowned, because they're fed up with her continous cowardice.
FEARS
☢Trusting the wrong person☢ She's ultimately terrified that she'll trust the wrong person with her secrets and be exposed for the emotionally driven and lonely person she truly is. She doesn't want the other Guardians or Celestials to think she's a crybaby or too weak. The last thing she wants is to be told she's unworthy

☢Death☢ Whether it's her own, or someone else's, Hoshiko is terrified that someone is going to die. Being a guardian, she realizes her new 'job' is to prevent that from happening and the pressure is imobilizing. How is she supposed to protect anyone when she doesn't even know who she is? One minute she's Hoshiko, the next she's Capella? She's secretly afraid of letting everyone down, and if someone were to die, she'd never forgive herself. Another reason she wants to just run away, she'd escape another unrealistic expectation and avoid responsibility for the lives of the Celestials.

☢Love☢ Even though she is dying to find someone whom she can love and be loved by, unconditionally... Hoshiko is absolutely terrified of it. She witnessed the pain her mother went through when her father filed for divorce and it left her somewhat traumatized. She's constantly afraid of being abandoned by those she loves, the threat of disowning her was verification that even her parents were capable of abandoning her.. what was to stop a romantic partner? It's a complicated situation for Hoshiko. Love is both a personal goal, and her ultimate fear.. and she's not quite sure if she will ever overcome her fear of losing all of her loved ones.
A wise girl kisses, but doesn't love.. Listens but doesn't believe.. and leaves before she is left.
█
█
█
█
█
█
█
█
█
█
█
█
█
█
█
█
█
█
█
█
█
█
█
█
█
█
█
█
█
█
█
█
█
█
█
█
█
█
█
█
█
█
▌
▌
▌
▌
▌
▌
▌
▌
▌
▌
▌
▌
▌
▌
▌
▌
▌
▌
▌
▌
▌
▌
▌
▌
▌
▌
▌
▌
▌
▌
▌
▌
▌
▌
▌
▌
▌
▌
▌
▌
▌
POWER
Healing - The power to restore living organisms to their optimal health. This ability allows the user to heal wounds, broken bones, low vitality, and diseases/poisoning. Though the user may potentially heal any form of bodily damage, the patient must be alive, even if hanging by a thin thread.

Target must still be alive.
Requires touch
If healing a serious wound, it requires delicate controlled focus, or she could cause more harm than good.
It is VERY exhausting for her to cure severe wounds. Usually she grows dizzy or even needs to rest after healing a critical wound.
BIO
Hoshiko grew up an only child for seven years, and was spoiled by both of her parents considerably. She was happy, and despite being a little strange, was loved unconditionally by her parents. Once her younger sister was born, it all changed. Her sister was born blind and very ill, none of the doctors believed Hoshiko's little sister would make it to her third birthday. Unwilling to lose their child, Hoshiko's parents sought out a second opinion vigorously, constantly arguing with each other during that time. Neither of her parents were getting adequate rest when her baby sister died. When emotions ran high during their loss they agreed to file for divorce before their daughter was even cold in the ground. Her mother eventually met another man and had another child, Hoshiko's younger brother, Shouta. Though life never went back to normal for Hoshiko. She distanced herself from her mother and step-father. She has evidently inherited her father's habit of running away whenever a situation became too difficult to control. Little did they know, Hoshiko wasn't getting herself into any real trouble, the trips away from home were just so relaxing and it was nice to not hear yelling, nice to just exist instead of attempting to fit in. Her mother would sit up late at night, crying in Hoshiko's empty bedroom. Hoshiko always had a tendency to run away at the drop of a hat. The first time she ran away from home was right after the divorce, though she only made it to the park. She managed to hide in the tunnel with her teddy bear and a peanut butter and jelly sandwich for three hours before being found. Her father came back into the picture when Hoshiko turned thirteen, buying a home ten minutes away from Hoshiko's house. His return was in hopes of preventing Hoshiko from repeating his mistakes, but his presence has only made matters worse. He is stressing her mother's new marriage and it has been hard on her little brother. She has gotten into many arguments with her father recently, most of which resulted in Hoshiko buying a one way ticket out of Tokyo. The police have detained her on several occasions after catching her in various cities without parental supervision. She hasn't run away since she was fifteen years old, due to the threat of being disowned if she were to try the childish antics again, but she constantly wishes to be somewhere else. She could always feel it in her bones. Something told her to just leave Tokyo. She wasn't sure where she was meant to be, but it wasn't here. She is hesitant to believe she is actually "Capella". She's quite certain that the Guardians and Celestials are a gang, and she's afraid of getting caught up in the madness. She is afraid that when it's all said and done she won't be able to rely on them, or her parents for a place to stay. If she trusts the Guardians and Celestials and they turn out to be less than what they claim to be; she's forever lost her home with her family. It's a lot to risk for strangers.. Especially her social life. Somehow, despite her awkward personality, Hoshiko landed a boyfriend at her school. Was she supposed to just cut him off as well? She was supposed to drop everything the exact moment her life seemed to be going in the right direction? She's hesitant to believe it's what she's meant to do with her life.
OTHER
Shouta Himeka (Little brother [Half Brother])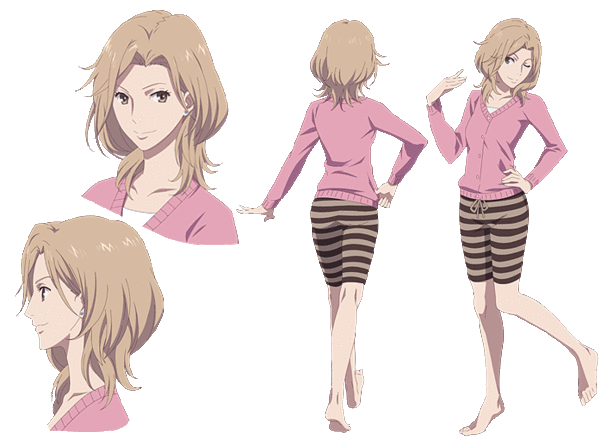 Izaya Himeka (Step father)