Shoichi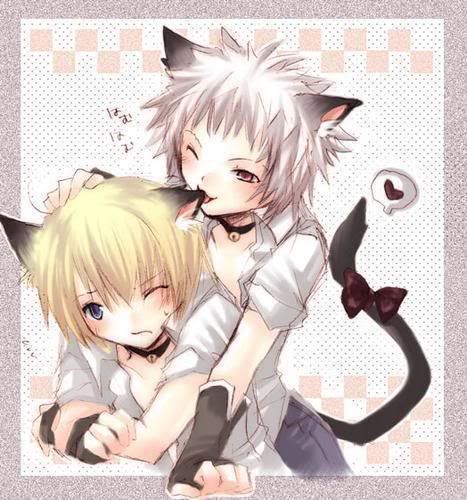 Age: 16
Owner(s): Kali Tsuiyomi
Personality: The 'seme' so to speak, Shoichi does not usually like to consider what other people think of his actions. He does whatever the heck he wants to do, without a care as to what other people might think. He's very playful, however, if somewhat forceful. Not exactly spoiled, Shoichi still does not take orders too great because, well, he is a cat. Very self-sufficient, his pride usually doesn't let him ask for help. He cares a lot for those he loves, especially his twin brother. Also...Shoichi can be rather flirtatious, whether on purpose or not though, is usually for him to decide.
Description: Shoichi has white hair. Spiky white hair and black cat ears. His eyes are pale amber, practically red. Slender, but strong, Shoichi is rather short, standing at only 5'5". Despite this, he has almost a perfect body, complete with a six pack and a tantalizing slender black tail, adorned with a dark crimson bow. He wears a black collar with a bell. He usually wears a white button up T-shirt, the first three buttons always kept undone, as well as a pair of jeans and black fingerless gloves. He has claws as well - his nails can turn into claws.
Cat Form:
here
Love Interest: His twin brother, Shoji
Likes:
- Catnip
- Milk
- Shoji (aka, making him blush)
- Taking naps
Dislikes:
- Being ordered around
- Small spaces
- Being woken up from a nap
- Strange smells/noises/strangers in general
Hobbies:
- Sleeping
- Putting things together and taking them apart again
- Teasing his brother
- Teasing others
Fears:
- Death by drowning/suffocation/bleeding out
- Losing Shoji/Shoji hating him
- That he will one day be separated from his brother
Other: Without Shoji around, Shoichi can be very, very overbearingly difficult to get along with.