BASIC
-
Full Name:
Ke Ya Le
-
Nickname(s):
(Prefers just to be called by her first name, Ya Le) Ya-Ya (childhood nickname)
-
Age:
23 "I still refuse alcohol"
-
Gender:
Female
-
Role:
Non-bender
-
Occupation:
Secretly works at her grandfather's bakery,
Bai Long Bakery
.
APPEARANCE
-
Hair and Eyes:
Ya Le's eyes are almond shaped with thin, medium-lenght eyelashes. Her eyes are a soft, dark grey- looking almost completely black (unless in broad daylight).
She has dark brown hair that reaches her mid-back and is straight yet wavy at the ends. Ya Le also has bangs that are layered towards the side, framing her heart-shaped face. She prefers her hair being up so she personally likes it when her hair is either a messy bun or a high ponytail. But since she has a very wealthy and traditional family, her hair is often down with her bangs pulled to the back, keeping them out off her face. The top part of her hair is usually tied to the back in a chignon bun while the remaining hair is left alone.
-
Complexion:
Ya Le has soft, pale skin with a tan complexion. She has slightly rosy cheeks giving her a doll-like appearance. She has never written on herself nor has she ever had any tattoos. Therefore she is 100% ink free. She only has a tiny little scar (about ha;f a centimetre long) on the very top of her forehead from an accident when she was younger.
–
Height and Weight:
Ya Le stands at 5'5" and weighs about 115 lb.
-
Body Type:
Ya Le has an hourglass figure. She has curves on all the right places. She doesn't have an overly sized bust but she is also far from being flat chested. People tell her that she's curvy but she would never admit that fact to herself, often blushing when her own body is included in certain topics.
-
Image: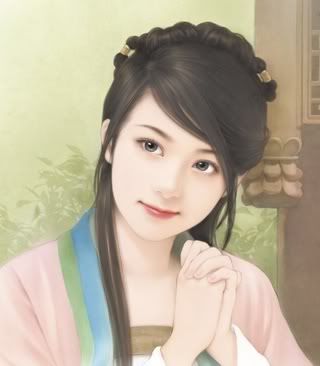 PERSONAL INFORMATION
-
Likes:
Ya Le has always had an interest in baking ever since she was young. She loves the sweet scent of freshly baked pastries and how they would slowly melt on her tongue. When her grandfather used to take her to his bakery, she would marvel at the different type or food before her eyes, often being her grandfather's personal taster. Because of this, she grew very fond of her grandfather and was devastated when he passed on her seventeenth birthday.
Ya Le also likes nature and being in peace with people. She disapproves of conflicts and thinks fighting is very unnecessary unless being provoked. Other than insisting the cook to let her step into the kitchen once in a while, she enjoys spending time outside whether to admire her surroundings or reading a good book or poem. She also took a slight interest in art and might even paint once in a while. Because she was born and raised in a wealthy family, she has grown to taken a liking to calligraphy, too.
-
Dislikes:
Ya Le does not like it when innocent people are hurt nor does she enjoy watching people unable to have the experience of tasting something unbelievably good. She also does not like it when men come on to her or are bothering any of her friends or family. Even though she is a very patient woman, she has low tolerance when it comes to egoistical jerks. Of course, seeing as she was raised to be a proper lady, she knew how to control her facial expressions to remain calm- even if she was blowing up inside. Also, she secretly thinks those who follow others and can't think for themselves are utterly pathetic.
Ya Le doesn't like the fact that she isn't allowed to work since those are the servants' jobs. She dislikes having to lie to her parents and sneak out the house to maintain and run her late grandfather's bakery.
Having a sweet tooth, Ya Le isn't very fond of anything too spicy or sour either.
-
Quote:
"A wise man makes his own decisions, an ignorant man follows public opinion. "
-
Theme song:
Angel- EXO-M
or
You're the One- Kana Nishino
-
Potential Interest:
TBA "Well, wouldn't you like to know?"
-
Other:
Ya Le was born and raised in a wealthy family. She has one elder brother and two younger brothers (twins). Being the only daughter, Ya Le has also taken a liking in martial arts. Ya Le has spent some of her spare time doing Tai Chi when she was younger, too. She is now currently learning Hung Gar and Northern Shaolin Kung Fu- courtesy of her own father. At first, her mother did not approve of her daughter doing martial arts but was easily persuaded by her father for her own beneficial. Ya Le does not take advantage of her experience in martial arts and only uses it when she has to.
-
Personality:
Ya Le is people-pleaser and loves to have fun. Although she's a quiet and shy girl, she loves to run around places and being active. She admires benders for having the ability to control elements and always dreamed of being one. Sadly, she was just a mere human with no super powers whatsoever.
Taught to hide her emotions, Ya Le can keep a straight face for hours and cannot be easily read like an open book. You have to be close to her in order to be able to identify her masked emotions and what she's truly feeling inside.
Ya Le is also very kind and caring- taking care of others more than she does herself. She worries too much about others for her own good. But although she's warm-hearted and sweet, she is also capable of being a silent yet moody bitch. This only happens when she's not in a good mood though- which only occurs once upon a blue moon. When pissed, she usually keeps quite and shuts everyone out of her life, often giving everyone ice-cold glares to warn them not to get any closer. Of course, she wouldn't be angry an longer, though, since doesn't like being upset and believes that holding grudges are unhealthy.
Lux Atema