Quote: "Just one more minute of sleep, please!"
Name: Alexander Angelus Doudecim
Nickname: Blight
Gender: male
Age: 18
Height: 6' 1"
Weight: 119 lbs.
Sexual Orientation: Straight
Likes: Friends, swimming, sleeping, being safe, animals, and nature.
Dislikes: People who try to steal his locket, jerks, light, darkness, holy water, angels who wish to kill him for the fact that he exists, and demons who wish to use him for their own advantage.
Group: He's part of neither, since he really doesn't care what happens as long as he can still eat candy or play in the water.
Partner: He has an eagle that he can connect to mentally and can summon at any time. He usually uses his eagle to plan out a strategy or he uses the creatures he summons.
Race: Half demon and angel, only contributes to weaknesses.
Magic and abilities:
Creation
: He can create an army of creatures depending on how focused his is. He can create planets as well, but his locket stops him from being too powerful.
Rage
: Due to his Demon father his rage affects how powerful he is, if you try to hurt him or Rin he'll create an army of creatures to devour you and leave nothing where you used to stand.
Possesion
He can go into people's bodies and make them become Demonics for however long he feels like possessing them.
Purification
When he enters someone who already has a demon inside of them, he might be able to kill the demon and free the person, but he's too weak to do that right now.
Sealed abilities
He's stronger when his locket is removed and can summon a horde of monsters to aid him in fighting, he can also create planets when his locket is removed. Though it's virtually impossible to remove the locket.
Weakness(es) - Light and darkness spells affect him negatively since he is a combination of a demon and an angel. A sword to the heart or any part that would kill him. High frequency sounds. Spells from demons and angels. He also can't be healed by angels, so he has to heal naturally or with his own magic.
Equipment - A locket given to him by his angel mother that restrains his power and in turn allows him to live a normal life, his locket can only be destroyed by Rin. There really is no reason for her to destroy it though, so don't worry about that. He has a sword that he uses when in immediate danger, nothing special about besides that it's lightweight and strong.
Picture: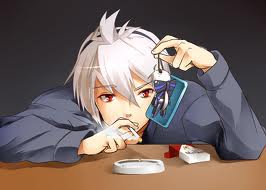 Personal Description: He has white hair and red eyes, he will wear a random assortment of clothes just to annoy people. He might even change clothes in a blink of an eye and continue the conversation smirking at what he just did. He usually carries around around a sword on his back just in case danger comes his way.
Personality: He acts like if he's not even paying attention to you, but he's always analyzing you trying to figure out what your personality is before interacting with you. He doesn't mind anyone acting like a jerk to him as long as they don't push him too far or mess with his friends. An exception is if you try to steal his locket from him, then he will try to destroy you even if it's in vain. He hates running and would sleep all day if he was allowed to. He is quite unpredictable and he might decide to save an orange from being destroyed instead of you at any time. The only person who can tell what he's going to do next is Rin herself, she can also get him to get serious if it's necessary for the situation.
History: He doesn't remember much about his parents besides the fact that they couldn't be in each other's presence for long or risk making each other take physical damage. They both had different morals and ideas. He has no idea where they're at, since the last time he's seen either of them is when his mother gave him his locket saying it will open when your friends need your power the most. After that they disappeared and left no trace to where they went. He was then adopted by Rin's neighbors and became friends through playing with Rin when they were both five years old. He has dark wings, but those don't show up unless his locket is removed or while in a powerful light. Same goes for the angel wings he has. Alex's life before his parents disappeared was a nice and peaceful one being young he didn't understand that his parents weren't supposed to be together. He wasn't allowed to go see angels or demons since they both disapprove of his parents joining. He doesn't really mind that they weren't there for most of his life, he's happy that they were even there a little since he heard some children didn't have parents. He was always outcast by the other demon and angel children, they thought he was a monster considering his heritage. When he was six he was living in an orphanage and became a quiet child that wouldn't speak to anyone. After a while he snapped and almost killed everyone there by making creatures that were devilish attack the other people there. When he first met Rin he didn't trust her, but eventually he came to accept her as a friend and regained his happy Capricous personality.
Extra: He only cares about a little bit of things, sleeping, having fun with Rin, playing with his creations, and seeing the reactions people have when they see how much of a monster he can truly be.
Top