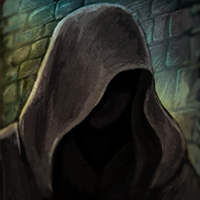 (¯`·.¸¸.·´¯`·.¸¸.-> тнε вαsιcs <-.¸¸.·´¯`·.¸¸.·´¯)
*Name: Solitaire
*Age: Currently Unknown
*Gender: Currently Unknown
*Race: Currently Unknown
Sexual Currently Unknown
*Height: Currently Unknown
*Weight: Currently Unknown
(¯`·.¸¸.·´¯`·.¸¸.-> vσcαтιση <-.¸¸.·´¯`·.¸¸.·´¯)
Class: Currently Unknown
*Skills:
Currently Unknown
Occupation: Currently Unknown
*Equipment: Cloak | ??? | ??? | ??? | ??? |
(¯`·.¸¸.·´¯`·.¸¸.-> ρεяsσηαℓ <-.¸¸.·´¯`·.¸¸.·´¯)
*Visual Description:
An ominous, shadowed figure that seems to lurk within the dungeons. If you squint your eyes, and listen long enough - you swear you could hear the sounds of children's laughter wafting from the figure.
*Personality:
Currently Unknown
Backstory:
In order to get the backstory of such a figure - you must of course confront it, don't you?
Family:
Currently Unknown
Motto: "Wanna have a little fun?"
Miscellaneous:
This is the DM account that will be used to conduct all conflicts within the first level of Theas. To unlock the information on this sheet, you have to roleplay within the Dungeons!