Name:
Elisabeth Renee Hill

Age:
She appears to be 19, but she is actually 67.

Sexuality:
Heterosexual

Mate:
None, though she is willing to look.

Occupation:
Barista at a coffee shop



Species:
Vampire

Rank:
Scouter

Ability:
Elisabeth has the ability of telekinesis. She is able to move objects with her mind. However, each time she moves an object she uses some of her energy. The larger the object, the more energy she expends. Because of this, she prefers to use her abilities only on small objects. She will only move a large object such as a bus if she has to because it will sap her energy.

Appearance:
Elisabeth stands at 5'3" and weighs about 118 lbs. She has pale skin, brown eyes, and long, dark hair. Her hair is naturally wavy, though she will straighten or curl it. There is a scar on the nape of her neck, which she hides with her hair. It is from when she was bitten.

Elisabeth likes to look nice, so she will usually wear something cute. Whether it's a skirt and floral top, a flowy high-low Boho dress, or printed jeans and a graphic top, she aims to look good. Her closet is quite extensive and you will never see her in sweatpants. She prefers flat shoes to heels, but will wear heels if she needs to dress formally.

Personality:
Elisabeth has always been an old soul. Even as a young girl she was more mature and wiser than her peers. She seems to be filled with words of wisdom and quotes, which she is happy to share with others. She is a calm, reserved, and resourceful girl, used to solving problems after being alive for nearly seven decades. When solving a problem she will always use her head before her heart. Though she usually acts maturely, a childish part of her comes out every now and then. This is often seen when she sees bubbles or balloons- two things she loved as a child. If she sees either, her usual response will be to run towards them while freaking out.
History:
Elisabeth Renee Hill was born in Southern California in the late 40's. She was the second of four children born to John and Maria Hill. Her father was an English immigrant and her mother had been born in the United States after her parents had immigrated from Germany. Her older sister, Victoria, was two years her senior. Her brother John Jr. was a year younger than her and her brother Jack was two years younger.
She grew up in a small coastal town and lived a normal life. She spent her childhood years sipping Root Beer floats and playing in the sand. She enjoyed her siblings' company, building sand castles with them and playing all sorts of imaginative games. Though having three siblings could turn nasty, they all loved each other and their parents. Her childhood was a happy time, one that wasn't filled with the ever consuming desire to be on an electronic device. In fact, Elisabeth can remember looking at the blurry TV which showed her the first man on the moon.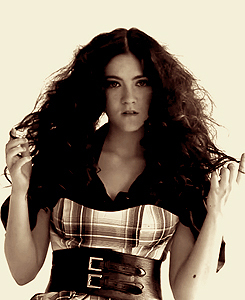 Her teenage years were less peaceful due to worldwide events (both good and bad) and the general drama created by teenagers. Elisabeth managed to navigate through it, not becoming a "Flower Child" but also not hardening due to the nature of things around her. She also found a few young men who were very interested in her, choosing to date one named Adam.
Against her parent's consent, Elisabeth went camping with some friends and Adam in Yosemite National Park. The group was jointly celebrating three people's birthdays from their party. Elisabeth was one of them. The camping trip took place a few weeks prior to her 20th birthday. The group had a fun time, drinking and laughing together around a fire. The first two nights went well. The third night was when life as she knew it changed.
Elisabeth, somewhat drunk, stumbled into the woods after most of the others had fallen asleep. She continued for a few hundred feet until someone tackled her from behind. With the wind knocked out of her she struggled to breathe and couldn't scream for help. She felt teeth dig into the back of her neck and a hand cover her mouth. A vampire had attacked her.
The vampire had not intended to let her live, but he changed his mind when she soon stopped struggling against him. She knew that death was upon her and that it happened to all living things. There was no avoiding it. She closed her eyes and waited for herself to slip away. Her attacker, a telepathic vampire, realized that she wasn't just a careless teenager. She did not fear death as many did, but instead embraced it. She succumbed to a dream like state which lasted for three days. During this time, the vampire who had attacked her took her across the country to join his coven.
She awoke somewhere on the East Coast, confused. Hadn't she died? Yes, a part of her had. But she was still alive. Confused and obviously having no experience hunting or feeding on humans, Elisabeth remained with the coven. After about five years of being a vampire, she began to display telekinetic abilities. She has since become very comfortable with them.
Most of her coven was eventually killed. She and her protector joined the coven in Cherry Blossom a few years ago. She was assigned to be a scouter by the coven, meaning she looks for threats and prey. Due to the recent events, she
also acts as a spy since she is inside of the town.
However, she is still new to the battle between werewolves and vampires since she spent most of her life without this conflict. As a result, she harbors few bad feelings towards werewolves. She actually thinks it's unfortunate that they are feuding and feels bad for them. After the head of her former coven died, there were a few days of fighting between the higher ranking vampires. The situation resolved itself without much bloodshed or dividing the coven.
She does not harbour much bad blood for witches either, though she's only ever encountered one.

Other:
Elisabeth lives in an old house outside of town. It is in a dense grove of trees, as the house has been abandoned.